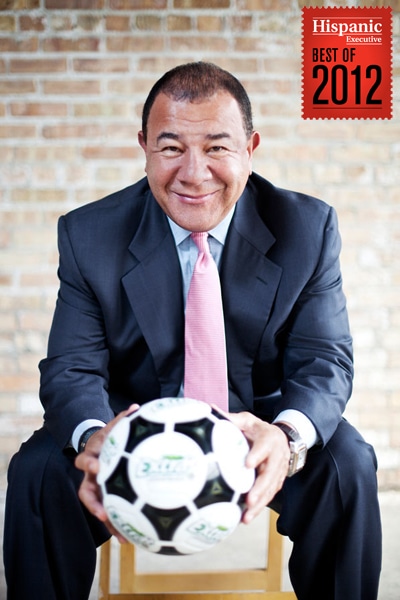 When Henry Cardenas's family emigrated from Colombia to the United States, he was just a 17-year-old kid who didn't know a word of English. Decades later, he's made a major splash in his adopted home of Chicago, leading one of the premiere multicultural-event-marketing companies in the country and forging a partnership with the Argentine Football Association—featuring reigning FIFA Player of the Year and FC Barcelona superstar Lionel Messi—that can only be described as unprecedented. In the course of his 30-year career, Cardenas has produced more than 100 international soccer games, showcasing some of the world's most-renowned soccer teams. His company, Cardenas Marketing Network, Inc. (CMN), manages the exclusive commercial rights for the Argentine Football Association through its sports division, CMN Sports. Here, the sports aficionado discusses his love for the game—and the industry.
What is it about sports, and soccer in particular, that drew you in?
I've always enjoyed kicking the ball around and being a part of a team. I am a very competitive person and I like to win. Soccer is universal; it's a sport that demands great technical ability, athleticism, and sportsmanship. It's the number-one sport outside the [United States]. When your national team plays, it's a very special time because it gives people hope and a great deal of pride. My favorite team has to be the US National Team because I live here and I think it's one of the rising national soccer teams, but I also like Argentina because of their rich soccer history—and of course because of Lionel Messi.

This year you were inducted into the Chicago Area Entrepreneurship Hall of Fame. What does being an entrepreneur mean to you?
Being an entrepreneur means investing in something you believe in and working toward your own goals. As an entrepreneur, the sky is the limit. I believe an entrepreneur must possess discipline, a strong vision, be motivated, and never stop working. You may not see the rewards early, but when they come, there is no better feeling.
After spending 16 years at the helm of Cardenas/Fernandez & Associates (CFA), the largest Hispanic music-and-sports-production company in the United States, why did you decide to set off on your own and create CMN?
I wanted to launch a venture of my own and help make CMN one of the leading multicultural agencies in the United States. There are many agencies who claim to be experts in the Hispanic market, but they are not. There is an array of cultures within the Hispanic market and they all think differently. CMN understands those cultures because we work and live among them.
How did the partnership with the Argentine Football Association come to be and what are your goals for the partnership?
Having produced many soccer games in the past, including matches featuring Argentina and Mexico, I became acquainted with the heads of federations. I expressed an interest in representing the team in the United States and fortunately, it became a reality. It took many years of hard work, but again, my persistence helped make it happen. I want to bring in more sponsors for them and I'd like to organize at least six matches for them and expand their brand, not only in the [United States] but in other parts of the world as well. Argentina is a very exclusive team with a roster full of top talent and fans of the game really want to see them play.
Despite the Latino population in the United States growing steadily each year, Americans seemingly have failed to embrace soccer the way they have other sports. Why do you think soccer has failed to really take off here?
I would argue that the sport has made great strides and continues to rise over other sports, such as baseball and hockey, at least in popularity. The average attendance at MLS games continues to rise and because of young, talented players like Lionel Messi, Cristiano Ronaldo, and Javier Hernandez—who also have great marketing potential—the sport will continue to rise. Brands like Coca-Cola, McDonald's, and Anheuser-Busch would certainly agree.
What would you tell a young Latino interested in entering this industry?
I would tell them to follow their dreams and to think big, but also carefully. There is a lot of competition out there and it's important that they have their bases covered. They need to have a solid marketing plan and a good team behind them. Also, I've always believed in education and have stressed the importance of it. I hope young Latinos realize that education is the gateway to success.
Get to know all of Hispanic Executive's "Best Of 2012" Recipients here.