In 2011, Eric Chico was a decade into his finance career and a new hire at GE Capital when a senior leader posed a question he hadn't been asked before.
"'What can we do better?'" Chico recalls the leader asking him and others at an orientation lunch. "Here's this senior executive who knows he's in a powerful position, asking people who just started at the company what he and his team could improve on. At the time, I was thinking, 'I just got here, why ask me?' But I also thought it was great he could be so reflective and have an attitude that there were always things to improve on even if they were successful."
Working with leaders like that throughout his career inspired Chico to be the one posing those kinds of questions to his employees at East West Bank, a company that provides an array of banking services to customers all over the world. There, he serves as senior vice president of technology finance, spearheading business development initiatives and overseeing a team that provides loans to middle market tech companies that generate $10 million to $100 million of revenue.
In addition to supporting those transactions, Chico drives the company's success by showing up to work with the same infectious attitude and humility he was met with at his GE Capital orientation. "I always tell my team, 'I want you to get better at this. How can I help you?'" he says.
Maybe Chico's Southern California technology finance team is such a cohesive and growth-oriented group because it started that way. Chico and two others were its cultural architects, joining East West Bank in 2021 to help build the department from the ground up. At the time, only two of them had transaction experience, and one of them was managing two other verticals. That meant Chico's plate was full. He was tasked with quickly screening deals, underwriting them, and getting them approved while getting to know the company's credit policies, systems, and employees at the same time.
For Chico, those conditions paved the way to as many opportunities as there were challenges and drove the small team to perform at a high level. In their first year, they funded fourteen deals with $230 million in commitments, and in the years that ensued, they added more team members and customers and continue to bring more value to the company today.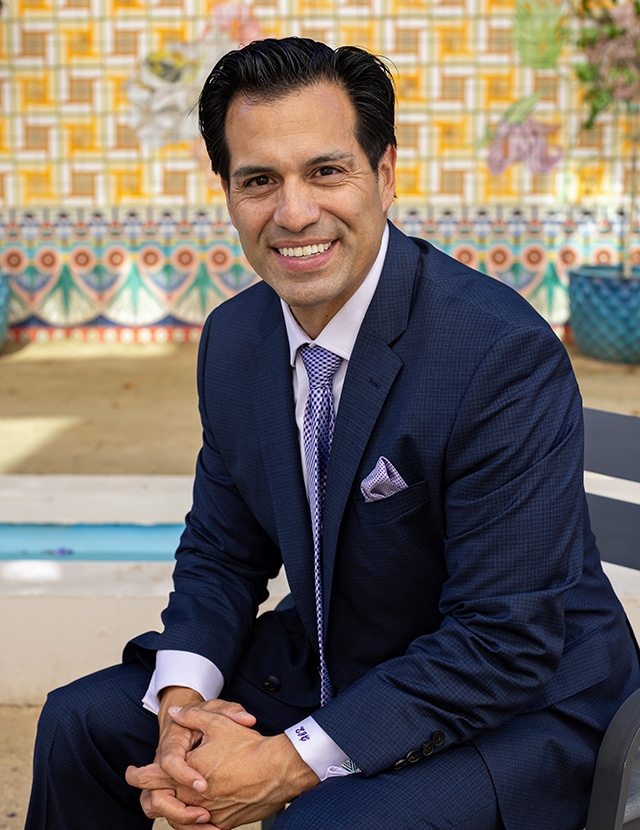 "As a leader, one of the first things that kicked in was having the right attitude, which I learned earlier in my career," he says. "There were many leaders who I was inspired by who never looked like they had a bad day, and I saw this as my chance to be one of them. So, I said, 'Yeah, this is going to be hard, but you have to have a positive attitude. It doesn't do you any good to sit there and dwell on how you'll get this done.'
"I also just thought about the big picture," he continues. "I wanted to contribute to a team where I had an impact to help it grow, so even though we would sometimes work twelve-hour days, I knew this was where I needed to be."
"Eric is a dedicated originator and demonstrates excellent commitment to client service and a superior ability to structure creative solutions for East West Bank customers," says Maria T. McGuire, principal at Goldberg Kohn Ltd.
Before becoming an influential and impactful leader, Chico grew up as a native of Chicago's Southwest Side to Mexican parents. He came of age listening to stories from his ninety-six-year-old grandmother and how she immigrated to the US. Over the years, she inspired his innate work ethic and drove him to be good at whatever he put his mind to.
"My grandmother always says that when she came over, a lot of people thought life would be easier when they got here, but in some ways, it was harder," he reflects. "Many didn't speak the language or have an education. Some, like my grandmother, ended up having more kids when they arrived. When I think about that, I'm grateful that I had parents who valued education and pushed me and my siblings to be professionals. How could we have gotten here without their sacrifices?"
After graduating from Villanova University with a finance degree, Chico spent the first two years of his career as an associate at Vanguard before moving on to PPM America to serve as a senior analyst for nine years. Those roles built his finance and accounting expertise.
They also gave him the experience he would need to move to GE Capital Healthcare Financial Services, where he underwrote loans for healthcare companies. There, Chico would gain the credit analysis skills that would be critical for his career. From there, Chico assumed the role of vice president of healthcare finance at Wells Fargo and was ultimately elevated to director prior to joining East West Bank in 2021. In those positions, he was able to sharpen himself as a leader and an underwriter.
Chico says young professionals who want to succeed should "keep the big picture in mind and have an open mind for how the roles you select will impact you down the road." "That requires honesty about what you want to do, what skills you need, and what you need to do to get them," he advises.