Ask Emilia Lopez about her leadership philosophy, and she'll dive into the importance of authenticity. The Capital One executive believes that bringing your authentic self to work is one of the keys to personal and professional growth.
"Every ounce of brainpower and emotional power that you're using to present yourself in a way that is not true to you is an ounce of energy that you are not using to do the work in the best way you can," she says.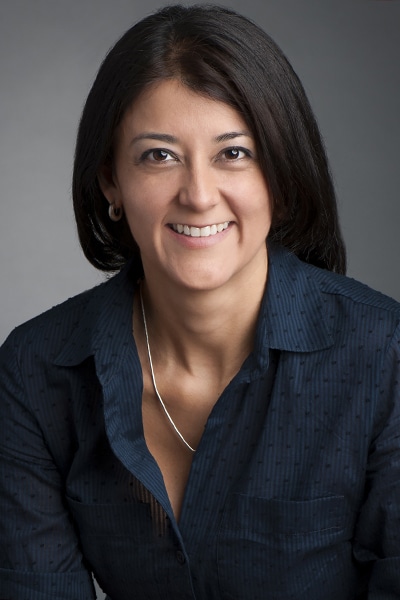 When the COVID-19 pandemic hit, leaders everywhere were put to the test. Many were dealing with new challenges on all fronts, and Lopez found herself struggling to find a healthy balance between work and life in a virtual environment. True to form, she decided to be authentic and open about these challenges and discovered that doing so helped her lead through a difficult time.
"I feel so fortunate for my health and to work for a company that prioritizes the well-being of its associates," she says. "I believe that striking a healthy balance between work and life is critical, and it's something that I want everyone on my team to achieve. But I am someone who has difficulty setting boundaries with work, and working from home made that so much harder for me.
"I was open about this from the beginning," Lopez continues, "because I wanted it to be clear that this was an area of opportunity for me, and I wanted others to feel comfortable sharing their own challenges. I found that sharing my struggles openly not only helped me connect with others on a deeper level but also helped me get better by creating a stronger sense of accountability and support from others."
Lopez has long practiced this level of transparency around her "areas of opportunity." She makes an effort to share them in the context of her belief that "while no one is perfect, everyone can be better." In addition to leading with authenticity, she believes in the importance of self-improvement and a growth mindset—a combination that has served her well throughout her career.
Hispanic Executive first spoke to Lopez in 2017 about what drew her to Capital One, what she values about the company's culture, and her areas of focus at the time. Since then, she has experienced significant professional growth, including a promotion to senior vice president, taking on leadership of a new team, and becoming an accredited senior credit officer—one of only twenty-three people in the entire company to hold that title at present.
In her current role as senior vice president of the US Card Customer Resiliency team at Capital One, Lopez leads a team that serves customers who are struggling to meet their financial obligations. Through a combination of advanced technology, analytics, and human-centric approaches, her team works to help customers resolve their debt. These are inherently critical and sensitive issues, which are further complicated by COVID-19, and Lopez applies her growth mindset to drive her team to innovate across three key areas: risk management, product, and well-managed processes.
"Every ounce of brainpower and emotional power that you're using to present yourself in a way that is not true to you is an ounce of energy that you are not using to do the work in the best way you can."
This focus on innovation includes launching more digital options for customer communication. Digital channels are easier to scale and systematize, Lopez explains, which is important in a regulated environment. They also allow customers to discuss their financial situations on their own terms, without having to share a potentially distressing story multiple times.
"We're always striving to find more ways to meet customers at the right time with solutions that align with their particular needs, while also being systematic and well managed so that we can help as many customers as possible," she explains. "By leveraging data and technology, we've been able to better serve our customers when they need it the most, and that is very rewarding."
Outside of work, Lopez also met a major personal milestone: in 2018, she became a mother for the first time. She says that becoming a parent underscored the power of authenticity, self-awareness, and setting a high bar for herself.
"Now, the example that I set carries much more weight and importance for me," she says, "to be the best version of myself that I can be—for my son, my family, my colleagues, and our customers. It is equally important to me to invest in my own ongoing development as it is to be true to myself and what I stand for."
---
Related Links