Chicago designer Elda De La Rosa has been gifted with a sacred talent: the ability to make women—of all ages, sizes, and shapes—look and feel beautiful. The magic happens in the Edgewater neighborhood of Chicago at Elda De La Rosa Couture, the showroom and workspace the designer has been working out of since 2006. The source of the talent, however, is another story entirely: it is a gift that has been passed down through generations of women in the De La Rosa family, so far back that the history is difficult to unravel.
"I don't know how else to say it, but I was just born into this. I never said, 'One day I'll be a designer' … Designing is just who I am," the 45-year-old De La Rosa says. "My earliest memories are of women coming and going after fittings or dress consultations. I can still recall being a little girl and sitting at my aunt's house as she worked on a dress. I can even remember the details: it was '70s-style lace on a dress with a high empire waist. Given that all the women in my family sewed, it wasn't a surprise when I asked my mom for fabric when I was 13 so I could cut and sew my own dress."
De La Rosa was born in a northern border town of Allende, Coahuila De Zaragoza, Mexico, near San Antonio, Texas. Her family made their way to Rockford, Illinois, when she was just two years old. De La Rosa's Latina identity influenced the type of design she would come to focus on. Her love of beautiful, elaborate gowns was instilled by being a part of a culture that places a huge amount of emphasis on baptisms, quinceañeras, and weddings, where women take pains to look beautiful and dress exquisitely.
The designer moved to Chicago when she was 19, a city she loves and represents well, as evidenced by her participation in a competition sponsored by the Academy of Motion Picture Arts and Science. Though she didn't win the Oscars Designer Challenge 2010, the dress that got her into the competition—named Lucero—put her on the map and it couldn't have come at a better time.
When designing the dress, Elda De La Rosa Couture had fallen on hard times. Each year the designer found her business in the red and she was thinking of closing up shop for good. Before she was even aware the dress was on Hollywood's radar, De La Rosa fell in love with Lucero, an iridescent, silk taffeta masterpiece with an asymmetrical shoulder; a dress that somehow shined blue and gold at the same time and was both structured and romantic. In essence, it was magical and apparently lucky, because even though she didn't win the competition, it gave De La Rosa the momentum she needed to keep her store open. But getting to Beverly Hills for the competition wasn't easy.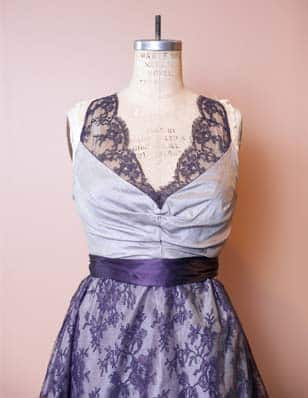 "I was so broke at the time I had to borrow money for the plane ticket," De La Rosa recalls. "And it looked like I was the only designer who didn't have a PR person. I was just winging the whole thing, but I knew I had to do it because I knew you can't put a price on publicity like that. Because I'm bilingual, I was able to speak to all the Latin American camera crews, whereas the other designers weren't able to. It was the first time I really understood the power of being a Latina designer and the reach I was able to have because I could speak Spanish. I warned the interviewers that it wasn't great Spanish because I mostly only spoke to my parents in Spanish, but it was Spanish nonetheless."
De La Rosa Couture didn't do a complete 180 after the competition, but it set the wheels in motion for a transformation that would make De La Rosa a better business woman and a more confident small-business owner. The problem, she realized, was that for years she was operating as an artist, focusing on details and ornate couture gowns that were profitable, but in no way delivered the steady work the business needed to stay afloat. Someone she worked with even told De La Rosa that she wasn't going to make a living focusing on "pretty, perfect, custom," but the designer stubbornly continued to focus almost solely on couture.
Technically, the designer's time studying fashion at the School of the Art Institute and the Illinois Institute for Art and Design amounted to a trade school education, one that didn't teach its students how to run a business or manage finances. The true game changer occurred when De La Rosa took a 14-week finance and business course offered through the Edgewater Development Corporation and taught by professors from the Kellogg School of Management. It was here  where De La Rosa learned that she was struggling because she didn't know the true value of her work. De La Rosa can recall a time not too long ago when her clients would say, "I can't believe you're selling this dress for $2,000. It's a $4,000 dress, easily," yet the designer kept her original price point.
Because of the business course, De La Rosa realized that though she loved her work, it wasn't a labor of love—she had two sons to support, a mortgage to pay, and she had to pay the rent on her shop. This realization was reflected in her new approach to business, one that took into account overhead, time, labor, and materials. From then on, De La Rosa's motto became "time is money."
"I feel like I've always been entrepreneurial," De La Rosa says. "After design school I worked in at Neiman Marcus and when I learned their history and how they were able to grow, I thought, 'Why am I working for them when I can be my own boss with my own business?' So I knew I was a designer and I always operated as one, but attending the course made me realize I wanted to be a businesswoman, too. I'm no longer shy about discussing money up front. I have a business plan. Things are different now."
De La Rosa also learned to delegate. Before, she was doing almost all of the cutting and sewing, but now she's comfortable handing off work to an employee. Previously if De La Rosa wasn't available for a fitting with a client, they'd reschedule. Now De La Rosa feels comfortable telling her clients that a trusted associate will be doing the fitting if she's not available. Most importantly, however, De La Rosa no longer solely focuses on "pretty, perfect, custom." The designer now whips together quick little dresses for clients attending social events and she's now selling her creations in boutiques around Chicago.
After 12 years in business, De La Rosa still stays true to her vision, even if she's designing according to a client's wishes or riffing off their sketch. Now comfortable in her dual roles as businesswoman and designer, De La Rosa lets her customers know that when they choose her they have to trust her. If they do, they'll be rewarded with a dress that's all they ever dreamed of; something unique that screams "Elda De La Rosa Couture;" something that fits their bodies like a glove; something that will make them feel beautiful, both inside and out. What more could they ask for?