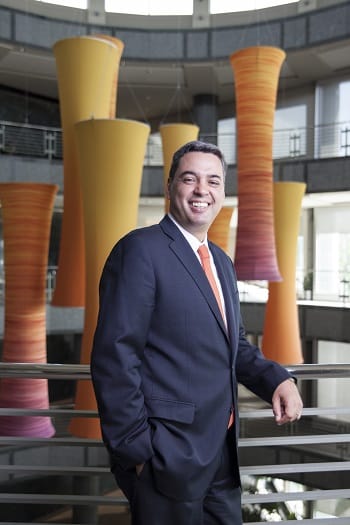 When Eduardo Tobon took over his high school yearbook, it was losing money each year. Tobon channeled his entrepreneurial spirit to form a marketing team and worked towards a goal of making his edition profitable. The achievement might sound trivial to some, but it gave Tobon his first taste of how marketing could infuse a brand with new life.
Today, Tobon is president of Diners Club International and directly manages more than 300 employees, plus 20,000 others who carry the iconic brand around the globe. To do so, he leans on some of those philosophies forged during his early days as an amateur marketer. "The yearbook experience taught me how to engage with companies. Marketers must prove that what they have is of value to someone else. It's no different today," he remarks.
Tobon grew up in Colombia, studied engineering, and lived in Germany before working for Procter & Gamble in South America. He flew to Canada to learn English, pursued an MBA in the United States at Carnegie Mellon, and got a job in consulting. That job led to banking, which led to work in payments. "My career has followed a path," Tobon says. "Some of it is luck, but a good definition of luck is what happens when preparation meets opportunity. I've always been preparing." Now, as president of Diners Club, he has the opportunity to lead a renowned payments network.
Diners Club, formed in 1950, was the world's first multipurpose charge card and has always been about exclusivity and belonging; Tobon believes the digital and social-networking worlds can help him revitalize the brand in a natural and organic way. He admits that a generation seems to have forgotten the passion many groups once had for Diners Club, but says things are about to shift. "People are looking for a sense of community, for a sense of belonging," he explains. "That is why we see such tremendous growth in social networks like Facebook, Twitter, and LinkedIn. That sense of belonging is something we can offer at Diners Club."
Under Tobon's direction, Diners Club is investing in branding through digital platforms. While traditional media becomes expensive and obsolete, Diners Club's potential club members spend more time on websites and mobile devices. "People today are connected, and we need to connect with them in the right places at the right times," Tobon says. His digital approach looks to build a sense of belonging.
Eduardo's Aha Moment
Tell us about the moment when you had a clear realization of what your direction should be (either personal or professional).
The financial services industry is constantly changing, which really keeps us on our toes. The regulatory changes we face in a global business force us frequently to rethink and reconsider our business strategy. Staying on top of these changes takes flexibility, diligence, and a team of dedicated professionals who are committed to bringing real value to customers.
Digital marketing and social media can help a company connect with current and potential customers. "We are social people by nature," Tobon says. "The need to connect is not going away." Companies looking to maximize new potentials should connect with an audience in an authentic way. Younger generations are especially skeptical of companies who e-blast new products and ideas. Instead, they respond well when invited to create content and participate in relevant two-way conversations. Diners Club, formed around social experiences like dining and entertainment, is in a unique position to capitalize by connecting with its clients.
One way the company does that is through its sponsorship of The World's 50 Best Restaurants and The Diners Club World's 50 Best Restaurants Academy. The academy, an influential group of more than 900 international leaders in the fine dining industry, votes to determine the award winners. Each year, popular chefs and restaurants battle and clamor for a prestigious selection. The event benefits club members as more top restaurants accept Diners Club cards as payment. Tobon and his team generate pre- and post-event blog content to make sure the project's return on investment lasts for more than just one moment.
Tobon is a big believer and early adopter of social media. Facebook helps him connect with friends from the past across numerous countries, while LinkedIn lets him research companies and recruits. By contributing to the Diners Club's BelieveBelong.com blog, Tobon leads by example and gives customers a chance to respond and build an ongoing conversation. The online presence is important because it gives customers a voice. "Customers should never feel discouraged or judged. The customer needs to be an authentic part of the process. An open dialogue can attract people and convert them to loyal customers," Tobon says.
When it comes to the physical world, Tobon believes in having the right presence in the right places. "We look for great partners in emerging economies," he says. Diners Club is working closely with BRIC (Brazil, Russia, India, and China) nations, whose economies look strong. Franchise partners like Russian Standard Bank and HDFC Bank in India understand local markets and customer behavior. Diners Club's expert partners help develop the right products and campaigns for each region.
The Ticker

What do you see as the future of the financial landscape in your industry?
Over time, factors like mobile technology, instant response, geo-location, and social networking will change the way we interact, work, and shop. We will see payment solutions that radically redefine the experience for all parties in a transaction and the way in which the transaction takes place. The future is very bright from my perspective and it's truly a very exciting time to be in the financial-services industry.
—Eduardo Tobon

The trick to success lies in bringing value. It's a lesson that Tobon learned when his brother wanted to open a comic-book store in Colombia. Tobon knew their native country lacked domestic publishers, and encouraged his sibling to replace his English products with Spanish ones. The idea took off, and the Tobon brothers opened several locations. The lessons from watching a business open and succeed still guide Tobon, who looks for partners that understand the market and know how to bring value to customers at just the right time.
Tobon is intent on finding a new generation of supporters for a brand that has been around for over half a century. "We are a bit of a vintage brand, and vintage is in vogue now," he says. "People want to be connected to those with similar interests, and we provide that."
The company is working with its franchise partner, BMO Harris, to determine a path forward for the brand in the United States. "We want to bring value to our club members. We always ask ourselves if they will benefit. If so, then we know we have a great outcome. If we're not sure, we take more time until the value proposition makes sense," Tobon says.
Although he serves as president of Diners Club, Tobon says the work is never just about one person. "Every success that I've ever had has taught me the importance of collaboration," he says. Success comes when employees can work together and teach each other. It's a process that has served Tobon well, and he still has mentors inside and outside of Diners Club. Additionally, Tobon actively participates in ¡HOLA!, one of the company's largest employee connection groups. "It's important to learn from others every day," he remarks. For Tobon, mentoring—whether formal or informal—is a way of giving back. The relationship, he says, should benefit both parties, and the giver often learns more than the receiver.
Go behind the scenes with Eduardo Tobon at his cover photo shoot here.