"I'm a huge 'why?' person," Edwin Ayala says. As chief development officer for the financial services firm Strategies for Wealth, Ayala is responsible for coaching the company's financial professionals for the first three years of their careers—and he uses "why?" as a critical tool in all his work, from evaluating new hires to supporting veteran advisors.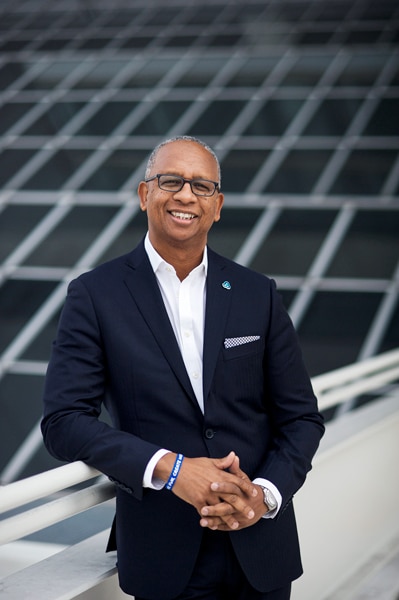 Ayala meets every recruit and, after a hire, oversees onboarding. The process begins with ensuring everyone has a great first week, with desks and nameplates and business cards in order. "We want them to see that we deliver on recruiting promises," Ayala explains. But his true work begins as people settle into the office. To ensure success, Ayala coaches and trains each associate in intensive, one-on-one sessions for three years.
Thirty-one years ago, when Ayala joined the company, it had only twelve associates. He built out a successful brokerage agency, and, seeing his potential, leadership approached Ayala about taking on a sales management role. He accepted on the condition that he could change the model and focus on development work instead of dividing his time. "This was mind-blowing," Ayala says. "But it was about finding my unique ability, following my passion."
The company's massive growth over the past twenty-three years has not dampened his passion. Along with teaching very specific sales skills, Ayala makes sure associates write 'why' statements and have larger connections to their work. "We all need a 'why' and a purpose to lean back on," he says.
The outcome speaks for itself. Strategies for Wealth has a 58 percent associate retention rate at the five-year point. "The industry average is 13 percent," Ayala says. The company is also the number-one sales agency for the Guardian Life Insurance Company.* Beyond this quantitative data, Strategies for Wealth tries to stay true to its tagline, "Live Past Yourself."
"We want to impact people we will probably never meet," says Ayala—like clients' kids and grandkids. "It's not just about business."
In his professional coaching, Ayala focuses on three essential areas: mind-set, blind spots, and goal clarity. While he works with a set curriculum and lots of role-playing, when he talks, he mostly asks questions. "People stop by my office and ask, 'How would you respond to this client?' How I would respond does not matter. I ask, 'How would you respond?' Then I help them figure it out."
"I used to focus on the product. Now I focus on the philosophy behind the product."
To improve his practice, Ayala draws not only on sources like leadership conferences and books, but also a less conventional learning experience: coaching JV and varsity basketball for middle school girls. "I started out coaching my daughter and I just liked it," he laughs. For Ayala, working with youth is a constant reminder to focus on fundamentals and very deliberate practice. "I get girls that have never touched a basketball before and sometimes it takes months of work for them to be ready," he says. It helps to remind him that, with new associates, showing something only once isn't a good way to train. (Not only did his daughter go to college on a basketball scholarship, Ayala says, but they still have a great relationship.)
Both in coaching basketball and coaching financial professionals, Ayala's first intent is to get buy-in on a vision. "Once you have that, then you have a team," he says. Real work, he says, happens when people are included in conversation and discover answers for themselves. Sometimes, he says, "I have to be quiet and let people figure it out." Even when he calls a time-out on the court, often he just asks the circle of girls, "What do you think? What's going on out there?"
In 2019 Strategies for Wealth saw an uptick in associates in their early twenties; Ayala founded an innovative response. "I implemented and managed a young associates study group created by Strategies partner Jeff Neeck," he explains. In the group, more seasoned employees talk about their early days with the company and offer ideas for success. Ayala says that he's seen a trend he didn't expect: almost everyone's story includes a moment when they felt they were failing, went to Ayala, and he helped them turn things around. "People just need someone that believes in them," he says. If they've been hired, Ayala believes in them.
Ayala has another title: disability income specialist. It came about because a few years ago the leadership team saw that Strategies for Wealth was not producing very well in their disability products. Combining his knowledge from coaching and previous product work, Ayala stepped in to revitalize the area. "I used to focus on the product. Now I focus on the philosophy behind the product," he says. Since taking over the project, he's won Guardian's Disability Specialist of the Year three times and been inducted into their hall of fame.* They gave him a Norman Rockwell replica, a testament to the stability he's helped to create for clients, staff, and advisors alike.
*Guardian Insights Program October 2019
---
Editor's Note: Financial Representative of the Guardian Life Insurance Company of America® (Guardian), New York, NY. Strategies for Wealth is not an affiliate or subsidiary of Guardian.

---
Related Links