There's a part of Jorge Gonzalez that keeps it very simple when explaining why southern Florida has such a successful banking industry. It's the part that looks around at the state's inherent beauty, the part that feels the sun and warmth Florida has to offer. "It's not a bad place to come spend a week to do business," he muses.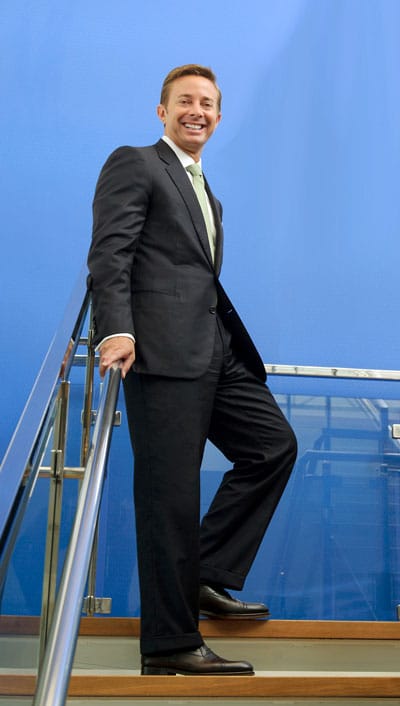 But he's been a banking fixture in the region long enough to know there's much more to it than that. A Miami native, Gonzalez spent two decades in various capacities—including regional president for Southeast Florida—with financial services giant Wachovia before it was acquired by Wells Fargo in 2008. That was when he became president and CEO of City National Bank (CNB) of Florida, a position he's held ever since. Of course, that also means he took over at CNB as banking entered one of its darkest economic hours in recent memory.
But it was the quick-moving, growth and sales-driven nature of the industry that had first appealed to Gonzalez—"It seemed like it coincided with my DNA, so I stuck around," he says of his decision to go into banking—and it was his ability to see an opportunity in every crisis that has allowed CNB to become one of the largest financial institutions in the state.
Drawing a comparison to Florida's most common natural disaster, "most banks went through a category five," Gonzalez says, "but I think we have a clientele that weathered the storm better than most… I feel like we only went through a category three."The current numbers for CNB speak for themselves: more than $4.1 billion in deposits, nearly $6 billion in assets, 470 employees, and 26 banking centers between Orlando and Miami (compared to only 18 back in 2008). Gonzalez credits strong client relationships, good communication as they worked to "find mutual solutions in the best interest of everyone involved," and customer loyalty for allowing CNB to thrive during the recession.
Hurricane analogies aside, Gonzalez and his team have worked tirelessly since 2008 to strengthen CNB in a variety of ways. One big area of focus is diversification; CNB now strikes a fair balance between small and medium corporate clients, a private client group, personal and business banking, and commercial real estate (the overwhelming favorite among most financial institutions in southern Florida). Another focus is on technology, in which CNB has invested heavily. Gonzalez sees it as a crucial component of the banking business as they attempt to develop multiple channels of communication with clients. "You really have to have a cohesive platform to be able to deliver products and services to current and future clientele," he says.
Cybersecurity is a term that goes hand in hand with technology nowadays, which means it's of great importance to CNB as well. As might be expected, Gonzalez strives to keep on par with bigger banks regarding such critical matters. But that's because CNB chooses to be selective with its focus, listening closely to its clients rather than providing an unnecessarily broad offering. "You can't be everything to everyone," Gonzalez stresses.
"You have to select your clientele, understand exactly what it is they want and need, how they want it, how they need it, and then deliver it. For us, it's a reverse engineering of the strategy based on what the market is demanding."
"At City National, we spend a lot of time talking about how we're not going to sacrifice quality and control for growth. We're going to do what's right."
No matter what's going on in the market at any given time, he sees banking as a people-driven business—and conducts business accordingly. Employee recruitment, employee retention, and a thorough understanding of company culture are all paramount to Gonzalez's vision of people working towards a common goal for CNB. Conversely, the people that CNB serve—the communities, to be more specific—motivate Gonzalez and his team to improve at every turn. After all, the more the bank grows, the more it can give. "We're extremely dedicated to giving back to the communities we do business with," he says. "And we spend a lot, both in dollars and manpower, giving back to organizations that help make our communities better."
For all of CNB's impressive growth, Gonzalez is confident there is plenty more to come. Between South Florida being one of the more prolific banking markets in the state and CNB itself possessing a relatively small market share ("maybe one and a half to two percent," he says), the bigger opportunities are a backyard away.
"That bodes well for us," Gonzalez says. "We can leverage our plan, our market potential, our infrastructure, and our people without having to go far beyond our current footprint. There's so much potential in a market that's growing very rapidly, has global visibility, and is seeing capital flow into it from all over the world.
"Banks tend to have a short memory," he adds. "And as soon as the competition picks up, some banks have a tendency to lose a little discipline. So at City National, we spend a lot of time talking about how we're not going to sacrifice quality and control for growth. We're going to do what's right… and the growth will come."