Carlos Jofre jokes that he's so passionate about Norwegian Cruise Lines' affordable offerings, people often mistake him for a sales associate. He's actually the director of warehouse and enterprise reporting—but off the top of his head, he can tell you the port closest to you, the price of the cruise, and the amenities offered. "What can I say?" he says, laughing. "I'm excited about what we offer."
Jofre joined the company in January of 2004, coming off the heels of a stint at Motorola where he was contracted to revamp  Computer Aided Manufacturing (CAM) systems with cost-cutting projects in their North American distribution centers. He's had a lot of success in the IT world but was initially worried he entered the wrong field. Jofre declared computer science as his major right off the bat, inspired by countless articles about how computers were going to rule the world—except after graduation, he found himself unemployed for four months. In retrospect, it was just bad timing. It was the start of the Gulf War, and the economy was in a recession. Once things turned around, Jofre landed at Motorola's paging division, which he says was one of the most exciting jobs he's ever had.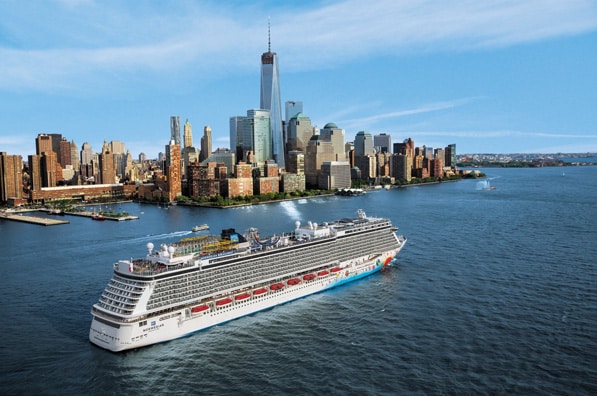 "At the time, there was a big explosion in mobile devices," he says. "Because of what I learned there, I'm able to enter every new organization with a sense of discipline and experience that I don't know if I would have gained otherwise."
Part of the reason it was such a pivotal experience was because Jofre was just a 25-year-old kid throwing around ideas with the company's senior engineers. It built confidence—something that's been helpful at Norwegian.
"It can be difficult to convince others of the benefits of new solutions. I learned that so much of this job is knowing how to talk to people, and that requires confidence," the director says.
So much of how Jofre leads is influenced by his early days in IT. Meetings are open forums. He wants his team to feel at ease speaking to him, comfortable throwing around ideas. Listening, he says, is the best way to ensure equality and quality.
That being said, Jofre says leadership is not something that came easily to him. Being put in the position to overlook others isn't a task he took lightly, but learning how to be an effective, approachable leader was a matter of trial and error.
"Trying to be very authoritative just doesn't work, especially not in IT," Jofre says. "I see myself as more of a coach. I try to cultivate a team environment. The work we do is so complex that people can sometimes tune out. I've found that really emphasizing a collaborative environment has been helpful."
"I work with exceptional people who always deliver. How many people can say that?"
Having a collaborative, smooth-running IT department became all the more important in November of 2014 when Norwegian acquired the brand Prestige Cruise Holdings, parent company of Oceania Cruises and Regent Seven Seas Cruises; it became Norwegian Cruise Line Holdings Ltd. Jofre says that when they were going through the transition, there was a shift in leadership and uncertainty surrounding strategic initiatives.
Things are decidedly different now. Jofre says the new brand has been well-received, and while part of its success is certainly owed to the IT department, Jofre isn't one to pat himself on the back. The merge meant considerably more work, engineering, merging systems, etcetera. They're still mapping out the direction, but the right information is getting to the right people at the right time—an achievement in and of itself.
Of all the obstacles IT faces, Jofre says the biggest challenge is ensuring his team is resilient and able to deliver—within reason—no matter the circumstances. Norwegian's IT department is working with seven different systems. If something happened to one of those systems, he and his team would still need to ensure important information could be accessed by the right people.
"My biggest asset is really my people," Jofre says. "I work with exceptional people who always deliver. How many people can say that?"
Moving forward, Jofre wants to focus on a project that could make things at Norwegian even more efficient. He's in the process of adjusting new business intelligence and the data foundation to predict large amounts of data. If, for example, the company was thinking about changing their lobster vendor, opting to choose a vendor closer to their port of call, the only way they'd currently know the financial impact is by making the change.
"The goal is to use analytics to help the company make better decisions, minus the trial and error," Jofre says. "It will be a while before this is in place, but when it is, it can really change how we operate and cut costs. It's very exciting."