When Brazilian-born Daniela Almeida was a twenty-something, she drove across the US while spending most of the trip debating which law school to attend.
"I think about the way I jumped in with both feet in many [life and career] situations," she reflects. "I got in the car and just started driving. I always had a good support system. I knew I could jump and if I didn't land okay, there would be another option."
She was driving from the University of Buffalo School of Law and deciding whether to attend University of California (UC) Law San Francisco (formally UC Hastings) or UC Davis School of Law; she ultimately decided to finish her studies at UC Davis. When it came to her interest in the law, the young Almeida noticed her love of arguing with her parents, but didn't have much insight into what a legal career might look like.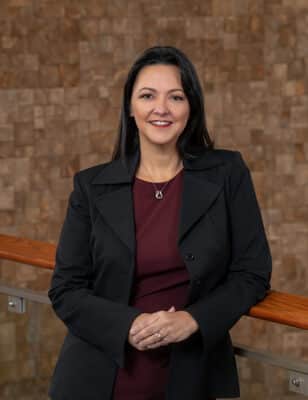 "I thought I could go to law school and do something in international law because of my background, as I spoke Portuguese," says the current deputy general counsel of Sutter Health, a not-for-profit integrated health delivery system in Sacramento, California, operating twenty-four acute care hospitals and over two hundred clinics in Northern California. "I went law school thinking about that direction and then I took a year off before law school to be sure and lived and worked in Rio de Janeiro, Brazil. That was really the spark that took me to law school."
Looking back, she notes that common threads throughout her career and life have been the qualities she brings to the table and the ones that other mentors generously provided her. Her first big break with a mentor unfolded directly after law school.
"I was a twenty-three-year-old young-looking attorney and my first boss, Ann Herman, just let me have all these opportunities that gave me a lot of confidence," Almeida recalls. "She sent me into depositions, court, and client meetings during my first year out of law school. I really built that foundational confidence that I don't know if a lot of attorneys get right out of law school."
Almeida has been at Sutter Health for twelve years and has consistently strived to create similar support systems for her team. She starts by sharing the best piece of advice she's ever received.
Don't Leave Your Support System to Chance
When Almeida began her career at Sutter Health as assistant general counsel, she was the only member of her team and one of thirteen in-house attorneys across the company. Today, there are sixty-five in-house attorneys. As DGC, manages a team of four supporting the commercial and governmental contracting and litigation teams and supporting the revenue cycle team.
Twelve years ago, Almeida understood that growing into her role would require creating a system that could support her client and team, which also meant that she needed to create one that could support her.
"The best advice that somebody gave me was to find a mentor who you can be really candid with," she says. "So, I asked my boss to recommend a mentor because I wanted somebody to talk candidly about who wasn't the person in charge of my growth. I had a VP from a different area of the company who I met with on a twice-monthly basis as I was developing my leadership, my team's structure, and my plan for my career."
Ask for More of What Is Aligned
Now, Almeida works to share her best as a mentor and team leader in the same ways her past and present mentors have done for her.
"Mentorship makes a huge difference not only in building your confidence, but also facilitating those opportunities to see if this is what you really like," she shares. "I know a lot of attorneys don't get those opportunities . . . [and] that really delays their growth opportunity. I got lucky with Anne, and I think the same thing happened when I started working and representing Sutter as a client twenty years ago."
Building a team during the COVID-19 pandemic has also pushed her to acknowledge the small and big ways she could encourage her team to feel like a team, whether they were working virtually or in person. She found that Zoom breakfast meetings helped build team camaraderie, while weekly meetings to look through Almeida's calendar helped encourage individual growth opportunities.
"I sit down with my attorneys at the weekly meetings, and we all look at our calendars," Almeida explains. "I'm totally transparent on what I'm working on . . . and I'll [ask them,] 'What looks interesting to you that I'm working on or that you want to be part of? We then work together where appropriate to get them invited to the meeting or more involved in that project."
Almeida also leverages her collaborative approach with Sutter's outside counsel. Patrick M. Ryan, head of litigation at the Bartko law firm, who represents Sutter in antitrust, privacy, and commercial litigation matters, says, "Daniela facilitates collaboration by getting all of the key client stakeholders in a room, making everyone feel comfortable to openly share their views, affording our collective team the chance to brainstorm creative solutions to complex issues."
Build Your Confidence Reservoir
Almeida admits that a fear sometimes bubbles to the surface when thinking about mentor-mentee relationships: "how do I ensure we're not wasting each other's time?" Both the mentor and mentee sit with that question and she has found that the best way to answer it is head-on.
The DGC recalls that during her first meeting with her new Sutter mentor, she confessed that she didn't truly know what being a mentor to Almeida would mean.
Almeida recalls answering: "What I need from you will probably change from time to time. Right now, what I need is a safe, candid place for me to talk about what I want to do without feeling like I'm reaching for the wrong plans. And you're going to let me brainstorm and you're going to let me vent on bad days, and you're going to let me celebrate on good days where I don't feel like I'm tooting my own horn to my boss for no reason."
She adds, "Just knowing how much it meant to me to have those good mentors, I always try to do the same."
Almeida's career always brings her back to the cornerstones that helped kick it off—trust in her process and her caring support system. She never felt a tug that she had to do it all alone or that the only way she could move the needle was with others moving it for her. It was about striking a formula that worked for her. That same formula has molded her take on growing a family and her career.
"I think the problem with calling it work/life balance is something's always winning." "So, that's really hard," she explains. "Three of the attorneys who work for me are parents and two of them are young mothers. Sometimes, they'll struggle and say, 'You know, today I felt like a really bad attorney, and yesterday I felt like a really bad mom,' and it's because you're trying to balance. I don't really love that term because balance means something is losing. I try to integrate my work with my family, making it more than okay to have both of those parts a part of you."
Across mentorship, career, and family, Almeida encourages her team (and herself) to create spaces where they can bring their whole selves. The benefits transcend the momentary discomforts or unknowns that vulnerability can bring to the surface. Similar to her cross-country road trip, jumping in feet first can only lead to growth.