"Oh, gosh, how do I narrow down my passions?" Dania Blandon-Hernandez laughs. While most of us choose one or two topics or hobbies to be especially interested in, Blandon-Hernandez has several. Before becoming tax director of the Americas at Bacardi, she went to school with the hope of becoming an architect—but she quickly realized that her knack for math allowed her to consider a better-suited route. After gaining experience in the tax world, she moved to Bacardi. She was uncertain of what to expect but excited by the opportunity to learn.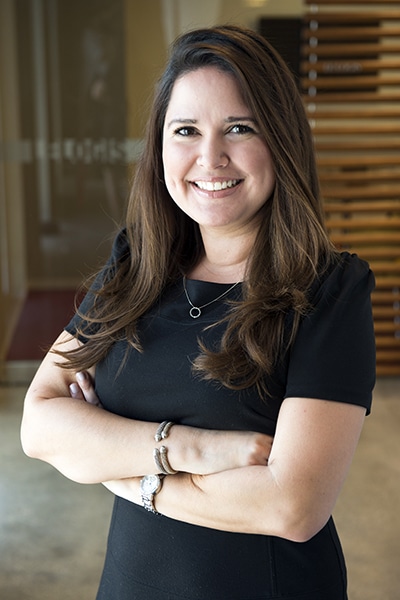 Now, Blandon-Hernandez oversees the tax advisory team for Canada, the US, Mexico, and the Caribbean, in addition to all of Central and South America. Though her team is small, it's mighty—and handpicked by Blandon-Hernandez herself. She considers her global team of ten one in which every member shares a passion for Bacardi at a level that exceeds simply practicing their technical skills. Instead, they're deeply appreciative of the work that goes into making each bottle and discovering how to better service their customers based on their collective experience in the field. "When looking for new candidates, at the very top of my list of attributes is a sense of curiosity and wanting to learn," she explains.
Blandon-Hernandez exemplifies the merit of this experience-based research as she travels the globe to discover how to appeal to Bacardi's unique customers. She moves from her desk to the production floor so that she can discover how each liquid is made, what the aging process looks like for different products, and what kind of people are purchasing each variety:
"I love traveling. I love learning about new cultures, meeting new people, and I think it all stems from the sense of curiosity outside of a traditional textbook type of way. I try to understand best business practices when visiting other markets—getting to know the cultures and the way they understand our products at Bacardi. What products are they selling in Portugal versus what is selling in China, for example."
Over the last year, Bacardi's biggest project has been centered on combining its 157-year-old infrastructure with its recent acquisition of Patrón, a younger but highly regarded company. As the two companies unite, Blandon-Hernandez and her team are responsible for adopting Patrón's best practices, integrating the details of their financial infrastructure—including tax financial reporting and transfer pricing—into Bacardi's structure. Though integrating these functions may seem like a small task, Blandon-Hernandez and her team have been working for the past twelve months to ensure that Bacardi's structure remains stronger than ever while keeping Patrón's journey alive and distinguished.
"Patrón is a really successful brand," she explains. "It made really, really good liquid and the company was run seamlessly, so no one wants to mess up something that worked so well. After the acquisition, we had to learn what they did that made them successful so we could borrow their best practice to continue doing those things."
Blandon-Hernandez says that though most would assume her job is primarily numbers based, hands-on experience to better understand the products and the people they serve is critical to the success of her team.
Once the "minutiae" of the acquisition is ironed out, Blandon-Hernandez and her team will be able to better serve the two companies as a united entity. Though most would assume her job is primarily numbers based, hands-on experience to better understand the products and the people they serve is critical to the success of her team. With regard to Bacardi's products and with respect to the addition of Patrón, Blandon-Hernandez encourages her team to break away from their desks to better understand the products they're working with. Luckily, in considering the breadth of Bacardi's products across the globe, they get ample opportunity to do so.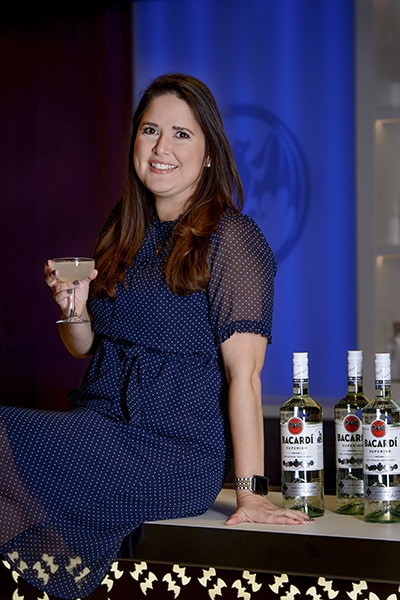 She explains, "The tax team is very small, working for a multinational company that operates around the world. So the opportunities for meeting new people and learning about the industry, which is always evolving, are endless."
As she encourages her team to bring their passions into their work and recognize the merit of their jobs, her strategy is simple: be authentic. Inspired by her upbringing, Blandon-Hernandez's philosophy centers on the idea that no matter how high she climbs on the ladder, she is the same as everyone else.  She says, "You need to be who you are and be kind and empathetic towards others. These are the values my parents taught me and the same values I teach to my kids every day."
Throughout her time at Bacardi, Blandon-Hernandez has offered this authentic version of herself to her team, expecting the same in return. She aspires to develop her team in a way that concurrently highlights their own growing passions for the industry:
"As a leader, my goal is that one day my team won't need me anymore. When you invest in a team, it's delightful to see them start piecing together the business and flourish in their positions. I hope that we continue to stretch professionally and personally to fulfill that sense of curiosity."
---
Related Link: PepsiCo's Legal Beacon of Light