A week before Christy Haubegger spoke with Hispanic Executive, reporters conducted interviews with her and other leaders at WarnerMedia. When a Latina reporter was introduced to Haubegger, who currently serves as executive vice president of communications and chief inclusion officer, the journalist wasted little time in telling the EVP that she was meeting her hero. Haubegger, the reporter said, was the reason she had gotten into journalism in the first place.
"She said she had to hug me," Haubegger remembers, clearly still moved by the experience. "She was probably twelve at the time Latina came out, and it just kind of shocked me. It made me very grateful for the fact that while I've never seen myself as some kind of hero, Latinas are slowly gaining the presence to be that person for someone they've never met. We have that presence, and I can't wait until we start to vote like it."
In one short statement, Haubegger—who founded Latina magazine at just twenty-seven years old and went on to highlight Latinas during her tenure as a film producer, bring wider representation to a global audience while working at the Creative Artists Agency, and empower Latinas by cofounding the nonprofit Poderistas—is able to speak to her entire career trajectory. Her journey, she says, ecompasses "many jobs, but one mission": to empower both Latinas and members of the broader Latino community to love who they are, to celebrate their role in the great demographic shift of the United States, and to flex their undeniable political muscle.
The Essence of a Latina
Haubegger grew up in Houston. While she was adopted by a non-Hispanic family, she felt surrounded by her Mexican American heritage thanks to the large percentage of Latinos living in the city. "My parents wanted me to feel good about who I was and to take pride in it," the EVP says. "They sent me to a bilingual preschool, but in many ways, I still felt like an insider-outsider, and I think that is true of all Latinos in the US."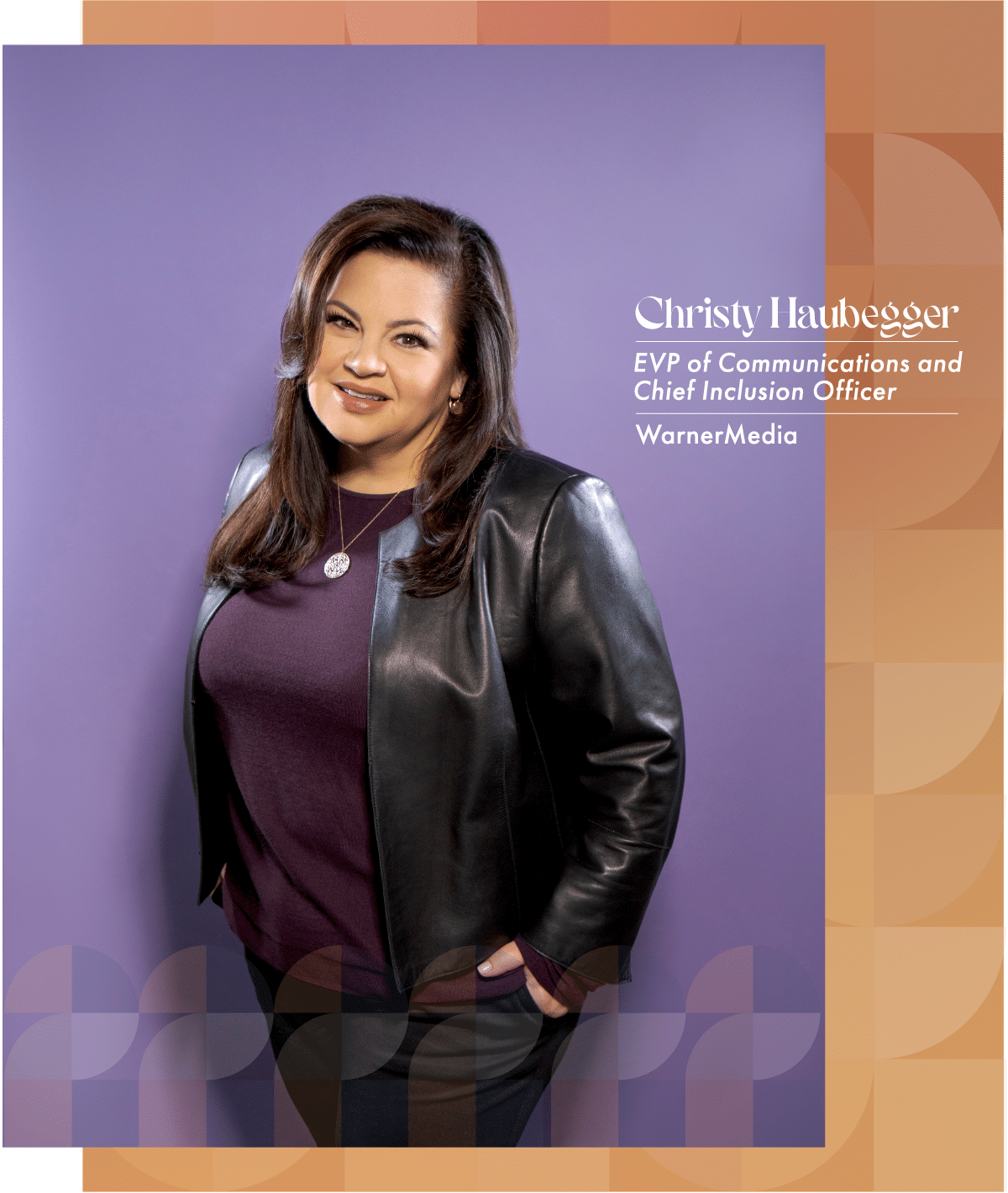 Like most young teenagers, Haubegger loved movies and magazines. But she never saw herself reflected in the media she was so eagerly consuming. "I remember reading through my friend's mom's copies of Essence," Haubegger recalls. "I always wished I had something like this for me, but never imagined I would be the one to create it."
Essence, a lifestyle and beauty magazine catering to African American women, was cofounded by Edward Lewis and was first published in 1970. Even as Haubegger grew up and went to college, she couldn't forget the impact the magazine had had on her.
The idea for Latina was born while Haubegger was at Stanford Law School: the more business courses she took, the more a law career became her "Plan B." Since there wasn't an Essence for Latinas, she decided, she would create one.
Lewis would play an instrumental role in helping bring Haubegger's magazine, Latina, to life. "I owe everything to Ed," she says. "I had met some angel investors, but then I met this real-life angel who had taken the path I was on thirty years prior. He was willing to invest in the vision. It was a multiyear journey, but with his help, we were able to get Latina off the ground."
Apart from support from individuals like Lewis, Haubegger found that the process of founding Latina was rife with casual—if not outright hostile—discrimination. "I had conversations ranging from newsstand distributors wondering how much 'shrinkage' they should count on because of the likelihood of our readership stealing the magazine, to advertisers wondering if our readers could afford their products," Haubegger remembers. "They were selling $5 nail polish."
Such conversations made the EVP all the more conscious of the fact that Latinas needed to be able to see themselves as powerful, influential, and filled with potential. What's more, she says, America needed to see it.
Latina made its debut in 1996 and ran as a print publication for twenty-two years.
Behind-the-Scenes Transformation
Despite the success of Latina, Haubegger didn't see herself working exclusively in publishing—or in any one industry, for that matter. In 2003, she transitioned into the film industry, producing films like Chasing Papi and Spanglish. But in Hollywood, the wait time on a new project is often weeks or months, and that drawn-out production process proved too tedious for a woman who admits she has trouble sitting through an entire television episode without multitasking on other projects.
Haubegger was initially contacted by the Creative Artists Agency (CAA) to work as a consultant and help the premier talent agency tackle the burgeoning Latin American market. That consulting role soon turned into a full-time position, and Haubegger spent a little more than fourteen years building out a business segment at CAA and transforming the organization into the most inclusive and diverse talent agency in the entertainment industry.
During Haubegger's tenure, the agency launched CAA Amplify, an annual event for high-level multicultural artists and leaders. She also helped create the Amplify database, the first searchable database for television writers of color. CAA's diverse roster grew 1,400 percent and remains the largest representative of female directors and African American directors in the film industry.
"We realized that the key was to think about changing the idea of who is telling the stories," Haubegger remembers. "The audience was changing, but the decision-makers were not. It was an incredible experience."
The Stories We Choose to Tell
Since coming on board at WarnerMedia, the EVP has been tasked with rebuilding and remaking the ninety-eight-year-old company with equity and inclusion as its foundation as WarnerMedia reorganizes for the global, streaming future. It's no small mandate, but it's one that both Haubegger and the organization are fully committed to.
"I report directly to our CEO, Jason Kilar," she says. "I sit at the CEO's table and am able to be part of strategic decisions, and it's clear that it's not simply an HR issue here—the business case is fully understood."
Haubegger and Kilar first became acquainted as board members of Management Leadership for Tomorrow, a nonprofit organization dedicated to transforming leadership pipelines and acting as an empowering voice and advocate for people of color.
"I knew Jason was committed to diversity and inclusion based on our work together, and so I never felt the need to make the case why it was important coming in," Haubegger says.
WarnerMedia's commitment to diversity and inclusion is felt in more than just its internal corporate environment, the EVP says. In 2021, it was announced that production on Blue Beetle would begin in 2022. Based on a DC Comics superhero character whose alter-ego is Mexican American, Blue Beetle will be one of the first stand-alone Latino superhero movies (the other contender for "first," Leslie Grace's Batgirl, is also a WarnerMedia project).
Starring Cobra Kai's Xolo Maridueña, Blue Beetle will be written by Gareth Dunnet-Alcocer and directed by Angel Manuel Soto, who praised Dunnet-Alcocer's ability to authentically capture the Latino family dynamic at DC FanDome 2021.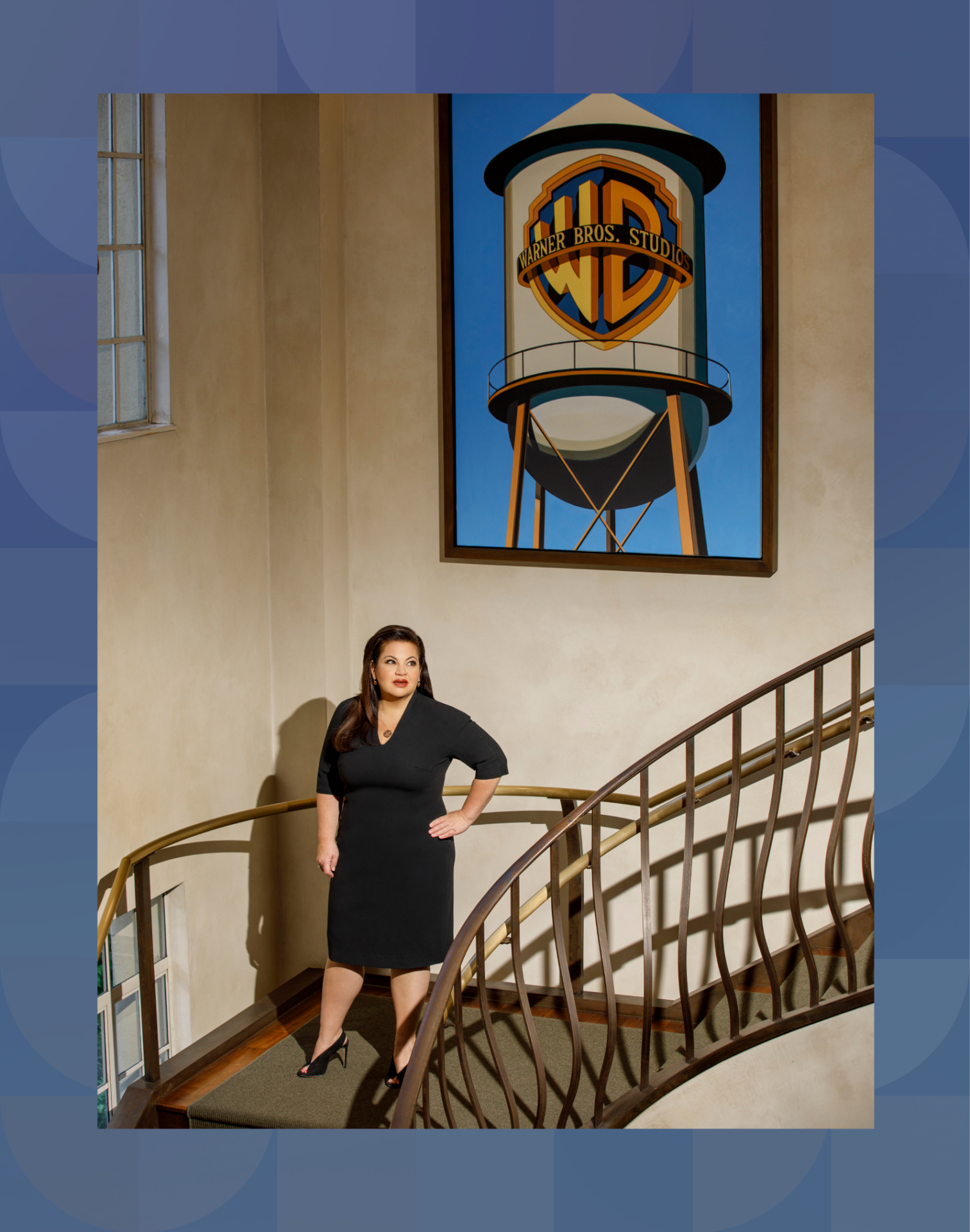 Personally, Haubegger says, she would love to use films to spotlight civil rights leaders. But "Latinos are more interested in seeing superhero movies than documentaries right now," she explains. "It's my job to meet our audience where they are."
Working on one of the first stand-alone Latino superhero movies is a landmark event, but the EVP says it's only part of the story—a story that is slowly changing. "If you integrate a 'fire department' [into a company], it doesn't really change how fires get fought," she notes. "But if you integrate D&I into a business, it changes the stories that get told."
Demographics Are Not Destiny
The issue of Latino representation is not new. Haubegger has been aware of it since the 1990 census spotlighted the rapidly increasing Latino population in the United States, prompting a Time cover story and motivating multiple publications to dub the '90s the "Decade of the Latino."
"I always joke that it apparently got rescheduled," Haubegger says, laughing. But while the Latino community has seen exponential growth over the years, the EVP says that community has not fully embraced the undeniable power that should come with such growth. Now, she says, Latinos are in danger of becoming a permanent underclass.
"We're at a crossroads," Haubegger warns. "America can be a place where your future and your possibilities are entirely dictated by the zip code you grew up in and who your parents are. Right now, it is. I see it as my life's work to change that."
Haubegger, along with nine other Latina leaders—including Eva Longoria, America Ferrera, and activist and entrepreneur Stephanie Valencia—created Poderistas, a nonprofit and digital community that aims to uplift, inform, and inspire Latinas across the country. During the 2018 midterms, Haubegger and her fellow cofounders got together to try and answer one pressing question: if Latinas are such an important part of the electorate, why aren't they voting more?

"After extensive research, one thing we found was that so many of these women don't think they knew enough or that their vote was important," Haubegger says. "If we don't believe in ourselves, no one is going to think we're a force to be reckoned with."
Here, Haubegger speaks of the word aguantar ("to endure"). Latinas have a well-deserved reputation for being able to emerge from whatever difficult circumstances they encounter, she says, but enduring shouldn't be the goal.
"We need to be understood as a force of nature," she says. "If you're afraid of what will happen if you disrespect Latinas, you don't put our children in cages."
Own Your Power
Poderistas has amassed hundreds of thousands of followers on social media, all seeking to make voting and civic engagement an integral part of the Latina lifestyle. During an October 2021 Poderistas event, singer and actress Selena Gomez interviewed voting rights activist Stacey Abrams about what Latinas need to understand when it comes to their voting rights. With so much work being done to disenfranchise would-be voters by state governments and super pacs, Poderistas hopes to offer credible and relatable voices for Latinas to turn to.
"Selena Gomez fans may not be all that civically engaged, but they want to hear from people they trust. It's a way to try and overcome a lot of the disinformation that is out there trying to undermine our potential power," Haubegger explains. "We want you to find your power and own your power. That's the reason for our organization's name, and we have created a community that we will remain communicating with and empowering Latinas to rise in their personal and professional lives."
Of course, it's not just Latina voters that Haubegger wants to empower. The larger Latino community accounts for just over 18 percent of the overall US population, but Latinos own a quarter of box office revenue according to Deadline. "Can we set up voting machines at movie theaters?" the EVP asks, laughing.
Haubegger may be joking, but the earnestness behind her remark comes shining through, and underlines her commitment to finding new and ever more innovative ways to uplift and empower diverse voices. Time has not—and will not—dampen her passion. As the Latino population continues to increase, Haubegger will be there, continuing to help her community realize its true potential—on the corporate ladder, on the screen, and in the voting booth.
---
2022 Leading Latinas
Our 2022 Leading Latinas represent more than collective business expertise—they represent the power and potential of a community that is driving change across the world.
---