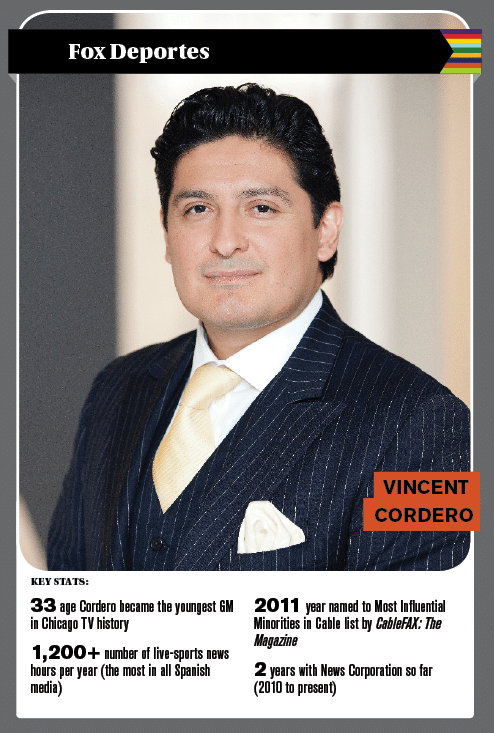 Vincent Cordero, executive vice president and general manager of the US Latino Sports Network, Fox Deportes, always wanted to make a difference in the Latino community. Growing up in the neighborhood of Inglewood in Los Angeles, Cordero was the first of his family to attend college—graduating magna cum laude from UCLA. He envisioned himself making a difference either in the political arena or as a public-service attorney, but while attending the University of Chicago Law School, a fortuitous meeting occurred.
Interning for US congressman Xavier Becerra brought him into contact with another idol, Univision's president at the time, Henry Cisneros. As Cordero describes, "I had an epiphany: Media is the most powerful platform to enact change." He introduced himself to Cisneros, told him that he had never taken a business class, had no media background, but that he "really believed in Univision and the Hispanic marketplace and that I could make a difference." Univision took him at his word, calling Cordero in 1999, and offering him a place in their executive training program right after graduation. Five years later, Cordero became vice president and general manager (GM) of the Univision Chicago TV duopoly—the youngest GM in Chicago TV history at 33. In 2010, he returned to his home state of California to take up his new role at Fox Deportes.
Do you enjoy being back home in Los Angeles?
It's great to be home. My family is in LA. My roots are in LA.
What did you enjoy most about your time at Univision Chicago?
We had a great team, and we grew the station to record ratings, profit, and service highs. We expanded the Univision brand in Chicago from the standpoint of being a Spanish-language station to being the number-one station in the market. We also won 37 Emmy nominations and one Associated Press award during my five years as GM. We grew the brand of the Latino community from niche market to the "new face of Chicago." We served the community by partnering with city leaders. For example, we partnered with secretary of education Arne Duncan (when he was CEO of Chicago Public Schools) on a series of local education initiatives. It gave us the opportunity to be change agents from a business perspective and service perspective. It was a great time there.
What prompted the move to Fox Deportes?
News Corporation [which owns Fox Deportes] is a phenomenal organization with phenomenal people, assets, and a true entrepreneurial spirit—a global company. I was looking for a platform that would allow me to build on the great things that I'd had an opportunity to learn from the people at Univision, to take it to the next level, and News Corporation seemed like the place to do that. It worked out well and, today, I oversee all content and marketing and production for the network, as well as being responsible for the network's P&L [profit and loss]. Helping me with that is a great team of people who do a great job, day in and day out.
Does this job require you to be a huge sports fan?
Sports is the ultimate TV-viewing experience. It drives all TV viewing and leads all other genres of programming. I have four favorite sports: NFL, NBA, boxing, and UFC. I grew up playing football and basketball—the competition and teamwork are awesome. And, I have always loved combat. I grew up on boxing. It was the first time I experienced everyone sitting around, experiencing the excitement together. Once the UFC was launched, I became a huge fan fast. There is nothing more simple and direct than combat sports—it's universal and timeless.
What's giving Fox Deportes the edge over the competition?
We are number one in ratings. We have the most live-event hours per year in all Spanish media. Not to mention, we have the biggest events in all of sports, and a mostly exclusive basis: the best of European soccer with UEFA [Union of European Football Associations] and EPL [English Premier League], the best of Latin America Soccer with Copa Lib [Santander Libertadores] and Copa Sud [Sudamerica], the best in combat with Golden Boy boxing and the UFC [Ultimate Fighting Championship], and the best in baseball with MLB regular season and post-season. We have the most live-sports news hours per year in all Spanish media with the launch of Central Fox—more than 1,200 hours per year. We have the most acclaimed and daring Soccer Talk team in all Spanish media with the launch of La Ultima Palabra ("The Last Word").
The UFC Cain Velasquez fight was the highest-rated cable event in combat history (around 500,000 viewers). How did you achieve this?
We elongated the story arc of the fight, building anticipation before the event with serials focusing on the stories happening behind the event. Leading up to the fight, we had a three-week content and promotional campaign. It worked phenomenally well. We are doing the same thing with UEFA and the Copa Lib.
What did it mean for you to win the National Association for Multi-Ethnicity in Communications (NAMIC) Next Generation Leader award in 2011?
That was a real honor. NAMIC has always communicated that helping everyone dream big dreams by better reflecting the demographics of the nation is good business. What we do in media matters—we help shape identity and aspiration, and encourage people to realize that the world is theirs if they choose to take it.