Cesar Estrada's original plan was to become a chemical engineer, a career he pursued for a short time in his native Mexico. He is now managing director and head of product management for J.P. Morgan's private equity and real-estate-services business. To many, this will not only sound like a bizarre career turn, but an unlikely one. According to Estrada, however, the skills are transferable and changing his career path opened up the world to him.
"I entered chemical engineering because I was interested in understanding processes and that's actually something I think about a great deal in my current job," Estrada says. "It's necessary to understand cause and effect and as I look to enhance and improve the products we offer, the connection between the two fields becomes clearer."
After graduating from business school in the United States, Estrada received three offers to work covering Latin America, but he chose to go with J.P. Morgan, a decision that would send him to places like London and Hong Kong. The countries were completely unfamiliar, with new cultures and languages, but Estrada was up for the challenge.
"I lived and worked in Latin America before business school and I felt like I really needed to expand my horizons," Estrada says. "I looked at my parents' careers and the careers of others around me and I thought that staying in one place would limit my career and value in the marketplace. Expanding my worldview gave me a broader understanding of business, it made me more resilient, and it made me more marketable."
Six years ago Estrada was instrumental in the creation of the private equity and real-estate-services arm of J.P. Morgan Worldwide Securities Services, where he is responsible for the strategy and product development of a business unit with more than 160 global clients and $350 billion in assets under administration. For even a seasoned manager, launching what was essentially a start-up in a relatively new space and operating within the framework of an established business like J.P. Morgan would be overwhelming, but Estrada is energized by the opportunity to draw on his experiences abroad to help grow the business.
"The diversity of my prior experiences across regions, products, and client segments has been tremendously helpful. It has forced me to stretch in different directions to better prepare for this varied role in a quickly evolving marketplace," Estrada says.
Estrada feels strongly that J.P. Morgan embraces diversity and offers opportunities to those who are ready and willing to step out of their comfort zone. Without these qualities, it's difficult to say whether or not Estrada would have chosen the firm as a young business school graduate. From an early age, Estrada understood the importance of diversity. Growing up in Mexico, he watched his determined, tenacious mother work her way up the corporate ladder, going from administrative assistant to CFO during a time when there were very few, if any, women in senior executive roles. Estrada considers his mom a role model as she exemplifies the value of diversity in the workplace at a time when diversity was not an important topic on a company's agenda.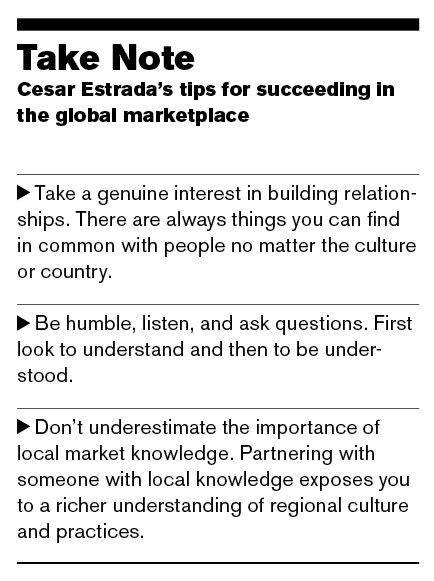 In many ways, Estrada understands why many opt to stay close to home rather than expand their horizons and work abroad. Growing up, Estrada often resisted change and it would have made sense for him to accept a job offer in Latin America, never having to operate too far out of his comfort zone. Through working abroad, however, something shifted in the executive. Not only did Estrada come to embrace change, but he came to see it and confront it with different eyes.
"After working in Hong Kong, I learned to make the most of what's in front of me," Estrada says. "When you work abroad it's not just work, it expands who you are. I have always been a results-driven person, someone who tries to go in a straight line from point A to point B as efficiently as I can. Now it's as much about the journey as it is the final destination. It's about understanding others before trying to be understood; it's about really listening; it's about asking good questions rather than just having the last word."