Serving two million employees, Bryan Rodriguez leads product development and strategy for Goldman Sachs's digital offering. The product manager serves employees with financial guidance, coaching, and a whole slate of digital tools enabling employees to overcome financial obstacles and create a more steady financial reality.
Rodriguez is the first in his family to graduate college, an accomplishment he now offers in tribute to his mother who gave up a full scholarship to raise him and his siblings. He also serves as a board of trustee member for his local chapter of the Multiple Sclerosis Society as well as several other organizations.
Learn how Rodriguez is making a better world for those at Goldman Sachs and beyond.
What do you do today?
I am a product manager at Goldman Sachs, where I lead product development and strategy for Financial Wellness, serving nearly two million employees. The Financial Wellness offering is a benefit companies provide their employees to provide financial guidance through financial coaches and a digital platform that leverages personalized financial tools, plans, and resources.
I strive to enhance the digital platform to improve employees' abilities to address financial obstacles, reach their goals, and obtain financial security. I collaborate with business, engineering, and design stakeholders to identify growth opportunities, develop solutions, and create a roadmap for implementation so that we can better support employees' journeys to financial freedom. In addition to managing key enhancements to the digital platform for our existing users, I spearhead integration of the Financial Wellness digital offering into critical partnerships to further expand our service and impact.
What is your greatest career accomplishment to date?
My greatest career accomplishment to date is refining the Financial Wellness digital offering to better serve the hourly employee population, whose financial needs are often marginalized in the traditional financial services industry. As someone who grew up financially insecure, I felt beyond blessed to be able to deliver a solution at scale that fosters healthy financial behaviors and assistance in communities similar to the one I come from.
---
---
What is your greatest personal accomplishment to date?
My greatest personal accomplishment to date was being the first person in my family to graduate from college. My mom sacrificed her full ride to the University of Pennsylvania to raise me and my siblings, as she was working full-time while balancing school as a single mom. Going to the University of Pennsylvania on the same scholarship she received eighteen years prior, walking across that stage, and giving her a hug was truly a surreal experience. At that moment, it was as if we had graduated together and I was able to complete the journey she started. I could not think of a better thank you than showing her that the sacrifices she made to raise me weren't for nothing.
How do you tackle problems and overcome challenges?
To tackle problems and overcome challenges I make sure to stay grounded and keep the big picture in mind. Typically, if I encounter a stressful situation or a complicated problem, I like to take a moment away to mentally reset so that I can come back to it with a clear mind. Whether a challenge at work or in my personal life, I think through the problem by first identifying the root of the issue, getting details on any context that would be helpful to understand the extent, and then start thinking through proposed solutions. Once I have potential options to move forward with, I prioritize next steps based on the urgency, timing, and impact. Every problem will present a different set of variables to work through, but what I find most helpful is not letting the stress detract me or push me to make the wrong next step.
What do you do today to impact your community?
I serve as a board of trustee member for the Greater Delaware Valley Chapter of the National Multiple Sclerosis (MS) Society. A decade ago my mom was diagnosed with MS, and I am now fortunate enough to be able to work with the local Philadelphia-area chapter to promote MS awareness and contribute to finding a cure. I also serve on the leadership council for my high school where I help drive the strategy of the school to foster inclusivity and impact the following generations of students.
Professionally, I continuously strive to make an impact in my role as a product manager leading the Financial Wellness offering by keeping in mind how to optimize the service for underserved employees to assist in their financial journeys.
Describe yourself in five words.
Generous, thoughtful, adaptable, ambitious, adventurous.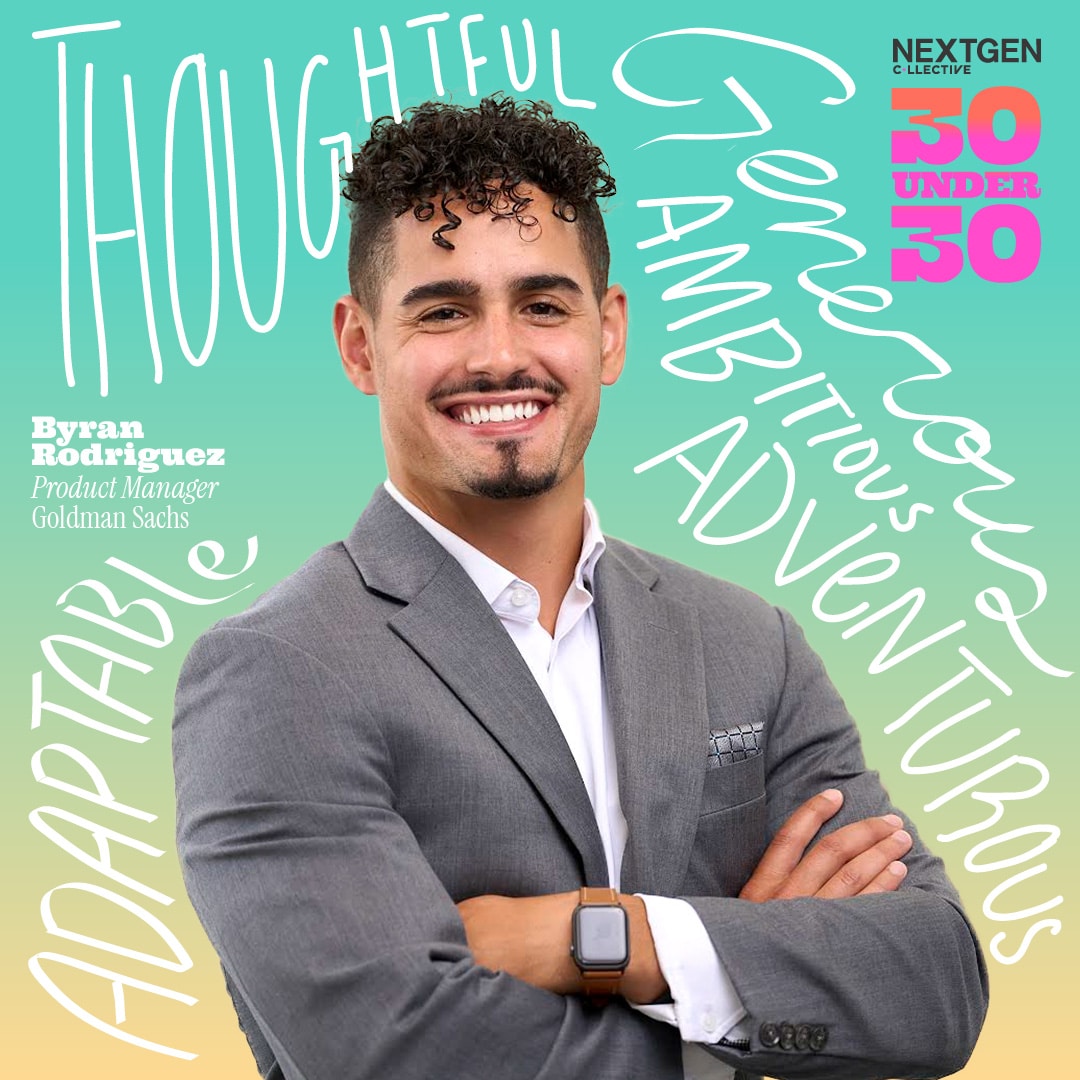 What are your future goals?
My future goal is democratizing access to financial services paired with foundational financial education to promote financial literacy and economic prosperity in underserved communities similar to the one I come from. A near-term goal of mine is creating a program in Philadelphia for middle school and high school students that focuses on maximizing students' potential through promoting higher education, career readiness, and financial literacy. I believe the key to creating inter-generational change is investing in today's youth and showing them what's possible.
What is your favorite form of self-care?
My favorite form of self-care is periodically getting away to reset completely—mentally, physically, and emotionally. Whether it's catching a flight to a beach in the Caribbean or sitting in a park in New York City, I like to leave my phone behind, get off the grid for a bit, and do something people rarely do now: take in the surrounding environment. I love clearing my head to be fully present. There's something special about being actively attentive to what I hear, smell, feel, and see. I often bring a notebook with me and write a poem about what I'm experiencing at that moment.
What do you like to do for fun when you're not working?
When I'm not working I like to spend time playing with my baby cousins, read and write poetry, dance bachata and salsa, travel, and play football.
What does making NextGen Collective's 30 Under 30 list mean to you?
Making NextGen Collective's 30 under 30 is a true testament to what can be accomplished when you have a community and family that support you to reach your true potential. Coming from a neighborhood where only about a third of people graduate high school, the odds were against me to even attend college, let alone make NextGen Collective's 30 under 30. I am privileged to have made NextGen Collective's 30 under 30, and hope that I can inspire the next generation of Latinx leaders to reach for goals and have aspirations beyond their wildest dreams. I just want to show today's younger generation that it is possible to accomplish your dreams if you put your full heart into it. I'm here because someone believed in me. I want to be that person for someone else.
What is your personal theme song? (*please list song name and artist!)
"Vivir mi Vida" by Marc Anthony
What is your Latino background?
I am Puerto Rican. I was born and raised in Philadelphia, where there is a significant Philly Rican presence. My parents are both Puerto Rican and met in Philadelphia over thirty years ago.
Editor's note: This Q&A has been edited for clarity.