Elisa Padilla made deliberate moves throughout her career. In the early '90s, Padilla took her first step toward realizing her dream of being a director of marketing for an NBA team as a marketing assistant for the New York Knicks. From there, her career took some twists and turns with positions at Disney's Wide World of Sports, the NBA [National Basketball Association], HBO Sports, and AT&T. By the time a headhunter called about the opportunity of a lifetime, she had acquired the knowledge and experience to lead a marketing department for a professional basketball team. Here, Padilla shares her journey and the strategies implemented to make the Brooklyn Nets a household name in the Northeast Coast and among basketball fans everywhere.
1. Building a Diverse Skill Set
Padilla was very systematic in planning out her career, accepting roles at different organizations every few years so she didn't pigeonhole herself into one particular industry. She worked in events and attractions, gained media experience, handled diversity marketing, and learned a bit while working in the technology space. "At the end of the day, I wanted to be in a senior-level position where I was very well rounded," Padilla says.
In her heart of hearts, Padilla knew she wanted to be the director of marketing for a NBA team—basketball was her passion. In November 2010, Padilla was hired to lead the New Jersey Nets marketing team. Fourteen months later she was promoted to vice president of marketing—a position only 29 other people in the country hold. Today, she handles all aspects of marketing and promotion for the NBA team—renamed the Brooklyn Nets in April 2012—and the Barclays Center, including brand communication, advertising, social media, digital, database, research, and creative.
2. Relying on Expertise
Prior positions prepared Padilla for her daily tasks, which she suggests has made her a better marketer. She says, "Right now, in my current position, I can sit in a conversation where we are talking about development of a mobile app or I can sit in a meeting about multicultural marketing and feel comfortable because I feel I am very diverse in my background and skill set."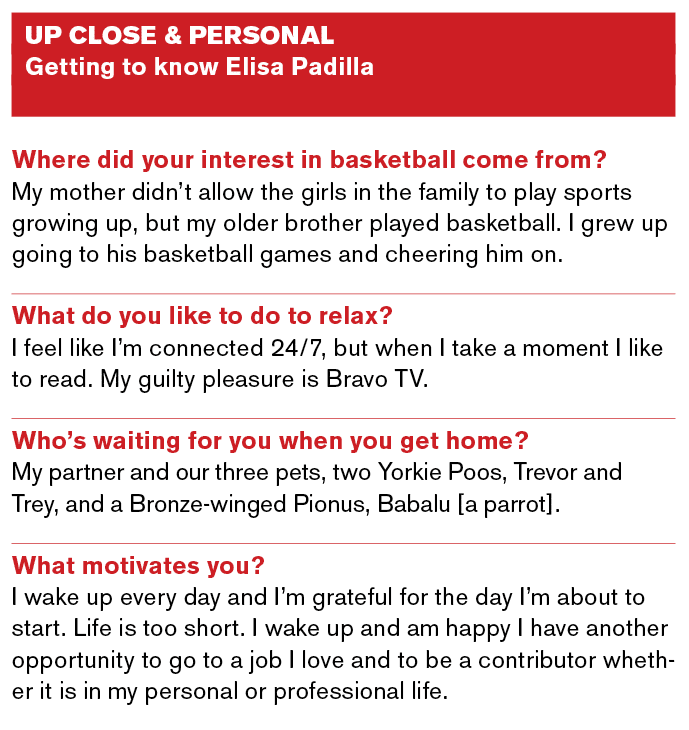 3.  Creating a Brand
From the moment Padilla stepped into her role with the New Jersey Nets, she began strategizing on how she would rebrand the team. On April 26, 2012, the New Jersey Nets played their last game. On Monday, April 30, the state was introduced to a new team, the Brooklyn Nets. Billboards and promotions throughout the area screamed, "Hello Brooklyn"—a campaign developed and inspired by Padilla. "We wanted it to be simple and humble. The characteristics we wanted to instill in the brand were 'we are strong and confident,'" says Padilla. The approach was effective. Merchandise sales were through the roof on day one. Traffic on the website saw a huge spike; they received more than 150 calls for season tickets.
"The whole approach in regards to relaunching the brand was we wanted to make sure we were relevant," Padilla adds. "I think the one we have to keep in the forefront of our mind as marketers is to know your consumer. If I'm developing a campaign for a product, I have to know who the target audience is." She does this by taking a 360-degree approach and understanding where consumers live, work, and play.
4. Pushing for Creativity
Budgets are often guilty of squashing creativity. Padilla's greatest challenge with rebranding the basketball team was having big ideas with limited funding. She says, "As we were planning the relaunch, the one thing I kept telling my team is we have to think big. I believe it is always better to ask for more and for them to say 'no' and scale it back than it is to ask for little and have upper management look at you like you aren't being innovative."