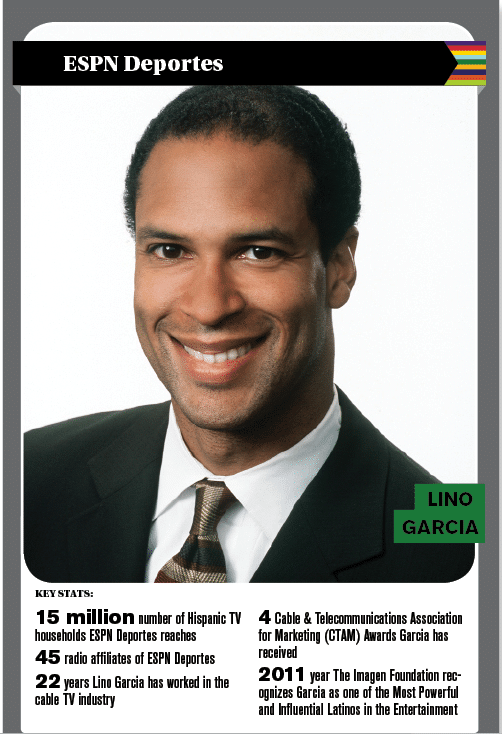 It was September of 2002 when Lino Garcia first learned that ESPN was preparing to launch a Spanish-language sports network. He was determined to be a part of this new enterprise. "I relentlessly pursued the president of ESPN (at the time George Bodenheimer) until I got the job in June 2004," recalls Garcia, who is now general manager of ESPN Deportes. "I think I worked harder to get this job than any other job I've ever had in my life."
Garcia helped build ESPN Deportes, which launched in January of 2004, from the ground up. Based in ESPN's New York offices, Garcia is responsible for guiding the network's day-to-day operations, including programming, sales, and marketing. Sports Illustrated named Garcia one of the 101 most influential minorities in sports in 2004. Prior to joining ESPN, Garcia accumulated 15 years of experience in the cable and satellite industry working for big-name companies such as Universal Television, Sony Entertainment Television, and HBO, focusing primarily on marketing to the Hispanic community.
I would imagine that working in the sports industry is a lot different from your previous jobs in television. What are some of the unique dynamics of working in this market?
Every television job is different and similar at the same time. There are a lot of common threads. I've been in situations in the past where I've been charged with bringing things from the ground up and developing them at other companies, including HBO, where we were launching a service that back then was called HBO en Español (now HBO Latino). I drew upon that in my job here at ESPN Deportes because I was brought in to launch the network.
Before I came to ESPN Deportes, I was general manager of a network in Latin America called the Sony Channel. That was my first general-management experience and I drew on a lot of my previous experience there as well, mostly in marketing and brand building. My job as general manager, as it is now, was essentially to make the network more attractive to advertisers, to affiliates, and to viewers. That's really my role to make this an attractive brand. So, I learned a lot of things then that I'm applying now.
What do you do to make your channel stand out from the other Spanish-language sports networks?
We try to do everything better. We try to make sure we're more creative than the next guy. We look to acquire the right events, some of which everyone is going after, and some others that not everyone is lined up for, but yet we see the value of it and we are able to offer these to consumers and viewers, giving them a satisfying viewing experience.
On the production side, we also look to produce more interesting studio shows, created from scratch in some cases or in other cases mirroring ESPN shows that are already on the air. For example, we created Nacion ESPN modeled after ESPN's Sports Emmy-Award winning, fan-interactive program SportsNation on ESPN2. But then we've also created shows from scratch like Futbol Picante, which is a debate show about Mexican soccer that no one was doing before and now, lately, all of our competitors have, in one form or another, a show focused on Mexican soccer. So, we try to be innovators.
You said you have never worked as hard to get a job as you did to become general manager of ESPN Deportes. Why was this job so appealing to you?
The ESPN brand is a very powerful brand and I think when you work with strong brands it makes the job more interesting, especially if you're working on projects that take it to the next level—adding even more the brand. Also, the opportunity to serve the US Hispanic market, and in this case underserved US Hispanic sports fans, was also very attractive.
What efforts have you made or do you plan to make to increase the minority presence in the business sports arena?
We serve the Hispanic marketplace and in order to do that effectively it's important to have people in our staff who come from the marketplace, who have a point of reference. So, I think employing Hispanics is one of the first things that we've done. Overall, as a company we have taken a position where we recognize that diversity is very important for the future success of the company, of ESPN. We actively look to recruit diverse candidates for all our jobs even outside of ESPN Deportes.