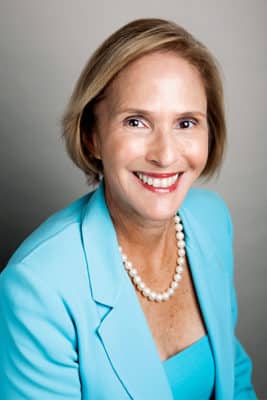 As a cofounder, principal, president, and highly successful portfolio manager at Taplin, Canida and Habacht (TCH), Tere Alvarez Canida has been a role model and groundbreaking pioneer for Hispanic women in the traditionally male-dominated financial industry. Her entrepreneurship and leadership helped make the company a top performer for thirty-one years with nearly $11 billion under management when it was ultimately sold to Marshall & Ilsley Bank (now Bank of Montreal) in 2008.
Having retired from TCH, she now sits on the board of Infinity Property & Casualty and has cofounded a new company, Cito Capital Group (CCG), with her husband, Bill, and children Brian and Carolina. She has also been named one of the most influential Hispanics in the United States by Hispanic Business and inducted into the National Association of Securities Professionals Hall of Fame.
Canida attributes her accomplishments to a passion for the capital markets that she inherited from her father and to lessons that she learned from both parents about perseverance and hard work.
"When I started, there were very few women, let alone Latino women, in the investment world," she says. "But I never viewed the hurdles as challenges. I saw them as opportunities that I could take advantage of."
One of her first clients as a senior investment officer at Southeast Bank Trust Company—prior to launching TCH—was a wealthy woman who was initially upset that a young Latino woman had been assigned to her account. Through extensive communication; Canida's philosophies of making the client her first, second, and third priorities; and always attempting to anticipate and exceed expectations, that woman (and her family since her death) have remained loyal clients through both TCH and CCG.
Board Snapshot
Infinity Property & Casualty
TCH's performance caught the attention and gained the respect of competitors, including Jorge Castro, executive chairman of the board and former CEO of Lombardia Capital Partners, who became one of Canida's personal friends. He also served on the Infinity board and recommended her for the seat she now holds.
She brings value to the position through both her professional expertise and personal experience. For example, she is quick to point out that her perspectives on investment policies, portfolio management strategies, and decisions for business growth have always been based on objective processes, measures, and extensive research and analysis. But from a personal perspective, she feels that Hispanic board members can make businesses aware of the differences between distinct Latino populations and cultures, which are hard to quantify and often overlooked.
"By having a diverse group of board members, companies can learn to attract new customers and significant new sources of revenue," Canida points out. "Diversity isn't just the right thing to do; it's smart business."
Unsurprisingly, even with her years of experience and acting as the chairman of several key committees within Infinity's board, Canida still views serving as a board member as an opportunity to learn more, including how to build consensus.
"Building consensus requires a great deal of listening to others with very different experiences from my own," she says. "It's nothing like leading your own company, but it can still be viewed as a kind of research that helps you learn from their strengths. And hopefully, they learn from yours."
Canida views younger generations of Hispanic professionals as being more entrepreneurial, more flexible, and less afraid of taking risks. That, in turn, will lead to more diverse groups getting involved in every aspect of business and prepare them to be the board members of the future.
In addition to always putting clients first, second, and third, she advises them to be  as transparent as possible, to remember that integrity is never negotiable, and to remember that you must constantly adapt to changing situations.
She offers her own experience during the financial crisis of 2008 by way of example. "There was no way to know who the next Lehman Brothers would be, so I stuck to our processes and methodologies, took in the latest data and analyzed, analyzed, analyzed to make the best possible decisions for our clients," she says.
Canida is excited about developing Cito Capital Group as a boutique multifamily investment office. Since TCH had a significant portion of its business in institutional investing, she sees CCG as returning to her roots, given that it will allow her to focus one-on-one with clients on everything from investment strategies and portfolio structures to estate planning.
Looking back on her career, Canida hopes that she and many other Hispanic professionals have helped lay the groundwork for new entrepreneurs to succeed and for many different industries to recognize the importance of diversity.
"Many of us have worked very hard to make it easier for the next generation," she says. "It doesn't mean they won't still need to work hard, but hopefully it gives them a leg up from where we started."
Thoughts from Guest Editor Victor Arias
"I first met Tere with New America Alliance. Tere is the poster child for persistence and perseverance. The worst thing you can tell Tere is "You can't do that." She will prove you wrong!"
---
Infinity Insurance congratulates Tere Canida for her vision and leadership inside the boardroom and her dedication to the communities we serve. Her work with organizations like The New America Alliance, and support of Infinity's Read Conmigo program demonstrate the power of street-level investments to energize markets and build shareholder value.