The BMW Championship, formally known as the Western Open, kicked off in Lake Forest, IL at Conway Farms Golf Club on September 17, 2015. Hispanic Executive, a BMW media partner, was graciously invited on September 15th to an exclusive preview of the practice rounds and to participate in a professional putting clinic.
Hispanic Executive invited top Latino executives with a growing interest in golf to the private VIP experience.
Walking into the Experience Center that welcomes spectators to the Championship, the HE team and their guests felt energized. Sleek displays of all-new BMW vehicles and motorcycles, adjacent to the 18th hole and among the practice putting greens, wowed visitors immediately upon entering.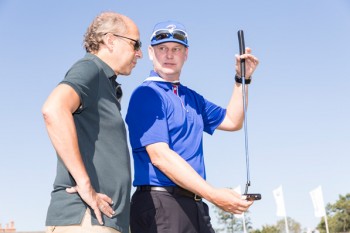 PGA Tour coach, Jon Tattersall, brought HE's guests onto the putting green for one-on-one lessons. After pro-insider tips on stance, picking the perfect putter, alignment, and where to look when making contact with the ball, guest Andrés Tapia sank an impressive putt. Feeling ready to join the roster, "I'm practically a professional now," joked Tapia.
The BMW Championship showed off the ultimate luxury premium experience to golf fans and BMW owners with exclusive benefits such as private parking, shuttle transportation, premier hospitality in the BMW Owner's Pavilion, personal concierge service, and the best views of the course. The BMW Championship also continued to raise awareness and support for the Evans Scholars Foundation.
As the third-oldest PGA tournament in the United States, the BMW Championship certainly had a traditional, classic air about it. However, there was also the feeling that PGA is embarking on a new era of fresh ideas, diversity, youth, and cool luxury. The young talents of Jordan Spieth, Jason Day, and Rickie Fowler invigorated spectators and made for an exciting weekend for golf fans all over the world.
The winner of the tournament, Jason Day, 27 years old, claimed another victory, marking this his second win in the FedExCup and catapulting him to No. 1 in the Official World Golf Ranking.
The FedEx Cup finale, the Tour Championship, begins Thursday, September 24-27 at East Lake Golf Course in Atlanta, Georgia.