Benjamin Javier Gomez is always on the road. The franchise business coach at Neighborly Brands provides marketing, operational, and technical advice and counsel to franchisees of Neighborly Brands' extensive portfolio.
Along with his career success, Gomez is also an expectant father of a baby boy on the way in September 2023. The father-to-be has served on several nonprofit boards in the Waco, Texas, area and says he's continuing to seek out new board opportunities to use whatever gifts he has to make his community a better place. Learn more about Gomez's love of a good bath, his hopes of becoming a CEO, and his passion for removing barriers for those around him.
What do you do today?
As a business coach, I travel around the United States providing marketing, operational, and technical expertise to all franchise owners within our brand. This involves training owners how to use franchise technology, crafting strategic plans for business growth, and maintaining their engagement with our brand support services. My main objective is equipping franchise owners with the tools and resources needed to create a successful business.
When we achieve this one objective, generations can be impacted and opportunity can be paid forward in a multitude of ways. Some of the challenges we help franchise owners overcome are differentiating ourselves amongst local competition, recruiting top talent within the trades, dominating the digital space, and growing the leadership capabilities of our owners and their staff.
What is your greatest career accomplishment to date?
After eighteen months of education, conferences, and additional franchising certifications, I earned the designation as a certified franchise executive (CFE). This signifies my commitment to the franchising industry and that I am equipped with the knowledge to lead a franchise brand.
What is your greatest personal accomplishment to date?
Becoming a father. My wife and I are expecting our first baby boy in September, and I cannot wait to see what he accomplishes in this world. Undoubtedly, leading him and helping him discover his own gifts in this world will outweighs any of my own personal accomplishments.
How do you tackle problems and overcome challenges?
First, I educate myself on the problem and attempt to identify the root cause(s). Then, I acknowledge that I am human, and I do not need to tackle the problem on my own, so I search for others who are passionate about solving this problem and form a team of individuals with the strengths to contribute. All the while, we focus on what is within our control: our attitude, effort, and how we respond to unexpected challenges. A quote my mother says is, "It's not forever, it's just for right now." [That] helps put into perspective how temporary challenges are which makes them manageable, knowing they will not last forever, and recognizing that these experiences are happening for you and not to you. This mindset is how I have overcome challenges in my life.
What do you do today to impact your community?
For about six years, I have served on various nonprofit boards in the Waco, Texas, community with missions ranging from poverty alleviation to early childhood education to economic development. Some of my other community projects include: a board matching program called MatchWaco that helps local citizens find board service opportunities, and implementation of a program called CO.STARTERS at the local Hispanic Chamber to help predominantly Spanish-speaking communities create a business plan.
I thoroughly enjoy creating access to opportunities for others whether that is board service, business creation, or connecting with local executives. Everyone has a strength, and the world will benefit greatly when people are positioned and empowered to use those strengths. With that passion in mind, I hold myself accountable to leveraging my own strengths to remove barriers for people so they can realize their own potential.
Describe yourself in five words.
Ambitious, tenacious, inquisitive, introspective, creative.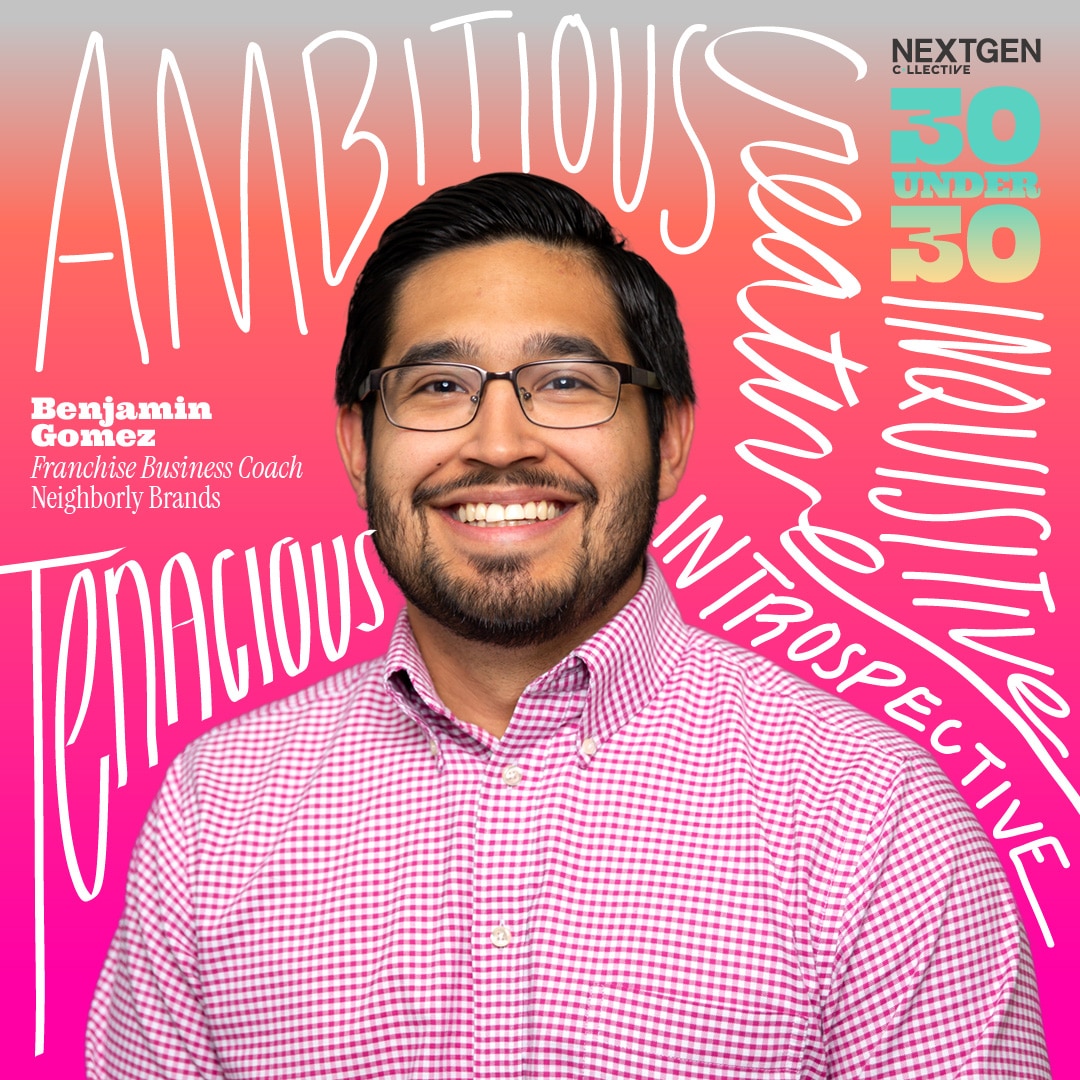 What are your future goals?
I would have to narrow it down to three goals:
Become a CEO of a publicly traded franchise company
Create a private foundation that provides full tuition scholarships to people of color pursuing both undergraduate and/or master's degrees in business
Write a book on goal setting
What is your favorite form of self-care?
Eucalyptus bath salt in the bathtub with some jazz music and a glass of whiskey. Does not get any better than that!
What do you like to do for fun when you're not working?
Long-distance running, reading poetry, traveling, and discovering new music!
What does making NextGen Collective's 30 Under 30 list mean to you?
The 30 Under 30 recognition, first and foremost, is humbling especially because there were many hands that guided me and contributed to my successes that enabled me to qualify for this award. Secondly, it validates that the activities and habits I have built produce results which is empowering because now I have credibility to share a small blueprint with others in hopes that they achieve similar (or greater) success. Lastly, I believe this award will be a catalyst for future opportunities that will place me in the room to elevate the voice of Latinos and continue to create access for others.
What is your personal theme song?
"Throne" by Bring Me The Horizon
What is your Latino background?
I am Mexican American. While both of my parents were born in the United States, it is my grandparents that are from different areas of Mexico. I was raised in rural South Texas with a predominantly Latino population.
Editor's note: This Q&A has been edited for clarity.