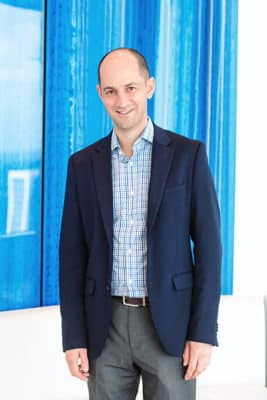 Andres Cueto didn't plan on a career in the banking industry. But after moving to Houston from Mexico City with an architectural degree, a tight job market, along with visa and licensing complications, led to a master's degree in real estate from Johns Hopkins University's Carey Business School.
After several years of working for The Hanover Company, which develops apartment buildings across the US, a friend of a friend referred him to BBVA Compass; the company was looking for an architect who was fluent in Spanish. He got the job the next day and is now a senior vice president and director of ATM channel and branch strategy & design.
His first assignment was with the facilities team working on a major project to transform the traditional design of the company's headquarters to an open floor plan.
"Many people didn't understand the reason behind the change, so there was a lot of resistance," Cueto says. "We did a couple of pilot projects that included redesigning the facilities team's space so the corporate folks could see the benefits."
The success of that project led to his assignment as part of the newly formed Business Innovation team, which is responsible for creating a new format and distribution strategy for the bank's branch network, among other things. As a leader in embracing the ongoing digital disruption of the industry, BBVA Compass was looking to transform its physical network in order to accommodate changing customer needs.
"We believe that our digital transformation initiatives, combined with our branch network, have given us the tools to achieve excellence in customer experience and to better meet customer expectations," Cueto says.
One of his branch design strategies has been to develop a flexible template that can be adapted to specific markets. For example, in branches with light demand for traditional services like transfers, balance inquiries, and depositing checks, the area for tellers can be downsized, while space for personal services like mortgage, investment, and small business loans can be increased.
Technology is also being incorporated into branch design. In some locations, tablets enable bankers to step out from behind what Cueto calls the "teller fortress" to provide personal customer assistance in conference rooms or more informal spaces. At the same time, customer experience managers can step in to help keep bank lines moving.
"It's about designing with flexibility and fluid branch roles in mind," Cueto says. "It's expensive to redesign real estate, but with the branch templates, we can adapt to changing priorities and create spaces designed around customer needs instead of around the role of the employees or constraints of the physical space."
This approach has helped Cueto introduce new dynamic business strategies in some branches. At the Texas Medical Center, medical professionals don't have time to come into the branch. To accommodate their needs, the branch was designed on a much smaller scale, and bank employees go directly to clients to assist them more efficiently.
Cueto and his team have developed a central database with information about the entire branch network that includes geomapping and an automated dashboard for real-time insights. Now, real estate decisions that used to take two to three months because of the time required to gather information can be handled in a few days.
Beyond the branch, ATM access is another channel that continues to be popular. One study by Visa showed that 57 percent of customers actually choose their bank based on ATM locations and accessibility. As a result, another aspect of Cueto's responsibilities is introducing innovations and upgrades to the machines.
"Digital innovation and disruptive solutions are important, but maintaining resources like our ATMs are still important so that we can continue to give customers banking options through whatever channel they want," Cueto says.
In addition to keeping an eye on customers and their preferences, as a manager, Cueto is also responsible for the development of his team. He stresses how important it is for them to identify where they want to be several years down the road.
"I can't guarantee specific positions will be available, but my role is to help my team members prepare so that they'll be ready to pursue what they're passionate about when an opportunity arises," Cueto says.
As part of his own development, he has been a long-time volunteer for a number of different community, arts, and education organizations, and he's currently president of the board of his children's school. As proof of the networking and personal benefits that provides, after Cueto's house flooded in Hurricane Harvey, half of the people who helped with the clean-up were friends from volunteer work he and his wife have done.
"Volunteering to help others outside of work makes you happier and feel more fulfilled, and it's the right thing to do for our community," he says.