Anne Alonzo has a mission. As president and CEO of the American Egg Board (AEB), the marketing arm for US egg farmers, she wants to educate the public on the "incredible egg."
Given that eggs are already in more than 90 percent of US households, the challenge is to increase egg frequency. Her organization identified one of the largest targets for US eggs: Hispanics. Hispanic millennials, in particular, are central to the American Egg Board's strategy to drive demand for eggs. After all, 18 percent of the US population is Hispanic, and it's the fastest growing segment of the US population. From flan to chilaquiles, eggs are the main feature in many Latin American dishes. "Food and family are central to our culture, and eggs are central to both," she says. "Eggs are nutritious, easy, affordable, simple—and perhaps most importantly—delicious."
Alonzo is proud to represent both America's egg farmers and her incredible team. Her leadership is informed by an impressive and diverse career in the nonprofit sector as well as the public and corporate worlds, mostly Chicago based.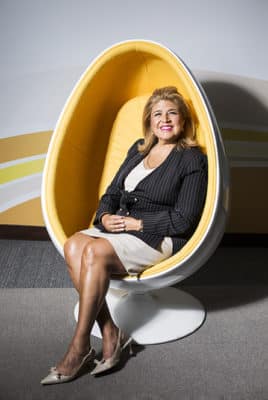 Anne Alonzo worked in the corporate sector and the US Department of Agriculture before joining the American Egg Board, Alonzo grew up on the South Side of Chicago. As a child, she loved reading and school, and she especially loved the sense of accomplishment and self-confidence derived from academic rigor and achievement. Although she was not armed with the financial means or the know-how needed to navigate a career, Alonzo forged ahead with strong family support and a laser-like ambition and passion to learn and thrive.
After graduating from the University of Illinois–Chicago, she attended Chicago-Kent College of Law to pursue a career that was aligned with her own beliefs. "I believe in fairness," Alonzo says. "I wanted to be equipped with the tools, and a legal degree helped advance the rights of others and do good wherever I worked."
Her sense of mission led her to the US Environmental Protection Agency (EPA) in Chicago. She then pivoted into a role as the first environmental diplomat representing the USEPA, where she assigned to the US Embassy in Mexico City during a time that coincided with the negotiations of the North American Free Trade Agreement. Working abroad, she says, opened her up to the world of trade, diplomacy, and the role of government.
From Mexico City, she landed a job in Washington, DC, at the US Department of Commerce, where she devised and executed a global trade promotion program. "My worldview got even bigger," Alonzo says. Working in government was an opportunity for her to serve the public.
In fact, advancing a mission that is connected to a public good has been central to her career, especially as she transitioned between the public and private sectors. "No other career track would have given me the kind of learning and level of responsibility," Alonzo says. "It is also a privilege to serve."
During her time in DC, she was recruited to the private sector for the first time. As part of the transition to corporate America, she earned an MBA from the University of Chicago. While law school had taught her how to write and think logically, her MBA program equipped her with quantitative analyses skills and business acumen.
After receiving her MBA, she spent several years learning trade policy at a leading trade association in Washington, DC. She was once again recruited to the private sector by a major food company, where she served as the vice president of global public policy, corporate affairs.
Transitioning between the public, nonprofit, and private sectors was challenging, but fortunately, Alonzo loves a challenge. "It's been a huge learning curve as far as content and organizational cultures," she says. "I thrive on challenges, and throughout, I've grown, learned, and stepped up." Preparation, focus, and a tenacious mind-set has been indispensable to her when adjusting to a new role. "I would invest the time and do all I could to succeed, and that has served me well," she says. "Todo se puede (everything is possible)."
Throughout Alonzo's career, she's had a particular interest in food and agriculture that was solidified during her time as the USDA's administrator of the agricultural marketing service. There, Alonzo oversaw a multimillion-dollar budget and a workforce of 4,300 employees and developed a deep love and respect for farmers. "I visited many farms and interacted with many farmers and producers across multiple commodities," she says. "Farmers need to be adept and sophisticated about so many issues and often amid challenging external circumstances." Her respect for agriculture also connects with her belief in environmental sustainability.
Alonzo's respect for farmers helps drive her work at the American Egg Board, which created the Incredible Egg campaign. She especially admires how entrepreneurial and resilient egg farmers are. Modern egg farming involves many variables. Egg farms, like a majority of American agriculture, are also primarily family owned, often with multiple generations working together. "Egg farmers care about their hens, our environment, and communities," Alonzo says. "Every day, the eggs they produce feed their families and consumers across our country and the world."
The care Alonzo takes in advancing the mission of the AEB extends to her daily interactions with her team. In this position since January 2016, she's prioritized and focused on employee engagement, development, and satisfaction.
Throughout her career and wherever she has worked, she strives to "bloom where she is planted." She looks to serve as a resource and model to others especially Latinas, who she hopes will become interested in careers in the food and agriculture sector.
"I've been very blessed," Alonzo says. Throughout her career, she didn't readily have role models available to emulate, so she's especially sensitive to how impactful it can be when someone takes an interest in helping a young person succeed. "It's both my duty and responsibility to share learnings and develop and mentor others, especially Latinas," she says.
Latinas interested in succeeding and who show great potential—such as Gwen Ramirez, AEB's director of administration and employee relations—are of special interest to Alonzo. "Gwen is a star," Alonzo says. Alonzo has mentored Ramirez, providing her with opportunities for growth.
For example, Ramirez joined AEB as an administrative assistant, but over time, her high potential became evident because of her strong work ethic and dedication to the organization. Alonzo promoted Ramirez to a director of administration and employee relations. "Gwen is key to our organization and, above all, really cares about its success," Alonzo says. "She's presently championing our HR policies, benefits, and other critical functions. I have let her take the reins."
From mentoring up-and-coming Latino professionals to working in the food and agriculture sectors, Alonzo's career demonstrates a sense of integrity, fairness, and social responsibility. She is extremely grateful to be where she is now. "I've had a lot of opportunities and want to do all I can to bring others along," Alonzo says. Her biggest piece of advice to others? "Go forward with passion and confidence," she says. Y todo se puede.