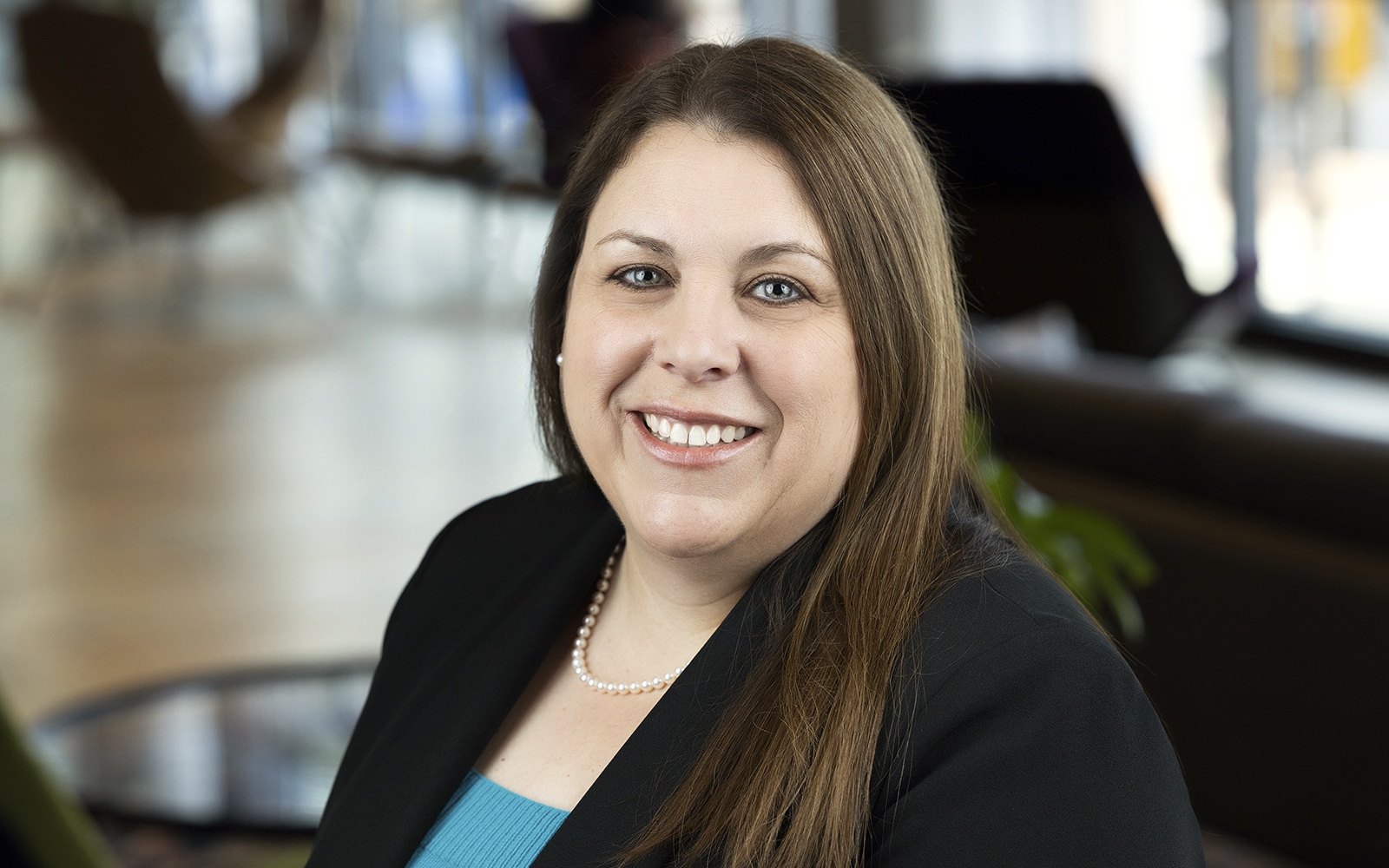 Angie Valdes understands the world through its tangible aspects. And, in her role as the chief accounting officer at JBG SMITH Properties—an S&P 400 company that owns, operates, and develops properties in and around Washington, DC—she helps her organization achieve real, concrete results every day (pun intended).
"I like the fact that I can drive by a property, show it to my friends, and say we created that; this is our building," Valdes says. "I enjoy real estate because you watch something from when it was a hole in the ground, and you get to see it grow. It just makes sense to me."
This fondness for the physicality of a space stems from Valdes's childhood. Growing up in a two-bedroom apartment with six other family members, the chief accounting officer had no choice but to be literally close to her parents, siblings, grandparents, and neighbors at almost all hours of the day. But these circumstances worked in Valdes's favor in surprising ways—she reminisces about bonding with her grandmother, and eating dinner and attending sleepovers with her neighbor-turned-"aunt" down the hall. The physical realities of Valdes's childhood apartment enabled her to form meaningful relationships with those who surrounded her, as well as create a deep connection with her hometown of Hialeah, Florida.
"Networking is never a chore. I just love getting to know people."

Angie Valdes
It feels poetic in a way: Valdes's family and broader community built her up, encouraging her to attend the University of Miami and pursue a career in accounting. Today, the chief accounting officer is the builder herself. She actively helps JBG SMITH create properties from the ground up, providing their hands-on team with valuable financial insight. Equipped with this information, JBG SMITH can be intentional and strategic when its team builds spaces, cognizant in its efforts to foster a sense of community amongst those who live, work, and relax in its properties.
Valdes's lived experiences allow her to recognize how consequential a space can really be. Thus, she is committed to JBG SMITH's mission of creating value by developing and managing sustainable, vibrant places where people thrive. "We create the type of community that you would want to live in," she says. "We're very focused on the customer experience right from the beginning. It's all about really engaging with the customer and providing the experience and amenities that they're going to enjoy."
Though Valdes is now a powerhouse in her field, her rise to the top was not without its challenges. Like many other Hispanic women, Valdes says she suffered from imposter syndrome early in her career. Though her education, career trajectory, and personal accomplishments clearly qualified her for high-level accounting positions, she still felt unworthy when stacked up against her white, male counterparts.
On the day before Valdes interviewed for her current role at JBG SMITH, she confided in her husband that she felt inadequate when comparing her résumé to that of other executives at the company. "'A bunch of them went to Ivy League schools, and I'm just this little girl from Hialeah,'" Valdes recalls telling him. "I kept wondering whether or not I deserved a seat at the table."
Her husband responded to her feelings of self-doubt with heartfelt encouragement. "He said to me, 'You know more about what you do than any of them,'" Valdes remembers. "'You deserve to be there. None of them can do your job the way you can.'"
The chief accounting officer attests that this single interaction revolutionized her understanding of intrinsic love and confidence. She knows that self-assurance is critical to success; it enables you to take smart risks and venture outside of your comfort zone, and also changes the lens through which others perceive you. Valdes also recognizes that support systems are critical to building up a person's sense of worth. Personally, she notes, her own support system takes shape as a composite of her work and home lives.
It was through her professional network that Valdes was made aware of the opening for her position at JBG SMITH. And now, she turns to her colleagues and peers at other companies for advice when dealing with issues at work. On the flip side, she places great emphasis on making workplace relationships meaningful to retain the connections. "Networking is never a chore. I just love getting to know people," Valdes says. "I have a very deep network of people starting from my early days because I keep in touch with people. I even had people from my first accounting job at my fiftieth birthday party."
In honor of those individuals' support of her, Valdes is unflagging in her efforts to instill a sense of confidence and worth into those in her network. Whether it's through frequent trips home to Florida to spend time with family or trivia happy hours and surprises for her staff, Valdes ensures that those around her know they are valued.
Because she knows it takes a village to build one.