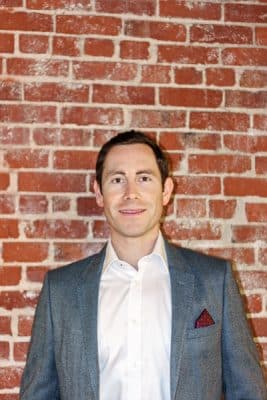 Michael Douroux embodies the concept of the United States as a melting pot. His mother emigrated from Brazil to Los Angeles as a student when she was nineteen years old. His father is first-generation US-born with family from Mexico and France.
What sets Douroux apart from many other Americans, however—besides having dual US/Brazilian citizenship and being fluent in English, Spanish and Portuguese—is that he has worked hard to embrace and preserve all aspects of his Latin heritage in his personal and professional life.
Although his family moved from the distinctly Latin and African-American community of Inglewood in West Los Angeles to a more suburban beach community when he was eight years old, Douroux continued to revel in Latin culture and frequent extended trips to visit family in both Brazil and Mexico. It was during one of these trips that an uncle suggested that someone with Douroux's language skills and diverse cultural knowledge could take advantage of tremendous opportunities to bridge the gap between the United States and Latin American business communities.
Douroux never forgot that advice and stayed focused on Latin culture, language and history throughout college and business school at University of California–Berkeley. Now, as regional vice president at Anaplan, he brings a wealth of expertise and insight as the company prepares to further expand in Latin America.
A self-described "cultural chameleon," Douroux's knowledge and fluency frequently surprises colleagues. "There are dozens of Spanish dialects, and a diversity of styles of Portuguese within Brazil, each with different slang and intonation. Being able to authentically navigate them makes a tremendous difference in being able to build relationships and connect with business counterparts within their own culture," he says.
This means he knows the regional foods, the most popular musicians, the local history, and the community customs and traditions. For example, US corporate culture typically takes a "time is money" perspective, which leads to a very direct approach. Latin culture, however, prioritizes developing a personal rapport, sharing family details, often over a meal, before ever addressing business concerns.
Understanding these customs has had significant impact on numerous business initiatives when potential partners have heard Douroux's fluency during in-person meetings or on a conference call. "In several instances, we had invested extensive time and effort in potential customers without being able to make much progress. But as soon as we were able to interact with them directly in their own language and customs, we gained tremendous credibility and the walls came down," he remembers.
Many of these lessons were learned when Douroux was launching a division of Business Objects (now part of SAP) in Latin America. At age twenty-seven, after developing the business strategies around the launch while based in Miami, he spent up to three weeks each month in countries throughout the region.
"You can't view all Latin countries as being the same and assume that the approach that worked in Chile is appropriate for Mexico," Douroux explains. "A couple of WebEx demos and sending a quote isn't enough. You have to invest in long-term relationships face-to-face to succeed."
The success of his own team at Anaplan can also be traced back to his understanding of the Latin focus on family and the collective culture (versus the individualistic American point of view). One of the results is that Douroux puts a great deal of emphasis on creating a truly united and cooperative team.
As Anaplan works toward the objective of 100 percent of its teams reaching 100 percent of their goals, Douroux points out that "we have a legitimate shot at achieving full participation and attainment from everyone in our group. We're really depending on and supporting each other, not just relying on a few team members to be successful."
Going beyond his own personal family background, he says he shares the Brazilian trait of "cultural cannibalism"— a great pride in devouring unique cultural customs from around the world and then internalizing them and making them your own. That's what drives him to learn more to be even more effective at bridging cultural gaps and developing relationships that are beneficial for both Anaplan and its future growth in Latin America.
"My uncle was right when he recognized the opportunities that are out there," he says. "For me, it's been about finding the intersection of a culture that I love with my career trajectory. But I still feel like I haven't even scratched the surface of all the possibilities yet."