The oil and gas industry always intrigued Anangela García González. She grew up in Venezuela and watched this sector support the economy of the entire country as oil comprised almost all its gross domestic product. High prices from oil boom times bolstered the nation's economy and influence.
García González set her sights on a career with PDVSA, or Petróleos de Venezuela, S.A., the country's state-owned entity for oil and natural gas production and exporting. But while the idea of working for the organization first intrigued García González, her ambitions soon shifted. That's because by the time García González had graduated from Universidad Yacambú with a Bachelor of Science in engineering, things in her home country had changed.
PDVSA's leaders locked workers out of their facilities during a general strike in an attempt to force Hugo Chávez from the presidency. In response, Chávez cleared house at PDVSA, terminating leadership teams and nearly 20,000 workers as the country halted exporting millions of oil barrels. Labor groups raised allegations of corruption and torture during these events.
Observing this era in her homeland led García González to re-evaluate her goals. She eventually moved to the United States, continued her education at West Virginia University and Rice University, and resolved to find a role in a different kind of oil and gas company.
That's exactly what García González is doing now as vice president of corporate engineering at Encino Energy. She joined the organization in its infancy, when Encino was little more than a concept. Then, in 2010, García González was an engineer on a small team that included three founders, another engineer, and an accountant professional. They met in a borrowed office and developed a unique strategy.
Instead of living through boom-and-bust cycles and speculative risks, Encino would grow through calculated, low-risk assets that deliver sustainable and strong long-term results. Then, they would reinvest profits into their assets, their people, and their communities. "The whole idea behind Encino Energy was to create something out of nothing with long-term sustainable and profitable business goals in mind," García González explains. "The leadership wanted to create a special E&P company and that operates in a truly different way."
To realize that vision, Encino Energy then partnered with the Canada Pension Plan Investment Board (CPPIB) to create Encino Acquisition Partners (EAP) with over a $1 billion commitment to acquire new, large production assets. The next year, EAP purchased Chesapeake Energy's oil and gas assets in Ohio, including 900,000 net acres and about 900 producing wells.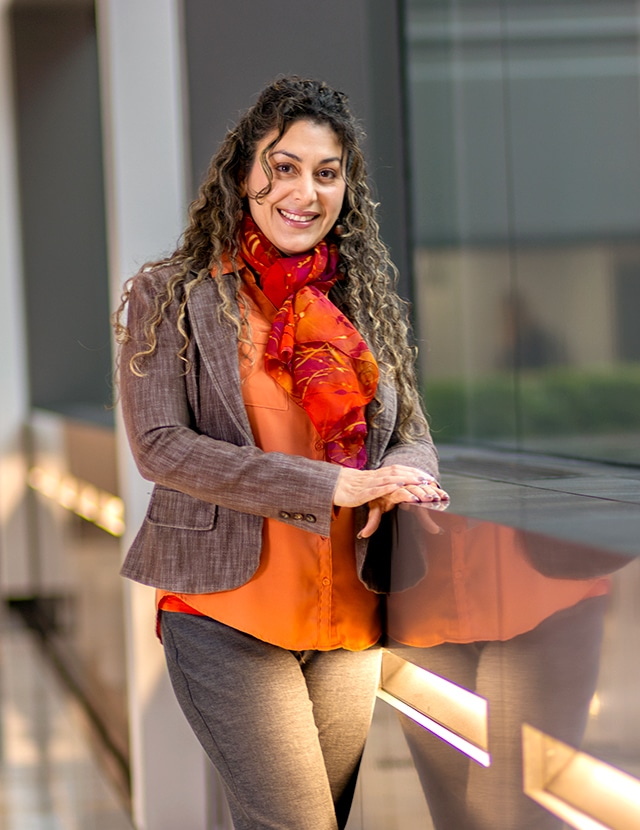 As VP of corporate engineering, García González is responsible for overall business evaluation and managing the company's reserves. She needs to understand every discipline at Encino Energy so she can accurately quantify the value of the business and forecast future production. Having been with the company since its very early days and witnessing its growth has been one of the most valuable lessons in her career. García González and her partners have hired teams, built a strong culture (all employees are part owners), and doubled down on innovation.
They've also maintained a commitment to give back to the community. The company cultivates strong relationships with its landowners and partners in Ohio. For example, EAP partnered with the Muskingum Watershed Conservancy District to advance the mission of flood reduction, conservation, and recreation. The company also supports about forty-five other community groups through financial contributions, in-kind donations, and employee volunteer hours.
García González's journey with Encino and in her industry as a whole has been remarkable, and although the oil and gas industry is often seen as a world dominated by white men, she says she hasn't faced many obstacles due to her race or gender. "I don't leave room for these things to even cross my mind," she says. "Worrying about discrimination would only prevent me from reaching my and the company's goals, and I'd rather focus on results." The veteran leader emphasizes self-care, which she says puts her in a strong position to influence others in a positive way.
The results are there. Today, Encino Energy has over 250 employees and has emerged as a top 25 North American natural gas producer and one of the largest private oil and natural gas companies in the United States. Leaders want to grow the company by three or four times in the next four years, but that's not enough for García González. Encino is a company that was created to do something special, and she's pushing herself to help the company exceed its own lofty ambitions.
---
Aprender Haciendo
Learn by doing. That's the official motto of Universidad Yacambú, the Venezuelan institution where Anangela García González studied engineering. The experience sparked in the young student a passion for hands-on, immersive education that she's carried throughout her professional journey.
West Virginia University built her foundation in petroleum and natural gas engineering and introduced her to the "unconventional reservoirs" where she spent the majority of her career. Rice University consolidated her business and finance education as she graduated with an executive MBA. Here are some key tenets that anchor García González's approach to professional success.
No task is too small. Each assignment is a chance to develop a new skill, engage with a colleague, or learn something new.
Look for guides. Never underestimate the value of a mentor. Identify those who can help you get better and set the bars higher for yourself. Determine what it will take to get where you want to go and always ask for feedback.
Always over-deliver. Take an extra step, add value, and do something unexpected. Finding those "wow moments" is part of what makes work fun and your career successful.
Be disciplined and focus on results. Develop healthy habits and be intentional about your routines, goals, and tasks. Keep pushing yourself until these habits become part of who you are and what you do—then you'll make a difference, even surprise yourself, and go far.