As a first-generation college graduate entering the corporate world, Alicia Fernandez-Campfield knew she wanted to make her parents proud. Fernandez-Campfield's father was born in Mexico, and her mother was born in the Lone Star State. Fernandez-Campfield was born and raised in South Texas and acquired her work ethic from her parents, both of whom worked hard to give their children a better life.
"My mother completed her high school senior year and my father completed third grade in Mexico. Looking for a better way to support the family, my father came to the US with my grandfather, through the Bracero Program, when he was sixteen years old. My five siblings and I were raised in a small, one-bedroom house, and my father was employed as a plumber while my mom was a homemaker," Fernandez-Campfield says.
During their summers, the Fernandez family worked the sugar beet fields in Idaho. However, her mother wanted her six kids to go to college and instilled in them the importance of higher education, encouraging them to become doctors, lawyers, and engineers.
"Particularly important to Mom was for her daughters to have degrees; she wanted to make sure we were independent and self-sufficient," she says. "My mom was very strong in her Catholic faith. She convinced my father to launch his own plumbing business, and she managed the business. We ultimately moved from that one-bedroom to a three-bedroom house across the tracks."
Fernandez-Campfield and her siblings all fulfilled their mother's desire for them to attend college, with all the girls studying engineering. Her brothers pursued careers in criminal justice, accounting, and teaching.
"We are the first generation to go to college," she says. "Our second generation has doctors, lawyers, chemists, architects, and even more engineers. So, yes, Mom did eventually have her dream realized."
Fernandez-Campfield obtained degrees at Texas A&M, Marquette University, and Rochester Institute of Technology. Throughout her career, she has held management positions with increasing responsibilities in an impressive amount of functions, including service delivery and operations, customer account and customer success management, business transformation, service desk and contact center services, managed services, field services, industrial engineering, billing, software engineering, accounting and finance, manufacturing, manufacturing engineering, design engineering, and Lean Six Sigma deployment.
Based out of Rochester, New York, for fifteen years, Fernandez-Campfield put her skills to work at Xerox in a variety of global operations roles, including leading the supply chain organization that supports over 140 countries. Later, serving as chief operating officer and head of global service delivery with Teletrac Navman, a software as a service operating company under the industrial global conglomerate Fortive. There, she managed all operations and account management activity in North America, Europe, and Asia Pacific. 
Today, Fernandez-Campfield is a senior vice president at Credit One Bank, an American bank and financial services company specializing in credit cards, across the full spectrum of credit scores. She focuses on improving the company's culture, processes and controls, and digital transformation. She also spends much of her time imparting knowledge to her teams on topics like emotional intelligence, situational leadership, and lean principles.
"The financial industry is a great place to be," the SVP says. "Credit One Bank is growing tremendously, andwe are very successful in large part because of the quality employees we hire. We are also transforming our business and modernizing our systems to be state of the art. In the past five years, we have introduced robotic process automation and artificial intelligence into the business. It is an exciting place to work."
Credit One Bank's operations department is divided into three main teams: front office, back office, and collections.
"I am responsible for the back-office teams that service cardmember requests or inquiries that do not come through the phone but through other channels like the web, mail, email, government sites, and credit bureau sites," she adds.
She has managed a variety of operations teams while with the bank, including mailroom, fraud, disputes, credit bureau reporting, presidential unit, social media unit, customer communications, credit protection, Servicemembers Civil Relief Act (SCRA), correspondence processing, and more.
Providing support to team members at work is clearly very important to Fernandez-Campfield. As a Mexican American, she knows it is equally important for her to provide support to people of color in her community.
"The main reason I joined one of the companies I worked for—Rockwell Automation—was because their HR recruiter organized a recruitment luncheon with several Hispanic leaders in the community," Fernandez-Campfield says. "The leaders stated that the Hispanic community did not have many role models, and they needed more professionals like me to become role models in the community."
She was so inspired that she and her family moved to Milwaukee, Wisconsin. "I became very involved in the community and eventually became president of the Council of the Spanish-Speaking Board," she adds.
When she joined Xerox, Fernandez-Campfield became president of their internal employee resource group (ERG), the Hispanic Association for Professional Advancement, where she represented more than two thousand USA Latinx and Hispanic Xerox employees.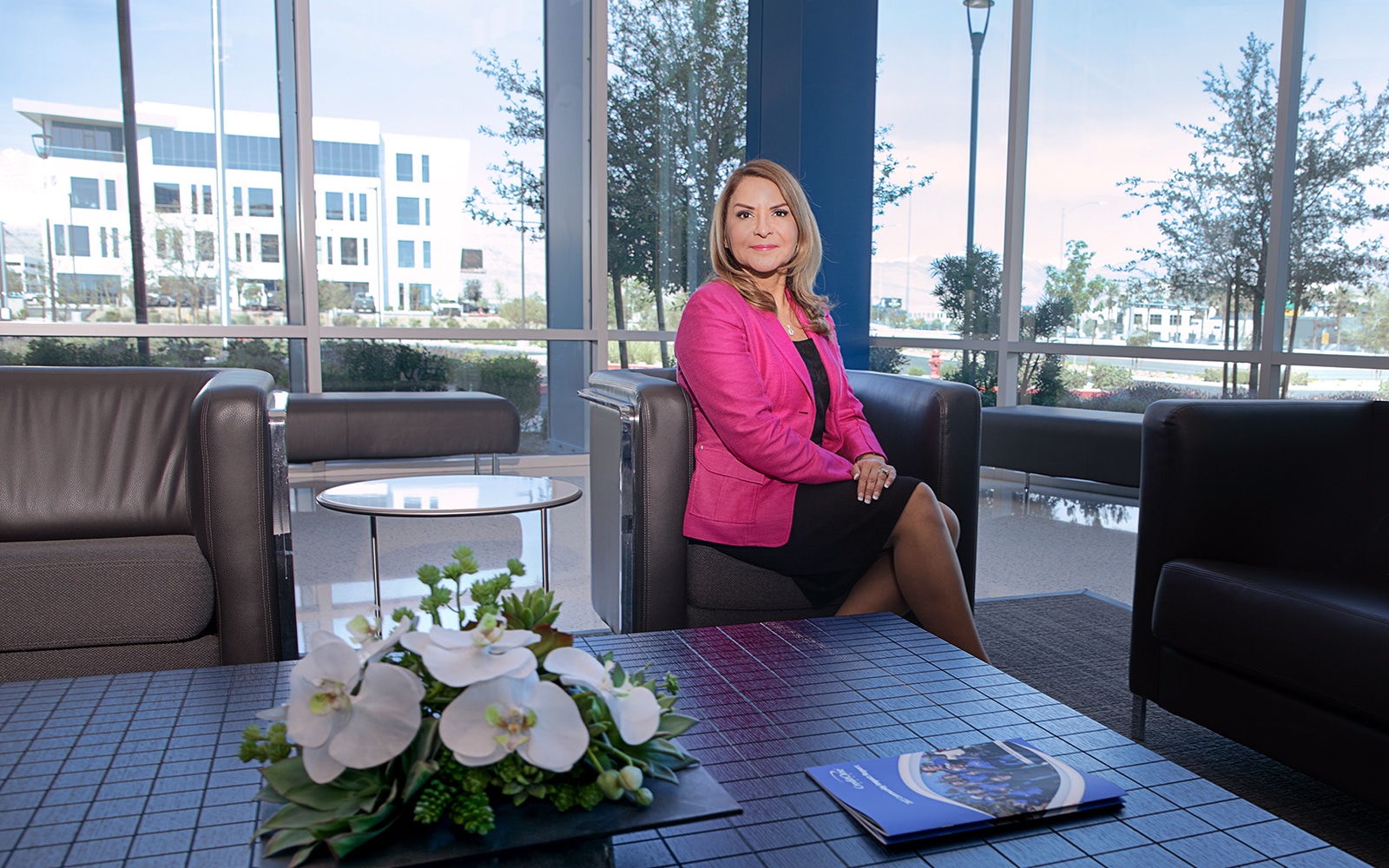 "The purpose of that organization is to promote the professional growth, development, and advancement of Hispanics at Xerox," she says. "The result is increased representation at all levels."
Fernandez-Campfield currently serves on the board of the Boys & Girls Club of Southern Nevada while working to be the best possible role model she can be for fellow Hispanic employees at Credit One Bank. She also regularly shares her knowledge and experience with young people in the Las Vegas Valley.
"One of my passions is to speak externally to high school or middle school students about what it means to be in a STEM profession and how important it is to continue your education and learning so you can ultimately do what makes you happy," she says.
But Fernandez-Campfield is equally as comfortable as a student as she is in a teacher or leadership role. To stay current and continue to build a knowledge base she can share with her teams, she actively pursues new learning opportunities.
"Every morning, as I'm getting ready for work, I spend about an hour and half listening and learning—either listening to an audio book, listening to Joyce Meyer or Joel Osteen, taking a LinkedIn Learning training course, or listening to a professional speaker," she says. "Subjects range from business (AI and agile methods) to leadership (emotional intelligence and communication) to personal growth. It is all about continuing to learn, review, and reflect on yourself to become a better version of you. I want to make sure I continue to add value, become a better person, and be the best leader I can be."