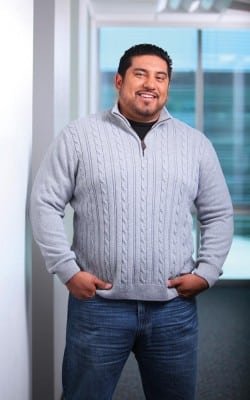 Born into a family of business owners, 30-year-old Alexander B. Anaya considers himself an entrepreneur by blood. "That's why I picked University of Phoenix's MBA program," he says. "It gave me the ability to pursue an MBA while giving me the flexibility to pursue my entrepreneurial aspirations." Now Anaya is putting what he's learned at school into practice by operating his own marketing and consulting firm, Aeutus Marketing, along with his newest venture, Delight Day Spa, LLC. "I recently brought my newest enterprise to reach profits of six figures within the first nine months of operation," he says. "I see a future in the health and beauty industry and plan to open a 4,500-square-foot facility in the Phoenix metro area by the end of the 2013 summer."
Dream job
To own a professional sports team, specifically soccer (Champions League). As a fan, I can show empathy to the other fans and as a business-minded entrepreneur I would like to add some newer generational flair.
Industry Pulse
"Self-satisfaction is a growing trend within the health and beauty industry. Marketing to motivated individuals makes this business grow."
Education
Master of Business Administration
University of Phoenix, 2013
Bachelor of Science in Business Management
University of Phoenix, 2012
Work experience
January 2012 – Present
Owner
Delight Day Spa
December 2010 – Present
COO & Marketing Consultant
Aeutus Marketing
January 2007 – Present
Volunteer
Central Phoenix Young Life
January 2005 – Present
Volunteer
Blue Ribbon Coalition
January 2008 – December 2010
Arizona Regional Director
Pro-Cess Professionals under 30
January 2006 – December 2010
Volunteer
Thomas J Pappas School for Homeless Children
December 2003 – August 2010
Business Banker
M&I Bank
Role models
Mark-Z: it's a combo between Jay-Z and Mark Cuban, as they both embody the entrepreneurial spirit.
Define Success
By reaching set goals and feeling satisfied and accomplished.
Career Goals
Eventually I intend to focus on the growth of my spa, Delight Day Spa, and its expansion into salon suites. The suites will be designed to be a beauty mall for individually operating stylists, aestheticians, and massage therapists. The location will offer a posh look, affordable rent, appointment setting, and access to a marketing consultant. Once financially established, I would like to open a second location within two to three years.