When Alex Martinez was in high school and college, he was selected into programs and sought mentorship opportunities that helped him reach his current role: director of global talent, organizational development, and rewards for Pizza Hut International at Yum! Brands. And in that role, which focuses heavily on the company's diversity and inclusion strategies, he's able to help give other underrepresented minorities the same kind of opportunities he's had.
"It takes a village, and that's something I have known for a while," Martinez says. "I certainly had to develop resilience and grit—I'm the first in my family to go to a four-year college and graduate school—and I have always stayed close to my culture. If it wasn't for the coaching and mentorship relationships I have had, I would have been just bouncing around not knowing how to build my career."
During high school, Martinez participated in Inroads, an internship program that ultimately afforded him the chance to land a human resources internship at American Airlines. He also secured a spot at the University of Texas at Austin, where he admits he felt a bit lost at first. But during his sophomore year, he applied and was selected to be a part of the Management Leadership for Tomorrow (MLT) career prep program. MLT provides high-achieving African American, Latinx, and Native American individuals with professional coaching, a professional playbook for navigating the office, and door-opening relationships—the tools they need to reach their full potential.
Martinez says he was introduced to career possibilities that, otherwise, would not have been on the table. More importantly, he was able to engage with MLT founder and CEO John Rice, whose goal is to have workplaces reflect America's diversity, with a critical mass of diverse talent in leadership positions. "The program gives early exposure to underrepresented minorities in career tracks that typically wouldn't be pursued otherwise," explains Martinez, whose mother immigrated to the US from Mexico. "That exposure gave me the opportunity to interview for summer internships with investment banks and finance firms, and I ended up getting some exposure to consulting firms as well."
Through connections he made in the program, and with personalized guidance from his MLT coach, Martinez got an internship at Deloitte Consulting within the human capital consulting organization transformation and talent practice, which led to a full-time position. He stayed with the company for seven years.
"I was always trying to give back by recruiting on campus at UT and trying to stay close to Management Leadership for Tomorrow, hosting events and leading workshops," Martinez says. "I was starting to build a pipeline of diverse talent."
After a brief stint in Deloitte's federal space in Washington, DC, Martinez moved to Atlanta, where he earned his MBA from the Goizueta Business School at Emory University. He returned to Deloitte Consulting after graduating and moved back to his native Texas. In April 2019, he was hired at Yum! Brands in his current role.
"I oversee talent and acquisition for the office in Plano, which includes recruiting for open positions, moving internal talent across the world, and helping carve out career paths for the team here," he explains. "Acquisition is an important piece of what I do, and one of my focuses for acquisition is to increase our underrepresented minority pipeline."
Currently, there are very few Latino leaders above the director level for Yum! Brands, which includes Pizza Hut, Taco Bell, KFC, and the newly acquired Habit Burger Grill. That's a gap the company is trying to fill; it's also why Martinez champions the Hispanic Promise, an initiative by We Are All Human that launched to hire, promote, retain, and celebrate Hispanic/Latinx talent in the workplace.
"I want everyone to have a voice and contribute ideas."
"One of the things we're trying to do this year is provide more exposure to the team around Hispanic heritage and all of our Latinx leaders who are driving this important promise," Martinez says. "Yum! has signed the Hispanic Promise, and in support of that, I go out into the market, look for top Latinx talent, and bring them into some of our critical roles while securing them the right sponsors and mentors to help them succeed."
Martinez partners with Chief Diversity and Inclusion Officer James Fripp to embed Yum! Brands' D&I strategy globally and focus on all underrepresented minorities—not just Latinx. "We want to build this pipeline of people to come into the business—whether internally or externally—and while they are here, help build the right communities for them to flourish," he says. "We are on a ferocious journey to embed diversity and inclusion into our 'Recipe for Growth and Good' and be a company with unrivaled culture and talent." Yum! Brands recently announced their Unlocking Opportunity Initiative, committing $100 million over the next five years to fight inequality through equity and inclusion, education, and entrepreneurship.
Martinez is also a member of the steering committee for a multicultural employee resource group called MOSAIC that was launched to the entire campus, driven by many of the Middle Eastern, Asian, Latinx, and African American leaders across the various Yum! Brands. The Hispanic Promise also plays a major role in the group.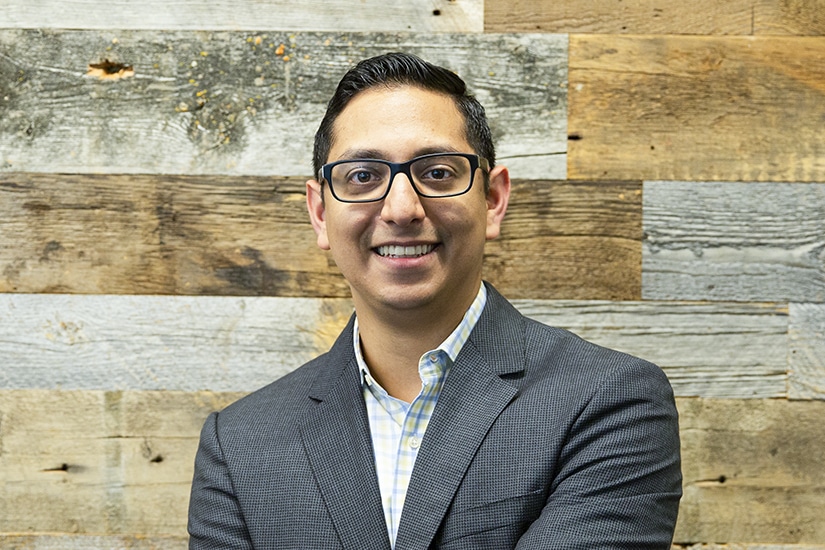 The forward-thinking initiatives that Martinez both leads and takes part in via Yum! Brands are widely recognized and trumpeted by those he collaborates with as director of global talent. "Our team at JMA has built a strong partnership with Yum! Brands and Pizza Hut, spanning many years and across the globe," explains Sarah Beauerle, a partner at JMA Global. "Our relationship is successful because of leaders like Alex who set a standard of excellence as a culture champion with a genuine commitment to developing talent and building diverse teams."
Paying it forward, Martinez says, starts with getting the right representation. Yum! also must provide a sense of belonging and inclusiveness to ensure it retains talent.
"For instance, me as an underrepresented minority, I don't feel like I'm just one of a few, but am one of many," he says. "One of the pieces of my job is to then make connection points with the other brands to find the pockets of Latinx representation and have leaders who can champion certain initiatives and make those connections."
Early in 2020, Martinez was invited to a dinner at company CEO David Gibbs's house, with a guest list composed entirely of Latinx and African American leaders at the level of director or above. "I'm getting our executive leadership team and our president to sponsor panels and graciously host dinners (even virtually) to get to know our diverse teams and understand their experiences better," Martinez explains.
For him, leading talent isn't about hitting numbers but creating the right community and making sure everyone feels included and engaged. "I want everyone to have a voice and contribute ideas," Martinez says. "For example, one of our African American leaders led our International Women's Day gender-bias exercise. We want to give everyone the best opportunities and exposure and help create connection points."