Alex Bernal has been in financial services for over fifteen years with more recent experience in healthcare and is no stranger to change. It's one of the common threads that tie his diverse set of career and life experiences together.
"The variety of experiences I've had throughout my career and the ability to excel in different environments has allowed me to bring in a unique perspective from multiple companies and different countries while incorporating a different point of view given my upbringing in Mexico," the senior vice president of finance at Humana says. "In a way, it gives me the ability to constantly challenge the status quo and question if there might be another way of doing things. It also helps me stay open to new or different ideas."
That's what Bernal's company needs now more than ever as it expands its offerings and services in an industry that's also constantly evolving. Since it created its own health insurance plan in 1984, Humana has long been focused on being a leading health insurance provider. It has gone on to add healthcare service capabilities to its arsenal, including senior-focused primary care, pharmacy, and home care offerings.
When Bernal stepped into his role in 2022, he worked to support those efforts by transforming the way the finance department delivered services to the business. That has included adjusting and automating processes, offshoring or outsourcing certain capabilities, and looking at new technology that his team can leverage to drive efficiency in ways the department hasn't before. He's proud of the ground he and his colleagues have covered in a short time and is confident their efforts will aid the company's exponential growth.
"My role initially came as an opportunity to be a change agent, to come in and help drive transformation and help Humana evolve from where the company was to where it wants to be," he says. "It's been interesting to support the leadership team drive that strategy by taking all the best practices I've learned at previous companies and incorporating them into my current role."
"As a Humana partner, it's inspiring to see the vision and momentum Alex has brought to the finance function," says Alex Kleinman, healthcare segment leader at professional services firm Genpact. "His drive to improve data and business insights is enhancing Humana's strategic decision-making. And his push to harness new technologies such as generative AI encourages us to be more innovative. We know that Alex will generate great results for Humana and its customers."
Bernal grew up in Monterrey, Mexico, and came of age with an interest in numbers and economics. After graduating from Tecnologico de Monterrey in 2006, he took a leap of faith by moving to Mexico City to start his career as a financial analyst at GE Capital. He worked at the financial services company for nearly ten years, a period that built a strong foundation as a leader.
"Throughout those ten years, the common theme was change," he says. "Every two to three years I'd take on new jobs, particularly during the time I went through GE's financial leadership program, which allowed me to work in over fifteen countries and in multiple businesses including financial services, energy, healthcare, and oil and gas."
By 2015, he had served in various roles including senior audit manager, financial planning and analysis (FP&A) leader for equipment finance, and CFO of GE Capital Fleet Services. He also transitioned from working in Mexico to corporate America. That was another huge adjustment that he says strengthened the way he communicated and presented himself.
"As Hispanics, we're not direct, particularly Mexicans," Bernal admits. "We like to go around in circles. We don't like to be confrontational and just go to the point. That was something I had to overcome."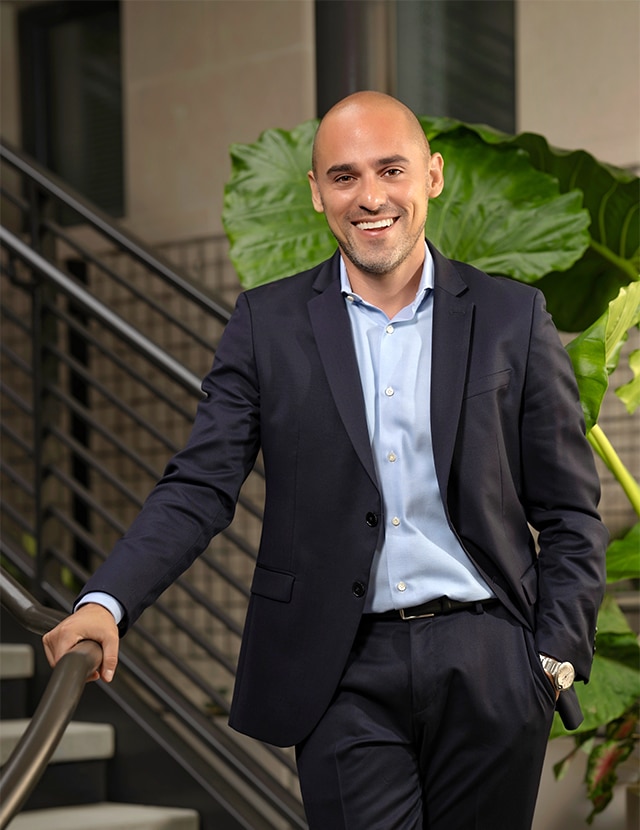 He brought those skills to New York City in 2015, when he worked at JP Morgan Chase & Co. as executive director of FP&A, and eventually got promoted to managing director to become head of corporate FP&A. There, he had a chance to work with the best of the best and to have close access to senior leaders. One of the most valuable lessons he took from them was how to "play a medium- to long-term game while balancing the short-term business needs."
"It was knowing that some of the decisions they were taking weren't going to have an immediate effect, but they would bring benefits overtime," Bernal says.
He saw an opportunity to have that kind of impact at Humana. Today, he's a leader who focuses on mentorship and helping others reach their goals. Bernal spends his time involved with employee resource groups, recruiting at college campuses, and finding other ways to set others up for success. "I'm a firm believer in meritocracy and I always look at providing the same opportunities and platforms to others that I was given," he says. "I want to give people jobs that will push them into the next level."
Another cornerstone of Bernal's leadership philosophy is diversity, equity, and inclusion, and, in his role, he emphasizes the importance of diverse teams. "As a Hispanic gay man, there are challenges we face and we share some of those with other minorities," he says. "I want to help set an equal footing where everyone is given the same opportunity."
That tenant of his leadership philosophy has become increasingly important as he's become a more senior leader and has observed less representation among the leadership rank. "You have to balance what you bring to the table and how you come across by demonstrating an ability to adjust and adapt," Bernal explains. "It's not just about being unapologetically you because you operate within a company's culture. In a way, you have to learn how and when to portray things without compromising who you are."