Alberto de Cardenas awakes every morning at 4:45. He works out early so he can fulfill all his daily commitments with enough time so that he can spend time with his wife and four daughters in the evening hours. The executive vice president and general counsel at MasTec Inc., a Florida-based infrastructure construction company, just doesn't need much sleep, and his energy seems to be in endless supply.
In his early years, that energy was spent doing mission work in the Dominican Republic, an experience de Cardenas says provided him a foundational perspective on what really matters in life. The experience is likely why de Cardenas's CV is packed full of board seats and volunteerism. And for the past fifteen years, it's motivated de Cardenas to lead and strengthen the legal department at MasTec.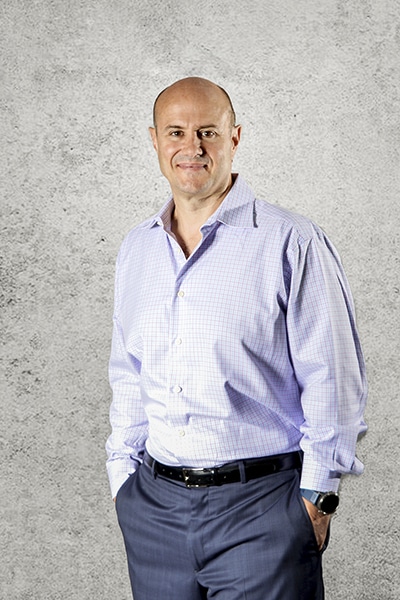 The length of de Cardenas's tenure may seem significant to those outside of the family-built business, but at MasTec, fifteen years is closer to the average tenure of an employee. The company was built by Cuban exile Jorge Mas Canosa and is currently run by his sons, Jorge Mas, chairman, and Jose Mas, CEO. It's in that family DNA, de Cardenas says, where you can find all of the reasons the teammates at MasTec seem to stay so long.
"It's the family culture that sets us apart and keeps people here," the GC explains. "Our CEO is a visionary—brilliant, charismatic—and epitomizes what our culture is: loyal, entrepreneurial, innovative, hardworking, passionate, and fast paced. We have tried to make our legal department a reflection of what makes MasTec such a great place to be."
It's the MasTec culture that has enabled it to become a $8 billion Fortune 500 company, as well as one of the largest Hispanic-controlled companies in the United States. It's also that culture that has enabled MasTec to be on Fortune's list of the World's Most Admired Companies.
De Cardenas tries to explain what makes MasTec's culture so unique. Each time, he provides a different example. "Everyone here seems to get along really really well," the GC will start before turning on a dime. "But we expect discussion and debate. We're expected to voice our opinions. That's how the best decisions are made, and that ethos is built into this company."
Some Sound Advice 
De Cardenas's efforts to synthesize MasTec's broader culture within the legal department are grounded in a mindset of curiosity and self-improvement. Google's two-year study of 180 teams (code named "Project Aristotle") validates the importance of building a great culture and why de Cardenas and his team emphasize it so much.
"The basic concept is that a group of very talented individuals will always be trumped by a group of perhaps less talented individuals if the culture and norms of the latter group are stronger," the GC explains. "People on a team with a strong spirit of collaboration, who are comfortable in that environment and feel like they can express themselves, are almost always going to win out. Google spent millions on that study; we've just always been that way."
The second cornerstone of de Cardenas's leadership style comes from a few pieces of advice provided to him early in his career by Cesar Alvarez, the former CEO of Greenberg Traurig. "Mr. Alvarez said if you really want to be an excellent lawyer, make an effort to understand your client's business and provide practical advice based on that knowledge," de Cardenas remembers. "He also said, 'Always try to meet in your client's office.' I've always tried to follow Cesar's excellent advice."
If members of the legal team were cold called and asked about the team mantra, de Cardenas says, they would know it by heart: "perpetual improvement." De Cardenas says MasTec's entrepreneurial mindset and attitude requires the legal team to constantly improve and push the bounds of what they think is possible.
The legal team has instituted a slate of initiatives to promote that way of thinking. An annual self-improvement plan brings the legal team together to brainstorm about how both individuals and teams can improve. There are always new ways to grow and improve, the GC notes, because MasTec is so dynamic.
The legal department also ensures it has technology on hand to help advance its goals. "We have in-house resources that keep our technology on the cutting-edge and are always looking for new ways to improve what we do," de Cardenas says. In fact, it's pushed MasTec's in-house e-discovery program to become best-in-class.
"Our CEO is a visionary—brilliant, charismatic—and epitomizes what our culture is: loyal, entrepreneurial, innovative, hardworking, passionate, and fast paced. We have tried to make our legal department a reflection of what makes MasTec such a great place to be."
At present, the legal team is examining ways to further the use of artificial intelligence to help them work more efficiently and effectively. Other innovations include building a bench of experienced ex-general counsels and senior lawyers to aid with the overflow work and provide certain expertise, a well-developed legal intern program, annual quantification of the legal department's operational metrics and achievements, and the use of contract lawyers from specialized vendors to significantly reduce the cost of discovery.
The general counsel also took inspiration from an iconic company with the creation of an initiative called "Winter Reprieve." This initiative is an opportunity for the legal department to attend a high-quality legal seminar hosted by experts.
"We want to be up-to-date as far as the law, but we also discuss what these experts are seeing as far as best practices at other companies," de Cardenas explains. "We want to know how we can improve; it's an open forum to discuss ideas and issues and then, ultimately, speak more broadly about best practices and implementing them. Sometimes we get really great ideas, and other times we just wind up feeling very confident about what our team is doing."
De Cardenas's peers in the field have taken note of the impact of this approach. "Alberto's leadership provides a strong foundation for curiosity and discourse across his team that leads to creative solutions to complex problems. It's an honor to work with him," says Joshua Wechsler, a partner at Fried Frank.
Curious by Nature
Maintaining and nurturing the MasTec culture comes with some added responsibilities. Though turnover is rare, the occasional open position is not taken lightly. "We spend a lot of time on recruitment," the GC says. "We hire people that fit MasTec's culture, that fit our ethos, and that are intelligent, proactive, collaborative, team players, problem-solvers, curious, and good people." De Cardenas says they spend more time vetting references than most precisely because they want to be sure they have the right person.
De Cardenas again looked to Google (more specifically, Work Rules!, the book that details the tech giant's talent management and recruiting process) for inspiration. The lawyer says their success rate on candidates has been excellent, but in the spirit of perpetual improvement, they still tweaked the recruitment process last year, taking into account the learnings from Work Rules! to further improve the program.
De Cardenas's perpetual search for improvement is, at the root of it, a testament to his own curiosity. He's always reading. A Harvard Business Review article about talent spotting (and the essential quality of curiosity, coincidentally or not) by Claudio Fernández-Aráoz is a favorite. De Cardenas wants to see the best his team can do, but he is not an overbearing leader demanding unattainable perfection. Rather, he's a curious general counsel who wants to do his part to foster an incredible company culture, help his team members continue to learn and grow as professionals, and see what possibilities the future holds.
Troutman Pepper is an entrepreneurial, full-service law firm that provides legal services to clients across the US, with twenty-three offices nationwide. Our construction practice combines capital projects finance and project development with large, complex litigation experience to serve owners/developers and contractors. For more information, visit troutman.com.