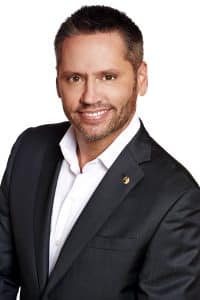 To sum up his childhood, Adolfo Perez says he had a "typical Latino upbringing, if that even exists." His parents moved to the United States from Cuba in 1962 and settled in South Florida. The vice president of sales and trade marketing for Carnival Cruise Line remembers what it was like for his Cuban parents to merge two cultures for their family.
"For Thanksgiving we would have American food—turkey with all the trimmings," he says. "But for Nochebuena, we had pork, black beans and yucca—a very Cuban feast."
Though he is Hispanic, and very much Cubano-American, Perez is quick to remark that he has never let labels of race and ethnicity define him."I've always seen myself just as another person in the workforce, doing the best I could."
RISING TO THE TOP
Perez first got involved with Carnival Cruise Line when he was sixteen years old, still a junior in high school.
"I worked at the port as a check-in agent, and that was the launch pad for my career," says Perez, who holds an MBA from Florida International University in Miami. "Thirty-four years later, I am still here."
He became the reservation manager in 1991. At that time, the reservation department had  eighty people. By the time Perez moved to another position in 2011, it had grown to over 1,500 employees across three call centers.
"Then I went to London in order to set up the Carnival sales and marketing office for the UK," Perez  says. "This move and job was totally out of my comfort zone, but I decided to push myself to grow, and it turned out to be a very gratifying personal and business endeavor."
As the managing director of the company's UK office, Perez established Carnival's travel agent sales network there and launched its first-ever consumer marketing campaign and programs.
"I remember shooting TV commercials and developing the UK website," he says. "I was given a lot of responsibilities and allowed to take chances—it was like having my own business! That was a great boost from the professional and personal standpoints."
After coming back in 2013, he served as vice president of new market and new product marketing. He launched the Carnival Vista sales and marketing plan and started programs like their first US Hispanic advertising campaign on the West Coast. Today, as the VP of sales and trade marketing, a very important part of his job is focused on nurturing and growing relationships with over 30,000 travel agents domestically as well as managing the relationships with the company's international sales agents.
"We wouldn't be where we are today without the tremendous support we have had from our wonderful travel agent partners," he says. "It was because of their hard work and their belief in the cruise industry early on that we were able to grow and succeed. I feel responsible to support the people who support us."
THE CARNIVAL FAMILY
Carnival Cruise Line started as a family-owned company founded by Ted Arison in 1972 and has grown to become the world's largest cruise ship operator.
"Their success is due to the fact that they have always been very inclusive and caring," Perez says. "Being allowed to learn new skills and make mistakes, combined with great benefits and competitive salaries, makes Carnival a great place to work."
CRUISING BACK IN TIME
Perez 's parents always said that they would never go back to Cuba, "no matter what."
"I can imagine how hard it must have been coming to a new country, with a one-year-old child (my sister), my maternal grandparents, and without speaking the language," Perez says. "But they never forgot Cuba. They talked about it all the time—the beaches, the shows, and even the little ferryboat that crossed Havana Bay, La Lanchita de Regla."
Those conversations made him curious about the island, but he never made plans to go until Carnival launched the Fathom brand. Fathom is the first and still the only American cruise line with permission to sail to Cuba from a US port—Miami.
"I thought, 'Now I don't have an excuse not to go,'" Perez says. "My parents had passed away, but I went with my family. It was an emotional, eye-opening trip. Havana is so big and it feels as if time has stopped there. It is so beautiful and the people are amazing. It was easy to see the way my parents described Cuba to me as it once must have looked."
"It was an emotional, eye-opening trip. Havana is so big and it feels as if time has stopped there."
Adolfo Perez
Fathom cruises offers guests people-to-people planned activities, and guests are also allowed to go around on their own and sightsee without any restrictions. That was precisely what Perez and his family did during the two days they spent in Havana this year.
"We visited relatives and saw the entire city," he says. "Even La Lanchita de Regla! We had the world famous mojitos at La Bodeguita del Medio and enjoyed a live band. It's a must-see place in Havana."
They also visited Cienfuegos and Santiago de Cuba, which are included in the cruise.
Besides the Cuban cruise, Fathom offers impact tourism cruises to the Dominican Republic.
GIVING BACK
Philanthropy as important to Carnival as it is to Perez , which is another key reason he has been with the company for over three decades. Carnival Cruise Line just donated $10 million to the St. Jude Children's Research Hospital and has announced an additional $10 million goal by 2020.
"We give back to the community in big ways, like large donations, and in small ways, like organizing beach cleanups," Perez says. "We have an in-the-workplace mentoring program for high school students who can even get full scholarships to college. And the Carnival Center for Excellence helps Miami organizations have positive impacts on the lives of young people in South Florida," an initiative close to Perez 's heart.