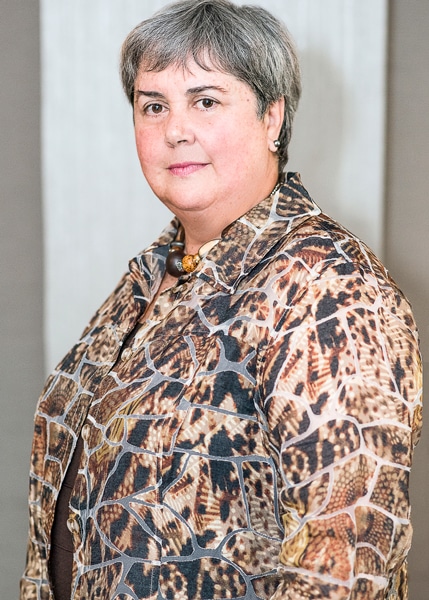 Over the past thirty-five years, Adis Vila has built a career on leading and developing diverse talent. From federal and state government work to higher education positions to private sector leadership, Vila has always stressed the importance of diversity and helped to open doors for women and minorities.
"I've always felt strongly that men and women and people of all cultures, races, and ethnicities can do whatever they aspire to if they have the talent and are willing to work," she says. "Helping people achieve their goals drives what I do."
At the State of Florida's Department of Administration, she helped implement flexible working hours to alleviate the stresses of working mothers. As assistant secretary of the US Department of Agriculture, she helped to secure a childcare center for employees. And as the first chief diversity officer at the US Air Force Academy, she designed a comprehensive diversity and inclusion program and created the Ambassadors of Inclusion program, which was recognized with the Innovation Award from the Profile in Diversity Journal.
Today, Vila continues her work championing diversity as the president and founder of Vila & Associates, where she consults on organizational culture, leadership, and diversity. With an ever-changing economy in mind, Vila believes Latinas will be instrumental in leading the future business opportunities.
"Having grown up in a multicultural and multilingual environment, I know that these attributes can help business manage uncertainty," she says. "My aspiration for this next generation is that there will come a time when there will be an equal number of C-level men and women."
Vila spoke with Hispanic Executive about her own career and her vision for the future.
How did you overcome obstacles early in your career?
Vila: There are three things. To achieve anything that is important to you, you have to be persistent. Secondly, you have to be resilient. And thirdly, you have to be willing to take risks. And this is sort of a three-legged stool. They support each other.
I developed resiliency very early because I came to the United States when I was eight years old with only my mother. My father had to stay behind in Cuba. And my mother, typical of the women of her age, had never worked, and so she had to go work. Of course, she didn't speak English and she didn't have formal education, so she had to do very difficult work. And because difficult work of that type pays poorly, she had to have many of those difficult jobs. I just saw my mother being so persistent.
So very early on, I built this resiliency that if I worked hard enough and if I persisted, it would happen. And oftentimes, it did.
As I progressed in school, I also learned that sometimes you just have to take a risk. And if you don't take a risk, then you could be very comfortable, but you're not going to grow. And so, for example, in high school, I wanted to run for president of the student body. I was advised that I should run for vice president because a boy was running for president and he was on the JV football team. The girls would vote for him because he was cute, and the boys would vote for him because he was a football player. I was told I wouldn't win. But I took the risk, and I ran. I did not win, but I learned again that exercising leadership was important to me and losing was not the end.
What sort of skills have you built over your career to help you succeed?
Vila: I think the most important had been courage. I think that courage and integrity go hand-in-hand. And a leader who is not courageous is not going to take the appropriate risk to not only do things right but more importantly to do the right things.
The second thing is that you have to have integrity. If you don't have integrity, you might do things right, but oftentimes you will do the wrong things or you will do the right things for the wrong reasons. I've always aspired and worked toward leading whatever organization I was at with the courage and integrity that serves society.
I've been a strong proponent of a theory of power, not often applauded, that promotes sharing power. That is, as any one of us becomes more powerful, the more people that we bring along, the better. As a Latina and as a woman, I have never felt that if I got selected for something that this would mean that another woman or that another Latina would not have a chance. I've always worked toward breaking glass ceilings or trying new things not so that I could be the only one, but so that I could open doors for other women and people of color.
What advice would you give to up-and-coming Latina leaders?
Vila: I would say that among the most important things that I recommend Latina women do is study people, not in the positions that they are in now, but in the positions that they aspire to reach. If you aspire to be a CEO, study CEOs and see what it is about their careers that has propelled them to a CEO position. You can learn a significant amount by studying others' paths to success.
I recommend reading biographies. It is amazing how much we can learn from reading about the lives of other people who have overcome challenges and reached great accomplishments.
In college, I read the biography of a lawyer named Algernon Sydney Sullivan. Mr. Sullivan is the same Sullivan of Sullivan and Cromwell, the very large, well-respected law firm out of New York. The book is written by a woman named Anne Holmes, and she asked Mr. Sullivan for which of his many accomplishments he wished to be remembered. Mr. Sullivan responded: "Not for anything that I have done, but for the number of lives that I have touched." As early as 1972, I learned from reading about Mr. Sullivan that I wished to "touch" people and have an impact on their lives.
I wish for my fellow Latinas that each identifies a path that excites them, people who have followed that path successfully, and take courageous risks that assure a life worth living.
Hispanic populations are still vastly under-represented on corporate boards. Why is changing that an important cause for you?
Vila: It's a very important topic to me because I believe that until Latinos—men and women—can see people like themselves in every position to which they aspire, they will not have that path that I spoke about previously. You have to see people doing the things—people that look like you—doing the things that you want to do. We owe it to the next generation to break this glass ceiling.
From the societal perspective, however, the reason that more Latinas and Latinos need to be on corporate boards is that our society increasingly has Latino representation and Latino purchasing power. Shareholders have begun and will continue to demand that boards of directors of multi-national companies represent their customers, employees, and suppliers.
Getting appropriate Latino representation requires that present board members give up some of their power. In my experience, people are convinced to give up power only when it becomes obvious to them that it is in their best interest to do so. And so, CEOs and independent directors must convince colleagues that refreshing board membership is good for the firm. Boards populated with directors who bring different perspectives, experiences, and backgrounds have been shown to be more profitable and to have greater impact on markets. I applaud the work large institutional investors like State Street Global Advisors and CalPERS are doing to hold boards accountable for placing more women on boards. Similar efforts must take hold to get more Latinos on boards.
The arguments that women and Latinos are not prepared for board service in 2018 is ludicrous. Latinos have large numbers of highly educated men and women. They are global citizens, multicultural and often multilingual, who bring as varied a set of functional expertise and leadership skills as their Caucasian counterparts. Policies that call for the refreshing of boards, time limits on board service to ensure that directors remain independent, and age limits for directors, would open opportunities for more Latinos to be considered. The consideration must go beyond making the "list" and must include interviews. Latinos must have the opportunity to come face to face with the nominating and governance committees to ensure their qualifications and emotional intelligence to serve is known to the
decision-makers.