On the floor of the Chicago Board of Trade/CME GROUP, the roars of men aggressively buying and selling compete with automated buzzers, and flurries of paper trades collect in drifts. But amid all the chaos and noise, Virginia McGathey stands proudly with a calm confidence. Just moments after displaying her immense knowledge and gregarious smile for a CME Group commentary spot, she returns to the floor and displays the quiet intensity and deft instincts that have made her one of the most successful and longest-tenured professionals in the room.
But it took a lot of hard work, dedication, and bravery for McGathey to get to this point, to rise from a blue-collar kid from the suburbs thirty miles south of Chicago to the president of her own company. "I didn't always know how, but I was preparing for greatness, and then I would fill it in afterwards," McGathey says.
The sixth of nine children of a Mexican mother and an Irish-German father, McGathey grew up eager to keep on moving and growing. She graduated high school early, and because her family couldn't afford to send her to college, McGathey went looking for a job—something, she figured, where she could make enough money to pay for school herself. But when she first walked onto the floor at the CBOE, she had no idea she was walking into a new life.
"I had an older brother and an older sister that worked as clerks who told me about how exciting it was," she recalls. "Even the train ride was exciting at first—like leaving the farmland and arriving at the Emerald City from Wizard of Oz."
But the reception she received on the floor wasn't as exciting. The massive, bustling space was intimidating, and each and every manager she asked about open positions turned her down. But if she was going to prepare for greatness, McGathey knew she'd need to push even harder. She returned to one of the men who had at least bantered with her before saying no and offered to work for free for a week. "At the end of the week, when I was ready to leave, the boss came down and said that they loved my work ethic and didn't want me to leave," she says. Not only did they hire her permanently, but they also paid her for the previous week.
She officially joined the workforce at the CBOE in December 1975, and she worked her way up to becoming a manager herself not long later. The excitement of riding the train into the city never wore off, and she began to feel an incredible passion for the markets. "I loved being involved in the hustle and bustle, elbow to elbow with people in the middle of the excitement," she says.
By 1983, McGathey had established her skill set to the point that she decided to move to the Chicago Board of Trade (CBOT) and explore new opportunities. Suddenly, she found herself following crop-growing trends in South America and weather patterns in Asia.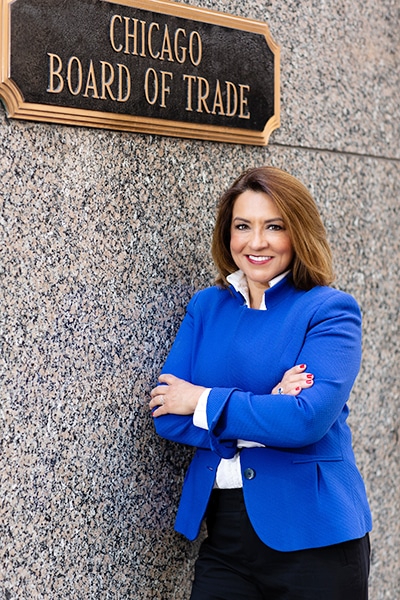 Looking around the room, McGathey quickly registered that she was the odd woman out in several regards. There weren't many people of Mexican descent working on the floor, for one. There were only a couple of women traders at the time as well, she recalls. And to further differentiate herself, she had been out as a gay woman to her coworkers from the first day she entered the floor.
"My mother raised us speaking English and not Spanish—something she now feels great sadness about—so that we wouldn't face discrimination. So when I told her that I was a lesbian, she thought, 'Oh no. One more box to check on the discrimination side,'" she recalls with a laugh. "I'm proof that you can do it, that the opportunity is there for Latinos, the Mexican community, women, the LGBT community, everyone. In fact, women fund managers have been known to do better than male counterparts. We can do this. The door is opening, and we just need to step up and take hold."
Rather than see her differences as a deficit, McGathey became even more determined to find a way to excel by standing out. For one, the options exchange was only ten years old at that point, meaning that it was an open ground, where women could step in without the impediments of entrenched "old boys' club" leadership. There were still very few women in the field, and the male-dominated environment led to some offensive and oppressive "locker room" behavior.
"There were times when I'd get caught in the middle of a shoving match or would get verbally abused," she says. "And then I would run into these men at the airport with their wife and kids, and they would be really friendly and want me to meet their family, which was confusing to me. When money's involved, you see a part of someone that isn't their best quality; I even learned about a guy who got so frustrated over not getting a raise that he dumped a day's worth of trades into the Chicago River. I've also learned about myself and my own battles and have tried to follow the rules while learning how far to push."
By 1986, McGathey had learned the ins and outs of this world and found a way to take her next step with her integrity intact, opening a new trading pit in wheat options and continuing to succeed without crossing any lines or falling victim to the abuse.
Raised by a traditional Mexican mother, McGathey was taught that women could be strong and independent, but men were breadwinners—dominant and authoritative. She didn't have a college education—something she now says every woman should pursue. "I taught myself by watching the masters at work and getting knocked around," she says. "I finally realized that they mistook my kindness for weakness. I had to figure out my own way to be strong without losing confidence. I learned how to tear down the arguments and harassment while also keeping my integrity."
She never expected to become a trader, but at just twenty-nine years old, she had not only shown an incredible ability to trade grain options, but McGathey had also decided she was ready to start her own company in 1986: McGathey Commodities Corporation. But here again, she needed to go around to the powerful men in the industry and gauge interest in gaining their business. "I remember being told that many of them would never give business to a woman," she recalls.
Rather than be deterred, McGathey knew she just had to find a different way. She recruited her brother Ron, who had also been trading at the time, and essentially installed him as a more palatable partner to gain the trust of the old boys' club.
"When I was a freshman in high school, Title IX was signed, and my mother told me that I could do anything now," McGathey recalls. "I had the sense then that everything was going to be fair—but it's still not fair today."
Now, having faced discrimination and abuse, McGathey was determined to help others and to make a more inclusive finance world. She had risen in the ranks, but when it came time to actually involve big business, McGathey had faced resistance. Even other women on the floor didn't band together, instead often attempting to relish a position of advantage from being the only woman in a particular arena. But McGathey dedicated herself to feminism and a drive for equality based on bringing the next person up—whether that meant an acquaintance who she learned had an interest in the field, a friend of a friend, or often times her own family. "I have a lot of nieces and nephews, so if I could bring them along and show them this career, I knew I could make a difference," she says.
And while she saw the business decimate other lives, witnessing four separate deaths on the floor from heart attacks and aneurysms, McGathey has helped spread her own strong confidence and inclusive nature to others on the floor, mentoring and training brokers and other employees.
"I wake up every day knowing I can be, do, and have anything I can dream," she says. "I am so fortunate that the CME Group trading floor allowed me the opportunity to go into this battle and find my way to win, knowing that the human condition is all about our own aspirations to find the best of who we are."