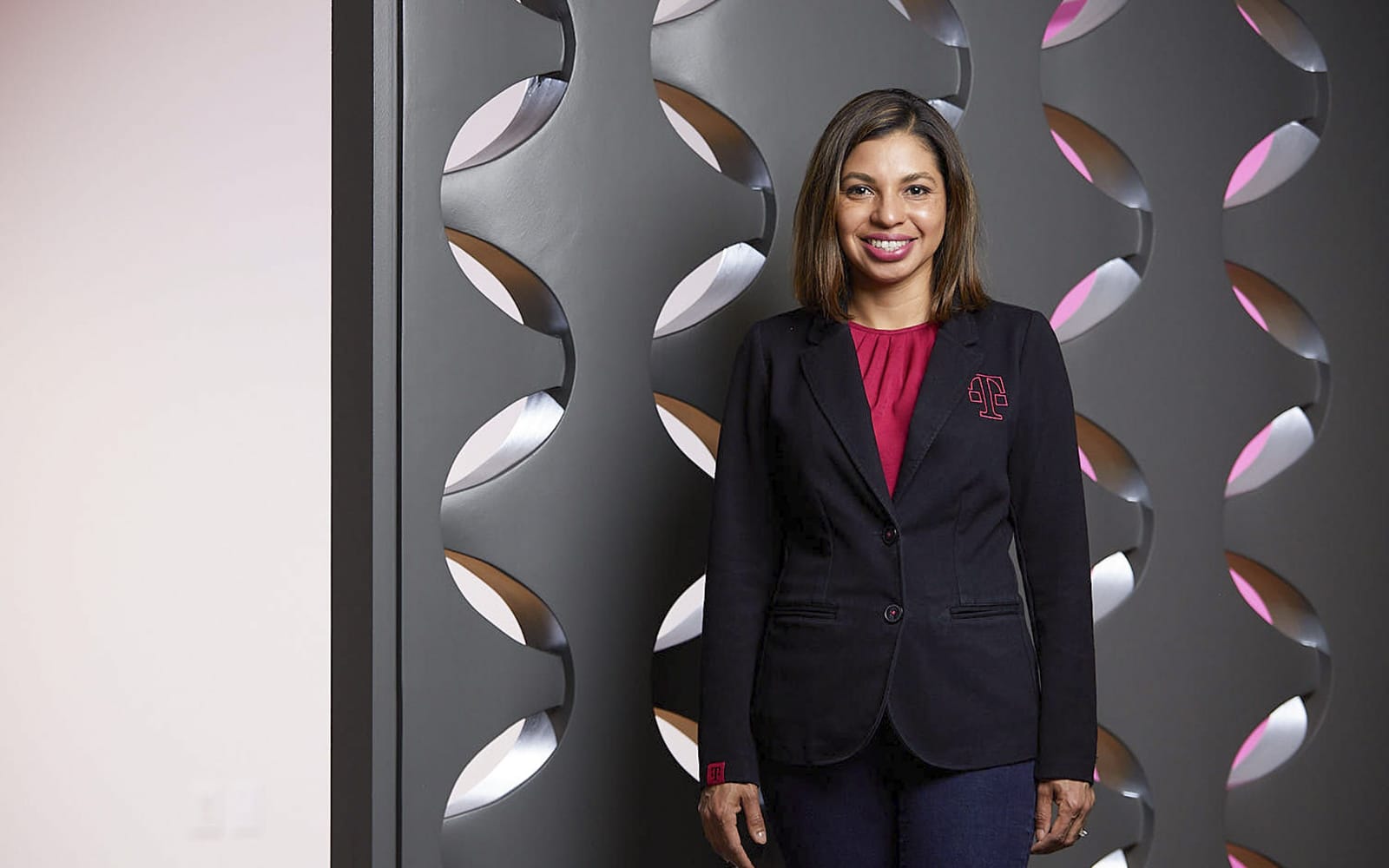 If there's one thing Abigail Franco could change, it would be the time it took to realize her own potential. It's been there since the very beginning when Franco was sent to live with her brothers and sisters in the United States, away from her native El Salvador where civil war and the threat of violence were all too present.
The now senior director of digital product and innovation at T-Mobile was imbued with responsibility at the young age of ten. Franco had to enroll herself in school, act as her own cheerleader and tutor, and navigate all the complexities of an immigrant growing up in another country with only the oversight of siblings who were also trying to find their own way.
"I knew that my family had made a great sacrifice to get me to this country, and failure was not an option," Franco explains. "I became obsessed with making my family proud. There was never anyone asking me about school or how it was going, so I had to do it myself."
While pursuing her undergraduate degree in computer engineering, Franco became used to being the only woman, let alone woman of color, in the room. Fortunately, it provided the future leader with a passion for how technology could fundamentally change the lives of people around the world—a passion Franco has leaned into throughout her career.
Driving innovation at T-Mobile includes always trying to anticipate what humans will be living like five-to-ten years from now. The metaverse, Web3, virtual reality, and finding ways to create meaningful connections between consumers and products are all top of mind.
Franco's teams are working to develop ways to help customers experience shopping in a different way, like being able to digitally accessorize a product with their favorite outfit from the comfort of their own home. "We're looking at all sorts of interesting ways to help our customers interact with products in a way that feels real and personal to them before they even get into the store," Franco says.
How could someone with such drive, self-determination, and capacity for achieving great things ever doubt themselves? Try being a woman in the 2000's tech ecosystem.
The list of isolating and dehumanizing experiences Franco experienced in her rise are too many to count. She says the experiences could fill pages, but she only mentions them now in hopes of creating a more equitable path for women in the tech space.
Franco has been told to her face that she doesn't "look like a director." She's been constantly interrupted and talked over in meetings where her experience and position should have been prized. But it wasn't about rank or hierarchy to Franco.
"I don't think you should have to mention your title for people to pause and let you speak," she says. "I think it's sad that I've noticed having a little more room to speak as I've risen up the chain, and I don't think things have changed as quickly as they should. That's why I'm so passionate about mentoring other women."
Fortunately, Franco is determined not to let history repeat itself. Her true moment of self-actualization came after attending Google's #IAmRemarkable training, a workshop designed to help women and minorities better adapt to challenge the social perception around self-promotion and increase the capacity for self-advocacy.
"I just learned that if I don't see myself as valuable, I cannot help others who need help recognizing their own worth," she explains. "I am my own worst critic, and I think a lot of people put up barriers in fear that others will see what we think we see."
Franco's empathetic and people-focused leadership has been emboldened by recognizing her own worth. The senior director has created several groups for women within the organization she's worked for to connect, communicate, and come together to realize that they're not alone.
And when it comes to formal mentorship, Franco has so many consistent mentees that she has to secure additional mentors due to the overflow. "Even though I'm mentoring so many people right now, I'll still always take the call or meeting and learn about the person and then think of someone I can connect them with," Franco says. "It doesn't matter what level you're at, I think you can also provide important mentorship to someone else."
The senior director adds that she wishes she would have understood the value of mentorship earlier in her career. It's like investing in a stock: the earlier you get in, the higher the payoff will be.
"We have worked with Abigail on multiple digital transformation and innovation programs over the years," says Anand Swaminathan, executive vice president and global industry leader of communications, media, and technology at Infosys. "What stands out is her unique leadership style driven inclusivity, love for customers, and encouragement to innovate. She has always moved the team forward and delivered exceptional outcomes. Her vision to bring growth opportunities to underrepresented communities is an inspiration to each and every one of us."
Franco is excited to have T-Mobile headquarters hosting the Latinas in Tech Seattle chapter for an upcoming event, yet another chance to create networking opportunities, share experiences, and embolden women of color in the technology space to rise.
It may have taken Franco some time to believe in her own capacity, but she now wants to be an advocate for others. It's selfless leadership, true empathy in action, and the sign of someone who has experienced struggle and has emerged as a better person.
"Trust yourself, build your self-confidence, and never speak to yourself in a way that you wouldn't talk to someone you love and care about," Franco says. "It took me too long to see the person I am, but that doesn't have to be the case for you."