Whether it provokes laughter or tears, Pepe Vargas knows a compelling film can ignite a mix of emotions in viewers—a method he wants to use to help counter discrimination and bring about change. "Film is a tool to share ideas," Vargas says. "One of the biggest problems that we face in this society is discrimination, but people don't discriminate because they are bad people. The lack of awareness creates discrimination."
Perhaps Vargas was always destined to make a difference through the arts. With an interest in labor law and union organizing, Vargas, a native of Colombia, moved to Argentina and received a bachelor's degree in law from Universidad Nacional del Centro de Buenos Aires in 1975. His desire to learn English led him to the United States where he immersed himself in the language and graduated from Columbia College Chicago in 1985 with a bachelor's degree in broadcast journalism and television/film production. Along the way, he discovered a passion for film.
His belief that film can bring together different cultures inspired him to launch the International Latino Cultural Center. The center produces the Chicago Latino Film Festival, the largest Latino film festival in the country. By raising awareness about the rich diversity that characterizes the Latino culture, Vargas hopes to force people to recognize each other's humanity—one film at a time. "People have no other choice but to acknowledge that what you bring is important," Vargas explains. "Discrimination disappears and you become a human being."
 While at Columbia College, Vargas worked alongside students who were making films and developed a fervent interest in the art form. So when the Chicago Latino Film Festival began in 1985, Vargas was eager to make film recommendations. The following year he played a huge role in marketing the festival. When the organizers of the first two festivals decided not to pursue a third, Vargas stepped in and took over the event. The festival "was a tool to share our culture," Vargas explains.He got busy raising funds, receiving $10,000 from the City of Chicago and financial support from his alma mater, Columbia College, and Mexicana Airlines to gather the $30,000 needed for the event. Through the film festival, Vargas brought to Chicago Paul Leduc's Frida, naturaleza viva, a film about renowned Mexican-painter Frida Kahlo. The film was so popular Vargas had to schedule additional screenings. "That confirmed that we were needed," says Vargas, "and that the festival is a great tool to share the kind of stories that others were ignoring."
Vargas continues to bring to Chicago quality films that are often overlooked by other festivals. In 1987, Vargas laid the groundwork for creating Chicago Latino Cinema, an organization that would focus on the implementation of the Chicago Latino Film Festival, which now boasts more than 35,000 attendees. "The festival kept growing and growing with the same idea of sharing our culture through film and putting on a program that encompasses pretty much every one of our countries," Vargas explains. Showing films each April from countries including Cuba, Dominican Republic, Puerto Rico, and Brazil, the festival presents dozens of films that reflect the great diversity of Latino culture in the United States, Latin America, Portugal, and Spain.
Expanding Reach
Eventually Vargas realized that Chicago Latino Cinema could do even more. "We thought, 'Why are we using only one cultural expression?'" Vargas says. So, one year when Vargas and festival organizers presented a film about tango, they decided to add a live dance performance. "We couldn't accommodate everyone who wanted to attend that," Vargas recalls. "It was unbelievable."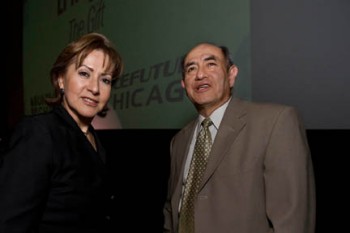 Next the group brought the National Folkloric Ballet of Guatemala. Nearly 3,000 people attended the two performances. Audience members were so moved they left weeping, Vargas says. The organization now produces arts programs in a variety of genres including music, theater, dance, comedy, literature, and visual arts. In 1999, in order to more accurately depict its mission, Chicago Latino Cinema changed its name to the International Latino Cultural Center of Chicago.
The center is working to build the nation's first Pan-Latino cultural facility, but in the meantime, the organization presents year-round events in community centers, academic auditoriums, museums, film venues, galleries, lounges, restaurants, and parks. Vargas's goal is for the center to serve as a bridge between cultures, and he's proud that 40 percent of the attendees of the center's events are nonLatino. "It's absolutely clear that we're making a difference," Vargas says. "We're breaking stereotypes; we're calling to attention that the Latino community is more than what is perceived."