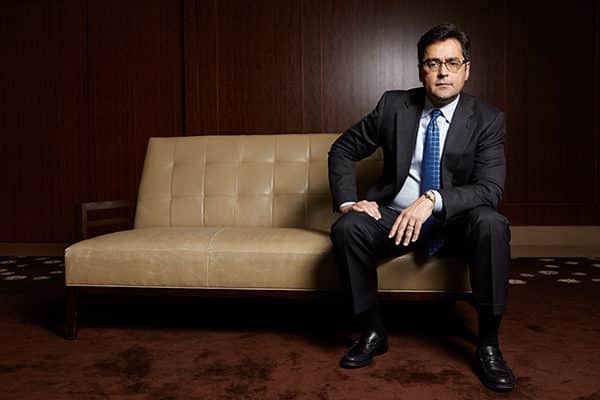 The Great Recession of 2008 hit philanthropic organizations hard. The Ford Foundation watched its endowment fall from $13.5 billion to less than $8 billion. The foundation's support for grantees was under threat, but the nation needed their work more than ever.  That's when a new president of the foundation stepped in to restructure the organization: Luis Ubiñas. He shifted tens of millions of dollars from internal spending to external grant making through a comprehensive cost restructuring; focused the foundation's work by deeply engaging on thirty-four initiatives, instead of over two hundred; reinvested 80 percent of the foundation's endowment to prepare for the inevitable market rebound; and renovated most of the foundation's technology systems and field offices.
Board Snapshot
Electronic Arts
Commerce Hub
By 2013, when Ubiñas left to return to private sector activities, the foundation was a fundamentally different place: its strategies focused on impact, its endowment rebounded to $12 million, and its operations modernized.
Ubiñas, the foundation's president from 2008 to 2013, credits the work of his staff and board in the turnaround effort, but those who know him well are confident that his leadership was a major factor. Ubiñas joined the foundation after eighteen years at McKinsey & Company. As a senior partner there, he led the firm's West Coast media practice and helped companies adopt successful strategies during the competitive and often unpredictable transition from analog to digital and omnichannel platforms.
Ubiñas' ability to calmly lead others through challenging times helped him prosper in both settings. It's an ability that comes naturally to Ubiñas. He grew up in New York's South Bronx in the 1960s and 1970s, when the borough's battle against arson, murder, drugs, and disease hit crisis levels. His father battled addiction while his mother sewed dresses and used food stamps to provide for five children.
Determined to rise above his challenges, Ubiñas sought a way out of his situation and found a lifeline in education. Financial aid allowed him to attend well-respected private schools. Then, Ubiñas attended Harvard College and Harvard Business School on scholarship.
Ubiñas started his career as a journalist before taking a job in business to support his ailing mother. She had sacrificed her own health to support Ubiñas and his siblings—but even then, the young professional knew that he would have to come back his foundational years in the South Bronx.
"When you grow up in that environment, you know you have to spend your life making a difference," he says. "My childhood showed me how important it is to serve the community and help others have educational and economic opportunities." Those days on the streets of New York's roughest borough have motivated a career that's been all about navigating challenging situations for the greater good.
When Ubiñas decided to leave the Ford Foundation in 2013, he took a look back at the first phases of his career. He spent six years earning two degrees at Harvard. He had consulted leading companies for nearly twenty years and then another six guiding one of the world's biggest philanthropic organizations through a major crisis. It was time to try something new.
"My childhood showed me how important it is to serve the community and help others have educational and economic opportunities."
"I wanted to see if I could use a different operating model,"' he says. "I wanted to serve as an investor and advisor, using my experience to serve on public and private boards in a more entrepreneurial way."
In 2015, Ubiñas joined Shorelight Education's board of directors when it was a start-up organization. Today, the company has more than $60 million in revenue. As lead independent director and chair of the nominating and governance committee at Electronic Arts, he's been part of an effort that's taken the video game producer's stock price from $11 to more than $100. He was also on the first public board of CommerceHub, which went public in 2016.
Although his expertise helps in many areas, Ubiñas specializes in working with organizations that are undergoing fundamental change. When he joined Electronic Arts, it was an analog company using traditional retail channels to sell video game disks in plastic boxes. Now, thanks to what he describes as an extraordinary management team, EA is a digital company with hundreds of millions of gamers in its virtual community.
Ubiñas fulfills his desire to give back through service in the public sector, where he is active with many groups, including the New York Public Library, where he heads the nominating committee, and the Statue of Liberty-Ellis Island Foundation, where he serves as vice chairman. Internationally, he is president of the board of trustees at the Pan American Development fund, which assists vulnerable people in Latin America and the Caribbean and serves on the advisory committee for the United Nations Fund for International Partnerships.
When Ubiñas considers joining a board, he looks at two factors: integrity and potential. "I want to be around talented people of pristine character, and we need to be doing something where transformation is possible," he says. "I want to be part of a team that makes not just incremental, but fundamental contributions to shareholders and employees. I want to see the substantive difference that our work makes for shareholders and in the world."
Today, with nearly every sector in transformation, board members with experience like that of Ubiñas are in high demand. "Any company that thinks it can avoid transformative change is wrong," he says. "All companies need strong support and accountability from dedicated board members who are comfortable with change—with unpredictable and dynamic environments."
Because economic factors and consumer trends change so rapidly today, Ubiñas believes that the board seats of tomorrow will go to those who are unfazed by uncertainty—who live with the understanding that the combination of technological advancement, globalization, and emerging factors like climate change make uncertainty the only certainty. Although no class teaches these skills, Ubiñas says young professionals can take steps to prepare. "Take chances," he says. "Reason through risk. Put yourself in unfamiliar management situations, work globally, and don't hide from challenges."
That's how Ubiñas has lived his entire life: managing through uncertainty. And the uncertainty prepared him for a lifetime spent helping organizations navigate fundamental change. 
Thoughts from Guest Editor Victor Arias
"Success sometimes comes from being chameleon-like and adapting to new surroundings. Luis has done that and has been incredibly successful at changing lives from corporate offices, foundations, and boardrooms. Mucho orgullo Luis!"