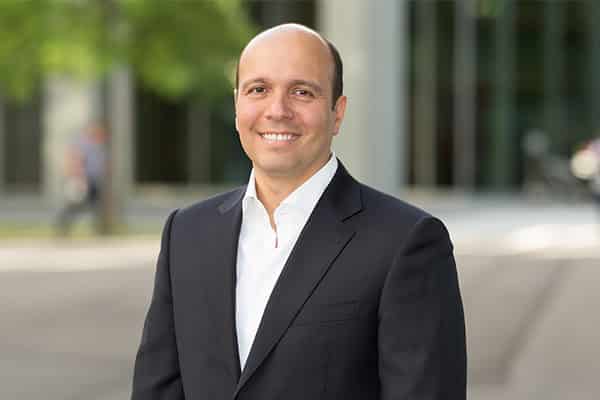 Augusto Lima's education and career set him on a global journey. Lima was born and raised in Brazil, where he also attended law school. Additional training brought him to Georgetown University Law Center before he assumed positions with Arnold & Porter, Pinheiro Neto Advogados (Brazil's largest law firm), Skadden Arps, and then in-house posts in the United States with Sealed Air Corporation, and Anheuser-Busch InBev.
Board Snapshot

GlaxoSmithKline Consumer Healthcare Holdings Ltd
His latest journey came in spring 2017, when he joined Novartis—based in Basel, Switzerland—as head of legal transactions. There, his team is responsible for global corporate and transactional matters. Soon after, he was also selected to serve on the board of GlaxoSmithKline Consumer Healthcare Holdings Ltd. (GSK JV) as part of a joint venture between Novartis and GlaxoSmithKline.
In a global company like Novartis, which has products available in approximately 155 countries, one of Lima's key responsibilities is to manage smart risk taking. He characterizes it as a complicated, sensitive endeavor that is always being adjusted as he and his team attempt to build consensus among parties with different ideas on assessing risks and determining what actions should or shouldn't be taken as a result.
"Just having a conversation about risk is expected to move the needle in one direction or the other. How much it moves depends on how well you listen to the parties and how you integrate the various positions—including your own," he says. "It's essential to always directly address the differences and to stay open to all the viewpoints."
Lima's goal is to reach a consensus that serves the best interests and objectives of the organization, not just one person or line of business.
That type of collaboration and consensus-building extends to Lima's role on the GSK JV board of directors. The company was created when Novartis was preparing to reduce its over-the-counter business. Lima and Novartis' CFO, head of human resources, and president of AAAP, makes up the remaining Novartis board seats. Other board members include the CEO and CFO of GSK.
Aside from the fiduciary duty that all board members have to protect the company's best interests, Lima has been impressed by the level of unified efforts to guide and improve operations. "We constantly challenge each other with questions—how a proposed plan will be implemented or why we're not performing better in a certain region—but it's always with the greater good of the organization in mind," he says. "That level of professionalism and collegiality is a beautiful thing to see."
In addition to the varied professional experiences in his background, Lima acknowledges that his identity as a Hispanic gay man adds to the diversity he brings to the board, as well as to his role within Novartis.
"Just having a conversation about risk is expected to move the needle in one direction or the other. How much it moves depends on how well you listen to the parties and how you integrate the various positions—including your own."
"I've never been part of the majority, and that's created a kind of courage and pride and perspectives that help shape who I am," he says. "I don't necessarily want to be defined by those characteristics, but it's also important that they be valued and accepted without judgment. Because there are so few of us in leadership positions, I do feel quite a bit of pressure to succeed and set a positive example."
Lima's leadership style is to empower his staff, engender trust, and to do the right thing in the right way. "Augusto brings inspiring vision to an exceptional in-house team at Novartis," says Mark Greene, partner at Cravath, Swaine, & Moore. "He is experienced, knowledgeable, and commercial—always looking to find innovative solutions. It is a pleasure to work with him." 
Within Novartis, that means making decisions that lead to improving and extending patients' lives. But those decisions have to be made in an environment where individuals are willing to share their open and honest opinions. To help create that type of space—what Amy Edmondson, the Novartis professor of leadership and management at the Harvard Business School calls psychological safety—Lima frequently admits his own weaknesses.
"When you acknowledge your limits as a leader, attitudes change dramatically," he says. "It makes people feel that they are needed and gives them an opportunity to use their own expertise to help."
His approach does more than encourage engagement and welcome honesty and vulnerability. In a highly competitive marketplace, Lima believes it also helps avoid the risk of minimizing or discounting high-caliber staff members' contributions. "Augusto's approach to leadership, alongside his wide range of experience, has been pivotal in enabling him to make a successful transition into— and make an immediate positive impact at—Novartis," says Matthew Bland, partner at Linklaters LLP.
Lima expects that empowerment, collaboration, and trust will continue to hold positions as top priorities within Novartis' culture. Former CEO Joe Jimenez began emphasizing their importance several years ago when he was working to break down silos between departments within the company. Since then, current CEO Vas Narasimhan has significantly increased similar efforts. Lima points to the recent approval in the United States of Kymriah, a drug for treating certain kinds of acute lymphoblastic lymphoma, as evidence of the great results produced by the cooperative atmosphere that now fuels the company. He believes it will continue to enhance both the company's product pipeline and corporate mission for the foreseeable future.
"When people stop competing with each other internally and, instead, are working together toward shared goals, they achieve so much more," Lima says. "That's how you come to making decisions that do the right thing in the right way. And you know when you're making them because they produce results, that truly calm your heart."
Thoughts from Guest Editor Victor Arias
"From Brazil to the United States to Switzerland, Augusto displays the adaptability of many Latinos who straddle multiple countries, languages, and cultures and can do it seamlessly."