As the current national president of AT&T's HACEMOS employee resource group, which boasts over ten thousand members through forty-one chapters, as well as the founder and chair of the Hispanic Corporate Council of Atlanta (HCCA), Yovany Jerez has a unique vantage point into the Hispanic professional community. But he does not rely on his observations alone when providing commentary on how issues of cultural identity manifest amongst the members of that community. Rather, Jerez has employed data-driven strategies to produce a nuanced portrait of what it means to be a Latino in the United States.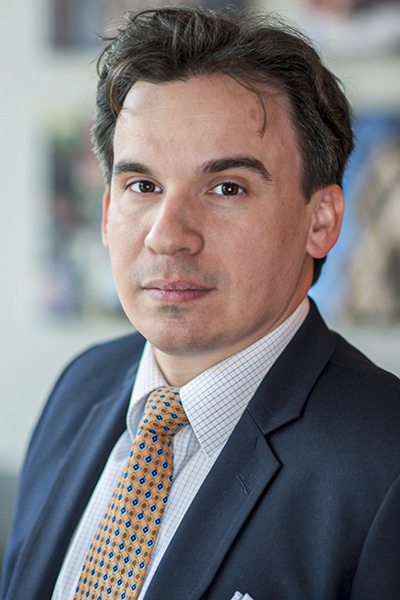 Jerez's insights into this community center on a survey that HACEMOS recently conducted in collaboration with Hispanic Executive, a survey that has since been corroborated by two studies conducted by ThinkNow Research (as well as previous studies conducted by the Pew Research Center).
This partnered survey polled a population of nearly twelve thousand Latino professionals working across the HACEMOS and HCCA groups. And while it posed a number of different questions to respondents, the survey revolved around one main idea: self-identification.
Latino, Hispanic, and the Complexity of Measuring Identity
According to Jerez, the results of the partnered survey found flipped, yet generally consistent results regarding participants' preferred manner of self-identifying.
Within the HACEMOS group, members indicated that they preferred to be labeled as "Hispanic," then "Latino," by wide margins. The HCCA survey indicated the same but with "Latino" and "Hispanic" essentially flipped. The term "Latinx" ranked between 1.4 and 1.5 percent, respectively, across HACEMOS and HCCA membership.
"The answer to our question is that, regardless of gender, age, education, Spanish or English proficiency, 'Hispanic' and 'Latino/a' are unequivocally still the preferred terms," Jerez explains. In fact, those two terms account for 61 percent of all stated preferences, with "country of origin" (eg. Cuban) and "country of origin-American" (eg. Cuban American) bumping it to 84 percent.
The survey was motivated by a number of factors. "For many moons there has been a fierce debate on why the term should be 'Hispanic' versus 'Latino,'" Jerez remarks. "There are so many articles and opinion pieces written about this cultural war of terminology." That debate was furthered at HACEMOS board meetings, in which "Latinx" was viewed as an increasingly popular term.
Jerez says there are also interesting findings about how people feel about being mislabeled. "While there isn't a big percentage of people who feel extremely angry or insulted about being mislabeled, the general sentiment was that 57 percent would not feel offended, but 25 percent of people would have mixed, 50/50 feelings," Jerez says. In short, there continues to be a wide breadth of identity searching among Latinos in the United States, but being respectful of one's heritage, no matter from where, is essential.
But what does it all mean? "I'm in marketing," Jerez says. "Any business owner or CMO seeking to connect with the fastest-growing customer-segment in the United States needs to comprehend that the Hispanic population is the present and the future of your business. Our survey statistically indicates you are going to want to refer to them as either Latino/a or Hispanic."
Tolerance Isn't Enough
But Jerez, who has spent more than thirty hours attaining a certification in cultural mastery, had much higher aims for this survey than the procurement of new stastistics. As chief of staff for telecommunications giant AT&T, Jerez has steeped himself in ideas of how identity, acceptance, and team building are all intertwined.
"I don't think the goal of relationships, be they professional or personal, should be aimed at tolerance," Jerez emphasizes. "If tolerance and mere acceptance are the metrics you're aiming for, that's a pretty low bar."
In fact, Jerez has set out to establish an entirely new bar. In his studies with The Six Stages of Cultural Mastery author Ricardo González, the chief of staff has set a new standard for what has been coined "cultural competence."
"I don't settle for competence," Jerez asserts. "I want to reach the highest levels of empathy and endearment as a servant leader."
Here, Jerez employs the metaphor of a skyscraper. "The taller you want to build, the deeper you have to dig: the strongest relationships are deeply rooted in understanding and empathy," Jerez says. "That's the way I see relationships. You have to develop a profound understanding of your colleagues, your partners, and especially your customers." Jerez argues that it's genuine human connection that is able to overcome both unconscious and conscious biases and, ultimately, lead to much more fulfilling and productive interpersonal relationships.
Of course, demanding universal cultural mastery isn't an easily attainable reality for most businesses. "The endeavor demands consistent mental, spiritual, and physical work, but if you want to be intentional about meaningfully connecting with people, this is the formula," Jerez says.
Energy for that kind of work is something Jerez—father of two under the age of two, president and chair of two organizations, and full-time chief of staff at AT&T—has in spades, he admits. "I have been the beneficiary of many people's goodwill, and it's my mission to pay it forward," Jerez says.
And while Jerez says one of the first lessons he imparts on those he encounters is "don't try and change the world," it's not meant as a deterrent. "If you're lucky, you'll encounter the opportunity to change an individual's world by positively influencing their life," Jerez says. "That is your mission."