Xamayliz Gonzalez-Suarez, senior business consultant at JPMorgan Chase, aspires to be a CEO for a Fortune 500 company. But today, she spends her time mentoring business owners with diverse backgrounds as they look to grow and scale their businesses.
She shares the scope of her role with NexGen Collective and the challenges she's had to face on her path to thriving in the banking industry.
What do you do today?
I am a senior business consultant at JPMorgan Chase. My role consists of mentoring diverse business owners, providing educational seminars, and partnering with internal and external stakeholders. This initiative is part of the $30 billion racial equity commitment to assist Black, Hispanic, and Latino business owners who face systemic barriers when it comes to growing and scaling their businesses.
What is your greatest career accomplishment to date?
My greatest career accomplishment to date is navigating through three different lines of business within the firm. From Chase Card Services, Business Banking, and now as part of Community Bank. Being able to thrive in the banking industry while embracing my culture as a cochair for Adelante SE, a business resource group that advances Hispanic and Latino employees to pursue career development and community involvement.
What is your greatest personal accomplishment to date?
My greatest personal accomplishment has been able to support my grandparents in Puerto Rico, help my younger brother navigate through life, and serve my community. I believe my calling in life is to help those around me, especially those who have contributed to my growth in my career and personal life.
How do you tackle problems and overcome challenges?
Tackling and overcoming challenges is a combination of meditation, prayer, my faith, and reflection. Meditation starts within, acknowledging what is in front of me and all I am able to control. As we face difficulties, I can trust in God's sovereignty and plan, knowing that He is in control and has a purpose in every situation. Finally, it is important to reflect on our experiences learning from them.
What do you do today to impact your community?
Today, I impact my community by coaching business owners, providing financial education seminars ,and mentoring young middle schoolers in Gwinnett County, Georgia. I have recently joined the technical advisory committee for Prospera, a nonprofit organization that specializes in providing bilingual assistance to Hispanic entrepreneurs.
Describe yourself in five words.
Resilient, mindful, accountable, determined, genuine.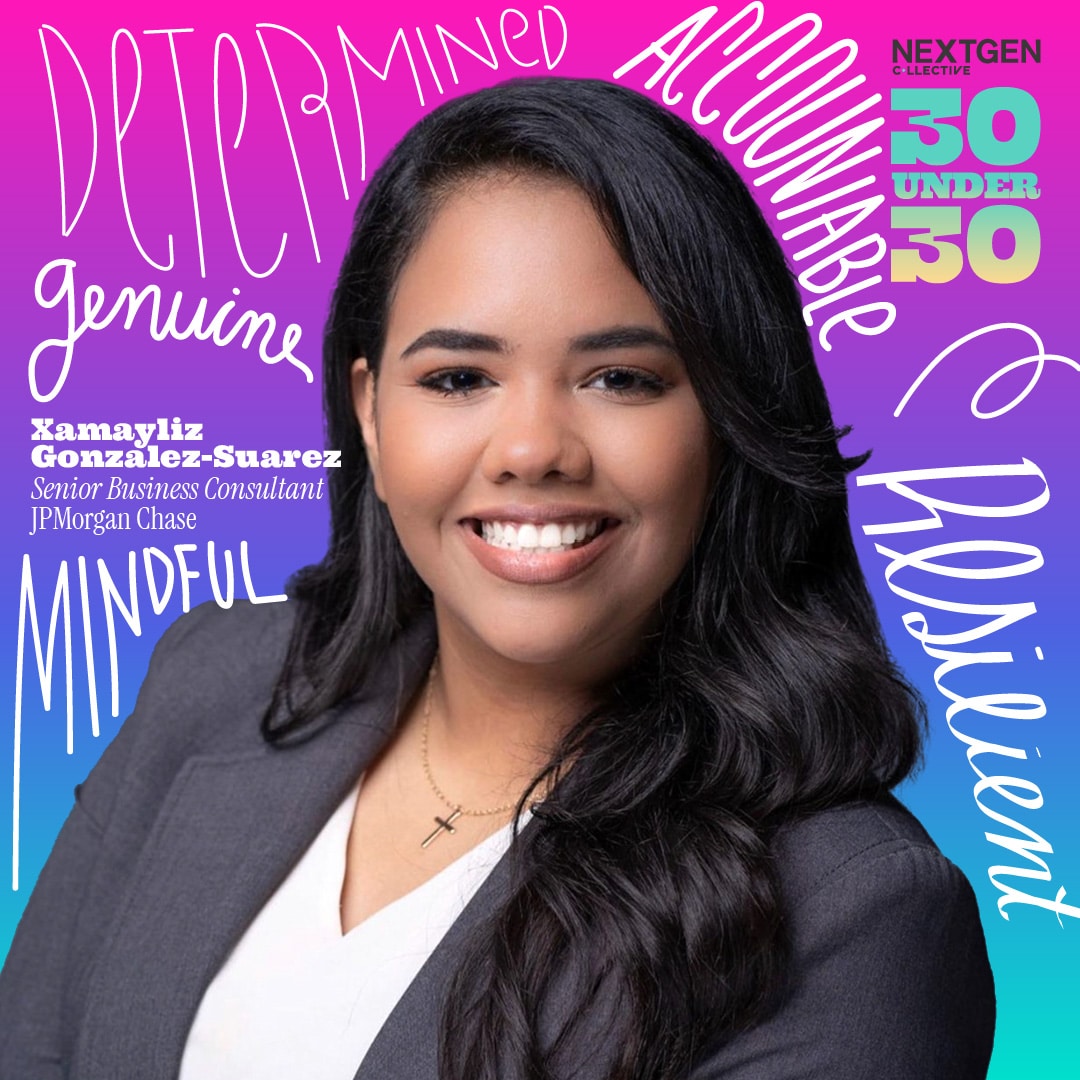 What are your future goals?
My future goals consist of progressive personal growth, spiritual maturity, and career advancement in business or commercial banking. I see myself becoming a leader in my community while also opening the doors for those who come behind me in the corporate world. In fifteen-plus years, I also see myself as a CEO for a Fortune 500 company.
What is your favorite form of self-care?
Self-care for me consists of having a mixture of emotional, physical, social and spiritual focus. This can range from spending time with my friends and family to disconnecting from technology. I've recently learned and put to practice, that self-compassion is one of the best methods of self-care. Forgiving, understanding, and caring as you would someone else is directly associated with self-compassion.
What do you like to do for fun when you're not working?
When I'm not working, I'm spending time with my partner, friends, or younger brother. I like to engage in and watch sports especially basketball, and baseball. I also enjoy playing video games (especially Nintendo switch), trying new restaurants, going on picnics, and taking walks with my amazing dog Mocha.
What does making NextGen Collective's 30 Under 30 list mean to you?
Making Next Gen Collectives 30 under 30 list means not conforming to social life stamps. After my mother's passing when I was fifteen years old, I felt like I was going to be part of a statistic that come with not having an adult present. This is when my faith in God's promises took effect. Working hard and being grateful for every second that I have have made me resilient. This accomplishment is a way to recognize myself for the many years of constant work and to recognize the dedication of a single mother who gave everything for me.
What is your personal theme song?
"Azucar Negra" by Celia Cruz
What is your Latino background?
¡Soy Puertoriqueña! Originally from Arecibo, Puerto Rico where my mother was born and raised and my father is from Lares, Puerto Rico. At age sixteen, I decided to move back to the United States.
Editor's note: This Q&A has been edited for clarity.