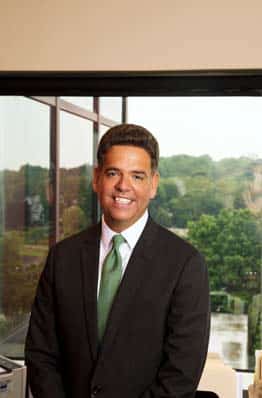 The next time you hear that unmistakable "Rut roh" coming from your TV, you could very well see WWE (World Wrestling Entertainment) superstar John Cena next to mystery solving's favorite pup, Scooby-Doo. Warner Bros. is just one of the handful of ventures on the horizon for WWE, but it's a new partnership that is opening doors for the organization. At the helm of its finance function, George Barrios is doing his part to foster WWE's strategic network relations because after 24 years of advising business through numbers, he knows the benefits
of partnership.
Barrios became WWE's CFO in 2008. He admits he was reluctant to even consider the organization when a recruiter friend pitched him the position. At the time, what he knew of the company was what he saw on TV as a kid watching with his grandfather. "My first reaction was, 'No,' without even allowing him to tell me anything," Barrios recalls. Knowing Barrios's penchant for the facts, his friend challenged him to do some research before giving a final answer. "I started getting smarter," Barrios says, "and I realized WWE was much like Disney. We operate in as many countries, have as many platforms, share the same business model on a smaller scale—develop brands, put smiles on customers' faces, and monetize like crazy." Barrios was sold.
WWE's business model Barrios explains may sound simplistic, but it has and continues to produce an increasingly complex portfolio for the global entertainment company. WWE is in the unique position as the owner of its hours of content, both classic and contemporary, to license hours of matches, reality TV, and original series to carriers around the world. It's already been successful landing contracts for seven TV shows; 12 pay-per-view events; a presence on USA Network, Syfy, ION Television, and E!; and the film industry—WWE produced The Call and Dead Man Down in 2013 amongst others. Four of its largest content agreements in the United States, United Kingdom, and India are in line for renewal.
The Ticker

What do you see as the future of the financial landscape in your industry?
We're in this unique place because as more platforms are developed to distribute content, they're driving up the value of content. We are a content creator with a massive audience, and by design, we own all our rights; we'll license them, but we own them. That puts us in a good position.
—George Barrios

The 30th anniversary of WrestleMania is coming up this April, but WWE is not showing its age. The signature event, whose inaugural bout took place in 1985, WrestleMania is forging the path for the WWE in the world of animation, a perfect fit for the organization, says Barrios, because the characters in the ring translate well into caricatures in cartoons. "Right now I'm the coolest dad," says Barrios as a father of three. Since dropping the rating of its cable programming to PG, partners like WB with younger audiences have provided new opportunities to market the same superstars adults can catch leg-dropping one another on pay-per-view.
While the vitality of staples like WrestleMania, WWE Main Event, Monday Night Raw—which gobbles up 300 hours of primetime per year on the most-watched network in America, USA Network—and Friday Night SmackDown—WWE's Syfy channel smash whose 3.1 million average viewers eclipse USA Network's combined average audience—you might expect WWE to rest on its laurels, but Barrios says they are only just beginning to tap into the potential of their content, and the next step, perhaps ironically, is backward.
George's Aha Moment

Tell us about the moment when you had a clear realization of what your direction should be (either personal or professional).
I read The World is Flat by Thomas Friedman on vacation. I don't agree with Tom's policy, but the book was about the confluence of globalization of economies and technology. I remember thinking the New York Times could capitalize on that. I came back with the idea to move significant finance functions offshore and save money. People looked at me like, "What kind of crazy talk is that?" I stuck to my guns and learned that even in the face of organizational inertia and skepticism, if you have the energy and thoughtfulness you can get done what others think you can't.

If you know Barrios's background, it's easy to cite his influences when he speaks of WWE's plans for a retrospective series that packs the same punch as contemporary fights, but is dressed in a high-production, documentary aesthetic not unlike an ESPN feature story. The first job he took out of college was with Time Warner in the HBO division. In the days before cash cows like the Sopranos, True Blood, and Game of Thrones, HBO would debate how much to invest in original programming, but Michael Fuchs, his visionary CEO stood firm on the long-term strategic importance of original programming. As Fuchs explained, investing in unique content would differentiate the network from its competition. As Barrios applies it, "It's not about running old fights. It's about taking the history we have in our library and making it contemporary."
If his CEO taught him the strategy of differentiating oneself, Barrios's CFO at HBO taught him the tactics. Jeff Bewkes was good at confronting people, privately. He may not remember the day he taught Barrios an important lesson in leadership, but it stands out to the WWE CFO as a formative moment in his career. After a business review during which one member of the finance team had shown an embarrassing lack of preparation, Barrios wanted an explanation. He consulted with Bewkes, who explained to him that he was justified, but that his approach—to confront his colleague in front of his peers—wouldn't get him the answers he desired. "Not long ago I was frustrated with the answer someone gave my team in a meeting, and I passed on that wisdom to one of my team members," Barrios says. "Interpersonal managing is one of the hardest things to execute as a leader, and but helped me add that skill to my toolkit."
While his search for partners to diversify WWE's licensing is strategic, Barrios knows from experience that sometimes the best connections are made by happenstance. Whether the next boon for WWE will be the result of a calculated effort or the reward of a risk well-taken remains to be seen, but one thing is for sure: WWE has plenty of fight left in it and is poised for another knockout. At WWE, Barrios says his CEO is encouraging him and others to aspire without limits, driving an ethic of entrepreneurialism across the business. For Barrios, that means there are plenty of rounds to go in the battle for viewers and market share, and for his part, WWE will put up a fight.