Growing up a first-generation immigrant in the Washington Heights neighborhood of New York City, surrounded by other working-class Dominican families, Marianela Peralta's family never had the convenience of money. What they did have—courtesy of her maternal grandmother, who raised Peralta and her uncle together—was the knowledge that education could create real opportunities.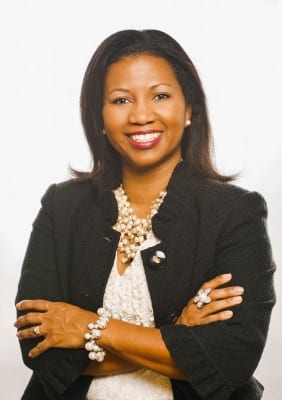 Peralta says she decided to pursue law because of her grandmother's dedication to her family and community. "She grew up under a dictatorship in the Dominican Republic and only completed the third grade," says Peralta. "She was attuned to the fact that coming to the United States would provide her descendants the opportunity to receive that education she had longed for." Peralta made her way to Georgetown University, where she considered taking the foreign service exam but decided instead that law school spoke to her sense of justice and service.
At the University of Pittsburgh School of Law, Peralta made it a priority to explore as many fields of law as possible. Peralta joined the Hispanic Bar Association, which she says was "an integral part of the growth of my career." She went on to be a president of the association, run the judicial clerkship and internship program, and manage various programs to give young Latina lawyers access to mentors. She is currently actively involved with developing leadership programming with the Hispanic National Bar Association's Latina Commission, which is sponsored by Walmart's legal department.
Eventually, it was employment and labor law that piqued her interest the most, and she pursued a position as an attorney adviser with the National Labor Relations Board. Shortly after, she was offered what would be a formative clerkship in Washington, DC. "Not only did I learn a lot about how the courts worked," she says, "but the clerkship laid the groundwork for my opportunity in the US Attorneys' Office."
In her seven years with the Attorney's Office, she worked on a variety of cases in the superior court, federal criminal and civil divisions. All the while, she took continuing legal education courses to hone her litigation skills. When she moved to private practice, Walmart, who was one of her clients, expressed a need for Spanish-speaking lawyers. She felt it was time to go in-house as an associate general counsel with the retailer because it provided the perfect blend of corporate work with labor relations.
Through all the twists and turns of her legal career, Peralta has never stopped looking for ways to help other Latina lawyers, particularly through her work with the Hispanic Bar Association. "Part of the challenge for Latinas," she says, "is that clientele are generated from relationships with institutional or long-term, corporate clients; more often than not, the lawyers with those contacts are white males."
Finding guidance among these complex workplace relationships is crucial for young lawyers, says Peralta. Just as she benefited from her grandmother's encouragement, she mentors young attorneys. "My grandmother deeply regretted never getting the education she had hoped for," Peralta says. "I make it a priority to demystify the legal industry for the women who will come after me."