On a rainy New York night, Hispanic leaders gathered for Hispanic Executive's first event of 2019: Uniting Powerful Leaders Dinner, in partnership with Brugal.
"This is not the first event we've thrown, and it won't be the last," said Kyle Evangelista, vice president of business development for Hispanic Executive. "But it is the first event that we've ever thrown with a rum tasting."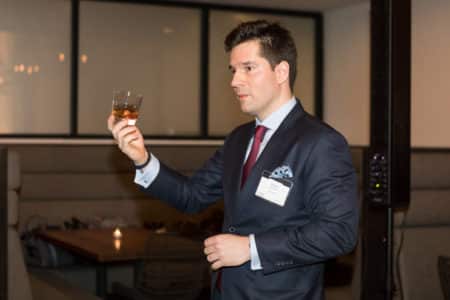 The night began with a short tasting of three rums—Brugal Extra Viejo, Brugal 1888, and Papá Andrés—led by Pavol Kazimir, Brugal global brand ambassador.
"I'm a born Slovakian. Right after my graduation, I moved to the Dominican Republic, where I lived for ten years," Kazimir said. "Automatically, when I stepped onto the island, I fell in love with rum. In the Dominican Republic, rum is everywhere. The whole culture is influenced by rum."
He explained the history of Brugal and detailed the different characteristics of the three rums. "For years as tradition, the Brugal family made special rums for special occasions. And the rum they create is called Papá Andrés," Kazimir said of the third rum in the tasting. "It's dedicated to our founder, Andres Brugal. He was always trying to create the best rum possible."
The rest of the evening provided intimate networking opportunities for the twenty-five Hispanic leaders in attendance—ten of them had been featured in the pages of Hispanic Executive magazine.
"Tonight is a catalyst for our community's advancement," Evangelista said. "This is the platform that really allows Latinos of influence, like all of us, to come together and connect, because we are the catalyst for our community's advancement."
The event brought together leaders from Aetna, IBM, OppenheimerFunds, Morgan Stanley Wealth Management and more.
Photos from the event can be found on our Facebook page.