The culinary palate of New Orleans runs the gamut of cultural influences. French, Spanish, and African cooking merged with a blend of American ingredients—and the spices the city afforded with its status as a major trading port—to create the cuisines known as Cajun, Creole, and Southern soul food. Combined, these cooking styles have birthed some of the most iconic and uniquely American foods.
Troy Acosta—vice president of supply chain North America at Sodexo—grew up in this same diverse, cultural hotbed, a circumstance that has informed his entire career.
"Being from New Orleans, it's very food-centric," he says. "My dad cooked a lot. I thought my choice of careers was either go to college to be an accountant or go to culinary school. And culinary school seemed a little more exciting than accounting."
After graduating from the Culinary Institute of America, Acosta spent the early part of his career as a chef, working in hotels, including Marriott, Hyatt, and The Peabody Hotel Group. In fact, he first joined Sodexo, a global food services and facilities management company, as an executive chef. It wasn't until later that he was brought on to the operations side of the company, and as he moved up the ranks at Sodexo, his role in the company and approach to work has changed significantly, while staying true to Sodexo's core values.
It is the company's core values that strengthens Acosta's relationships with key partners, such as Chef Works. "Sodexo has been one of our strongest national account partners since 2007," says Dave Roth, COO of Chef Works, makers of high-quality culinary apparel. "Both companies are built on foundations of exceptional customer service and the shared values of honesty and integrity."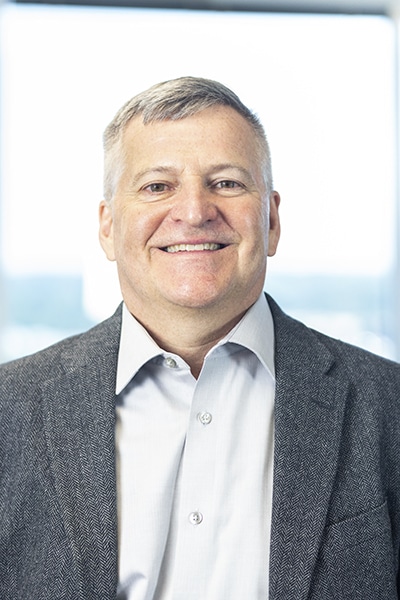 Today, with Sodexo's core values in tow, Acosta oversees a team of sourcing professionals responsible for hundreds of contracts in addition to leading multiple global and regional initiatives to support Sodexo's sourcing strategy. It's a strategic, supply chain role for North America, and it spurred Acosta to develop a new set of leadership skills.
"I would look at the early part of my career in a kitchen as very tactical," he says. "Now, it's much more about long-range strategies, influencing management while serving clients and key stakeholders."
When he was a chef, Acosta mostly planned for the short term, ensuring the kitchen staff met deadlines while looking into menu preparation for special events. In contrast, he now has to develop strategies for 3–5 years and forecast 12–24 months in advance to build long-term sourcing strategies and prepare for major catastrophic events to ensure it does not disrupt Sodexo's supply chain. For example, when it's hurricane season in the United States, Acosta is in crisis management mode, tracking storms weeks ahead of time to communicate with and fully prepare his team, Sodexo leadership, vendors, and other key stakeholders.
"You have to build not only the data and the story, but you also have to build those relationships with the individuals so that they understand the numbers and trust the guidance that you're providing to them," Acosta says.
Acting as a leader in supply chain for the company is a lot more numbers-driven than the skill set required for a chef. In fact, Acosta returned to school to receive a bachelor's in business in 2005 and a Six Sigma Black Belt in 2011—and he now admits that it's closer to the career path he originally chose to avoid.
"A lot of what I do in the supply chain has to do with accounting," he says with a laugh.
Not only has the scope of his responsibilities and focus of his work changed, but Acosta says that taking on a strategic role also shaped his approach to leading his team.
"In the kitchen you're trying to be one of the team members," he says. "When you're in the position I'm in now, you're much more of a coach to a broader team."
Today, Acosta leads a team of about thirty, spread across North America, with members from Canada to Ohio to Maryland, where Acosta himself is based. In managing his team, Acosta says that the most important thing is to create is a learning environment. So, he's personally committed to developing his team members and encouraging them to continually grow and challenge themselves. In fact, he considers himself to be a "net-exporter of talent."
"You have to build not only the data and the story, but you also have to build relationships so they understand the numbers and trust the guidance you're providing."
Being a net-exporter of talent means he helps others achieve their career goals and decide their career path. That not only translates to succession planning for his own position at Sodexo, but it also means mentoring that extends beyond his official capacity at the company.
At Sodexo, Acosta participates in official mentoring relationships through the company's program, Impact Mentoring, which pairs leaders from across the organization with mentees for a yearlong mentorship. For Acosta, however, those relationships often extend beyond a year. In fact, he believes so much in mentoring that he's even mentored people after they've left the company. Additionally, outside of work, he mentors through his involvement with the Eagle Scouts, and he says that friends and colleagues will recommend mentees to him.
"I enjoy it because I'm a results-oriented individual; I enjoy seeing people grow," he says. "With the right interaction, people learn, people grow, people become better."
Although he mentors and coaches outside of the workplace, Acosta also found the perfect place to learn and grow himself with Sodexo. In his role, he interacts with people all over the world, and he often mentors people across generations, geographies, and cultures. It's as rich a melting pot as the multicultural culinary city that first inspired him to pursue a career as a chef, which developed into a career as a respected global supply expert. Ultimately, it's the type of diversity that his role as a mentor and strategic leader at Sodexo affords that inspires him to continually grow, lead, and succeed.
"First and foremost, the word diversity, to me, means allowing the richness of the various cultures and individuals' backgrounds to be blended into a greater outcome," Acosta says. "For me, diversity is very much like learning about new foods. The more you try new foods, the more interest you have in trying different foods. So, your palate becomes very rich, and you look for different tastes and different flavors. When you work within a diverse company, not only do you learn about different people's culture and the richness that that brings into the workplace, you want more of it."
---
Cintas congratulates Troy Acosta on this well-deserved recognition. We value our partnership with Sodexo and the opportunity to keep their facilities Ready for the Workday®. We offer a wide range of products and services that enhance a business's image and help keep facilities and employees clean, safe and looking their best.
---
TriMark  is  honored  to  be  a  valued  partner  for  Sodexo  and  look  forward  to  watching  your  continued  success.