Emily Simonitsch is a proud Angeleno, a renowned entertainment executive with Live Nation Entertainment, and a bit of a homebody. Disinclined to jet set, Simonitsch prefers to spend her off time in the world's entertainment capital, which just happens to be her hometown of Los Angeles. Her tendency to stay near home suits her profession as "hostess extraordinaire" for the city, booking Latin musicians—from Maná to Marc Anthony to Luis Miguel—to perform at Live Nation venues across the metropolis.
As the music industry reinvents itself, with some facets struggling, Simonitsch makes a positive observation: Hispanic audiences continue to pack the house. "The Latin household will spend money on entertainment," says Simonitsch, senior vice president of special markets for Live Nation, the world's largest live-entertainment company. "Are they affected by the economic situation? Absolutely. But they are still buying; Latin people love to see entertainers come from our countries."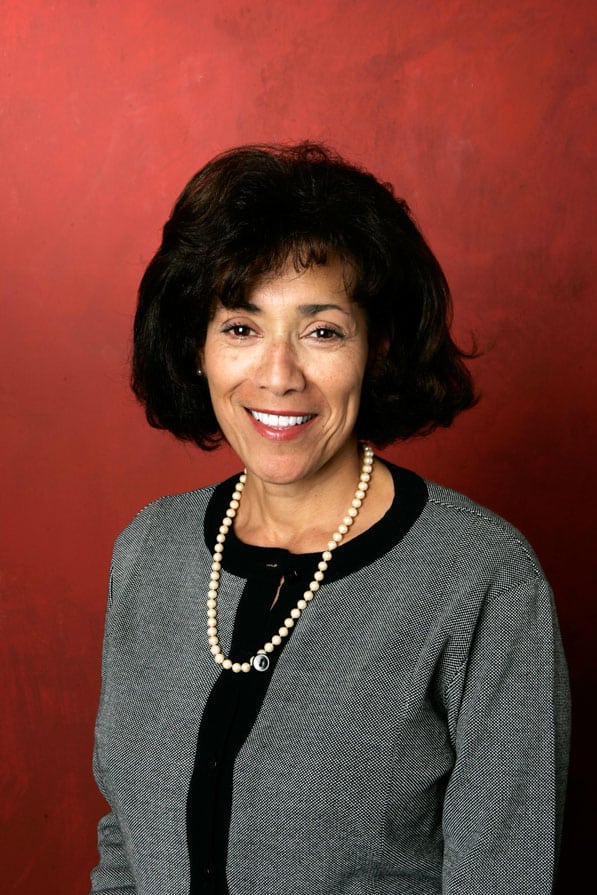 Raised by her Mexican mother and Puerto Rican father, Simonitsch credits her mixed heritage for giving her a taste for distinct Latino cultures—the varied cuisine, music, and colloquial expressions from different regions. "It helped me recognize that there is an incredible amount of diversity within the Latino community and that, instead of simply lumping together the remarkable array of cultures and traditions within it, this variety should be celebrated," she says.
In an evolving business, musical events are still in their prime, Simonitsch says. "Everybody wants to see the artist in person. I don't think that will ever change. You always want to see the vision or style of a performer on stage," she says. "Now is the best time to be involved in live entertainment."
Simonitsch—who ranks among the 25 most powerful Latinas by The Hollywood Reporter and Billboard (in the 2007 listing)—is refreshingly grounded. With a welcoming spirit, she goes out of her way to make visiting musicians feel at ease and in their element. "Whenever artists come to town, I always [interact] with them and provide them with hospitality," she says. "I make a special point to stay through the night at shows. At the end, I walk them out and thank them for working with us."
On many occasions, she visits ethnic shops to pick up delicacies from their country of origin as a welcome gift. "For Juanes or Carlos Vives, I'll go to a Colombian supermarket and get a favorite product they can recognize from home," she says.
Although entertainment execs often earn a reputation for being cutthroat and power-hungry, Simonitsch climbed the ranks by being thoughtful and soft-spoken. She cites listening, collaboration, and respect as ingredients for a success in this field, which she fell into by chance.
In 1979, Simonitsch was working as a paralegal when a friend told her that Universal Studios Hollywood was hiring paralegals for top dollar. As it turned out, she was hired ultimately for the theme park's marketing department. While promoting various attractions, she got her first exposure to booking talent locally, including Latin artists, for the park's theater.
Looking back, she considers her biggest risk was leaving her comfortable position with Universal Studios Hollywood in 1989 to book talent and special events at the Universal Amphitheatre. "Stepping out of my comfort zone like that was definitely a little scary, but it opened my career and my life to a new path filled with possibilities."
Her greatest fortune would come by way of her family—a devoted "fantastic" husband, Errol, and two sons, Evan and Errol. "Balancing the joys and responsibilities of family with a job that is definitely not nine-to-five has been a challenge, albeit definitely a rewarding one." In her "work life," Simonitsch has found her passion in "seeing performers come through our various venues, watching them cross-pollinate, first by coming up through the clubs, then playing theaters before graduating to arenas." She feels a sense of personal and collective accomplishment when more and more doors open to Latin talent.
Despite the "tremendous change and fluctuation" of her industry, she says that many of the same people have remained working in it throughout their lifetime. "Relationships are key," she explains. "Contacts that started at labels have moved to management and agencies, or vice versa. It's like working within a circle."
In today's environment, Simonitsch admits musical acts face greater competition. Fans have more entertainment options, a wider variety of artists to enjoy, and a greater number of venues where those bands can perform. "While the increased competition presents a challenge, I think it also creates opportunities for fans and artists alike—and that is ultimately good for the business as a whole," she says.