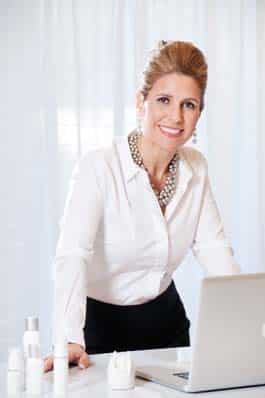 I had worked for direct sellers and knew I could thrive in that world, but I wanted to create a new kind of company.
I had worked for Mary Kay Cosmetics out of college, working in their international department. I loved meeting women from all over the world and learning about their needs. Despite different backgrounds and cultures, I noticed one common factor: as women, we all want to feel good, look good, and be a productive part of the family. I started to really understand the challenge women have to balance work and family responsibilities. I wanted to create a company that responds to that … to bring a fresh kind of business opportunity for women who want to stay flexible, manage their time, make income, and not be limited by traditional glass ceilings and make the most of today's technology.
I wanted more flexibility to operate under my own terms and I wanted to help other women do the same thing. Mía Mariú is a social-selling company, but unlike similar companies, my mission was to create a company that met the health and beauty gaps Hispanic women experience. Not only that, but I wanted to help women feel better about themselves by offering natural products that made the connection between beauty and health inside and out.
2008– Mía Mariú opens for business and launches with its first adviser in March, becoming the first company in the direct-selling industry focused on Hispanic women
2010– Mía Mariú expands into Puerto Rico
2011– After testing and adding several new products, the catalogue grows to include 100 different offerings
2012– Mía Mariú launches into the fragrance category
2013– With 10 employees (not including service partners) the growing company sets its sights on international expansion
I noticed language and cultural barriers that made integration difficult for people around me. I saw a big need in the US-based Hispanic marketplace and I built a company that caters to this segment. My vision was to create something designed to help Hispanic women achieve the American dream. By becoming Mía Mariú Advisers and selling our products, women can start their own business ventures and earn income while benefitting from deep training and support networks. We are in the world's most competitive market, but we have an amazing product line that makes the beauty connection inside and out for women, and we teach them how to take care of themselves so they can look and feel better. As a result, they can be more productive for themselves, their families, and their communities.
I had worked in direct selling, but I wanted to change some of the rules with Mía Mariú because I know what made me feel limited as a salesperson. First, we got simple. We don't have 3,000 products; we have the right products with simple regimens that provide results. We learned through real studies what is going on with women nutritionally and emotionally and we filled the gaps. Secondly, we do business in a different way that is relevant to modern women. Our advisers, as we call them, can sell through a party presentation, one-on-one, or online with a personalized e-boutique. Each adviser has her own store that is fully functional with an online shopping cart allowing them to market their business through social-media platforms. Mía Mariú makes it easy, we handle the shipping and we don't require inventory. It's a huge convenience for customers and helps our advisers keep more profits in their pockets. She's not buying inventory, she's not hand delivering it, and she's not paying for shipping.
The new model is working. We've been active for five years, and it's been a great adventure. We are growing rapidly in more than six states and are looking to expand into Latin America and beyond.
I think things are going well because our fresh approach attracts not only Hispanic women, but the general market, too. Our opportunity and product philosophy is relevant. For Hispanic women, there is a sense that Mía Mariú really understands them. They believe Mía Mariú has validated them. Everything—and I mean everything—is done bilingually with culturally relevant messaging. In short, they want to grow and achieve, and Mía Mariú lets them do that in a beautiful way … by helping other women.