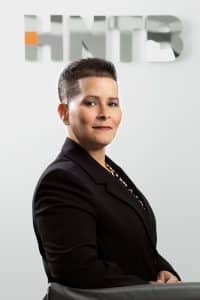 Yvonne Lopez-Diaz knows that effective human resources is about much more than hiring and firing. It's about aligning your business and people plan to support your company's growth goals. It's about inspiring employees of diverse backgrounds to reach their dreams and potential. And it's about empowering, training, and encouraging the next generation of leaders in the workforce.
As HR director and New York Growth Champion at HNTB Corporation, Lopez-Diaz takes her role at the employee-owned architecture, civil engineering consulting, and construction management company very seriously.
"As an HR leader at HNTB, every day I take personal responsibility for making success happen for my company," she says. "Ensuring that we have the right team to win is just as important as having the right strategy to win."
During her sixteen years with the company, Lopez-Diaz has held multiple leadership roles in human resources throughout the country, including serving as the HR leader for the Design Build, West, Northeast, and Southeast divisions for more than a decade.
Lopez-Diaz has made it one of her priorities to encourage young professionals and women in the organization to take on assignments that will showcase their skills and talents.
"We need to do everything we can to prepare our next generation of leaders so that we leave our company and our society in the hands of capable professionals," she says. "If we are not aggressively working on developing our future leaders now, we are doing ourselves and our society a disservice."
That is especially true because more than 40 percent of HNTB's New York office is millennials—a much higher percentage than when she started with the company. Attracting, developing, engaging, and retaining this generation requires a different skill set, she says.
"You have to provide them an environment where they feel engaged and empowered to make a difference," Lopez-Diaz says. "A one-size-fits-all approach does not work with this generation. If you're thinking that this generation can be treated the same as any other, you must rethink that."
The younger generation thrives on constant and instant feedback, both positive and constructive, she says. They also like to feel like they have a say in decisions affecting the company and can make a difference in the workplace. That's why she has encouraged the company's young professionals to take on projects like leading brown bag technical sessions, community involvement, and the development and management of the company's internship program.
She also draws on her own upbringing to relate to younger workers of today.
Lopez-Diaz grew up the youngest of six children raised by a single mother who worked at a toy factory in the evenings. She learned English from her older siblings, but learned important life lessons from her mother.
"She taught us the value of hard work, dedication to your field, loyalty, and to appreciate every opportunity to learn," Lopez-Diaz says. "My mom did not speak English when I was young, but that did not deter her from encouraging us all to excel in school and in life. Her expectations were pretty high, but I always worked hard to over-achieve them. I owe the person I am today to her and the values she taught us all."
Those values inspired her passion for bringing diversity into the workforce.
"It is important for our business to align with how our industry is represented. Whether it's gender, race, ethnicity, religious or political beliefs, or differing points of view, they all matter in the overall scheme of things. We need all perspectives represented and included to make the best decisions for our business and for our clients."
As a Hispanic woman of Puerto Rican descent, Lopez-Diaz says she has always felt respected for the contributions she makes and has had the support of HNTB's leadership. She wants to make sure others have those opportunities as well. Those opportunities are not a free ride, though.
"We need to do everything we can to prepare our next generation of leaders so that we leave our company and our society in the hands of capable professionals."
Yvonne Lopez-Diaz
"If you have a seat at the table, you have to make sure you're earning it every day," Lopez- Diaz says. "Find your voice and make sure it is worth hearing.  Work hard to make a difference and make it impactful to the business."
Lopez-Diaz dedicates her time to helping other women in her industry make sure their voices are heard. She is currently mentoring four women at HNTB who she sees have a similar passion for excellence and a desire to learn and win as she had early in her career. "Mentoring has been a rewarding experience for me.  I've had an opportunity to watch each grow personally and professionally as HNTB leaders."
She also dedicates her time to supporting the Women's Transportation Seminar (WTS), and serves on its Central Florida chapter board and its Greater New York chapter, where she leads a committee called the Glass Ceiling Initiative.  This committee is working to identify issues that could be impeding the growth of women in transportation, and will make recommendations on programs and policies that can be advocated by WTS to eliminate the barriers to growth and advancement.
Overall, one of the best parts about being successful in human resources is seeing all the pieces come together to support the growth of the company.
"I love seeing the young professionals and women in our organization take on assignments that allow them to showcase their skills and talents," she says. "It is inspiring to see their passion for wanting to own a part of our company's success.  If I can inspire them to be at their very best, live the HNTB Vision, and be the 'spark' every day, then I am doing my part in growing the future of our company. It's not just something that's important to me . . . it's personal."