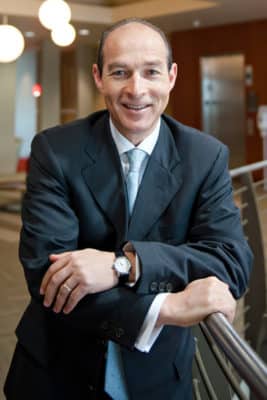 For Hector Pena, negotiation isn't just a bargaining strategy—it's an art and a lifestyle. In the same way an artist revels in the unveiling of his latest masterpiece, the senior director of strategic sourcing and procurement at Tailored Brands thrives on the success of closing a good deal.
"Every time I am able to close a negotiation that will bring a lot of value to my company, I feel alive," Pena says. "It is like getting a tank of oxygen. It is very, very exciting for me."
One might say negotiation runs in his blood. Pena grew up in the bustling metropolis of Monterrey, in the northeastern state of Nuevo Leon, Mexico, where his father ran a small produce store.
On the weekends, when he was only five years old, Pena would stir before sunrise to accompany his father to central market. As the pair strolled from one fruit and vegetable stand to the next, Pena witnessed his father's expert haggling skills.
Watching his father negotiate with vendors in the dog-eat-dog business ecosystem of the Mercado de Abastos those Saturday and Sunday mornings would leave a resounding impact on Pena—and ultimately mold his celebrated career.
"In Mexico, we learn that everything is negotiable," Pena says. "But, you don't see the same mind-set [in the United States]. In general, and there are always great exceptions, Americans don't like to challenge the vendors. People accept what the vendor is telling you the first time. I don't go with that. I always challenge the 'no,' the 'this is industry practice'—several times if needed."
Seven Keys to Negotiation
With Hector Pena
1. Be Prepared
"Successful negotiations require a lot of preparation, research, and homework before heading into a negotiation. Everything is negotiable."  

2. Be Patient
"If you get mad, you lose. The best negotiations take time."

3. Take Risks
"You should feel comfortable surfing uncertainty. If you freak out because you don't know the outcome, you can't be a good negotiator."

4. Trust Yourself
"The best negotiators have a lot of confidence and trust in themselves. It will be impossible for a vendor to trust you if you don't trust yourself."
5. Always Involve Stakeholders
"We don't negotiate for ourselves. We negotiate for the other areas in our company. If you want to have an easy implementation and long-term relationship, your stakeholder should be involved during the entire negotiation process."
6. Lean on Your Team
"Negotiating is a team effort—two brains think better than one. There's no way I could have achieved what I have without my team."
7. Winners Do Not Take All
"I learned this at Stanford. If I don't leave anything for the other party when negotiating, the other party will feel frustrated. They may still close the deal, but the relationship won't last."
Despite his early lessons in negotiation, Pena took a more philosophical approach to making a living at first. For eleven years, Pena studied in Spain and Italy thanks to a scholarship, earning degrees in philosophy and the arts from Università Gregoriana in Rome. When he returned to Monterrey, he found his philosophical education left little in the way of employment opportunity in the industrial hub.
So Pena returned to school to study economics in the evening, and he worked for a Mexican bank during the day. Within four years, Pena substantially increased his procurement responsibilities, and began envisioning a more global role. That is when he discovered Monterrey-based CEMEX, a multinational building materials company with operations in fifty-plus countries.
After receiving an offer, he returned to his bank boss and, in true Pena style, wagered nearly six months of severance pay. Based on Mexican laws, companies have no obligation to pay any severance when you are leaving on your own accord, he says. He also negotiated a salary that was thirty-seven percent higher than CEMEX'S original offer.
At CEMEX, Pena joined a small team that served as a sort of internal consulting team. But it was his next position that truly cemented his role as a negotiator. CEMEX opened a Global Sourcing Office in Houston, Texas, with the main goal of consolidating global negotiations to leverage the purchasing power and cut better global deals. Pena jumped at the opportunity, and moved to the United States in 2003. The group of nine negotiators were responsible for twenty-eight negotiations and $1.9 billion in annual spending.
It was there that he was introduced by the AT Kearney consulting firm to the Strategic Sourcing Methodology, which seasoned his negotiation skills. "Procurement is a service area," he says. "We are negotiating for the company—operations, finance, HR, marketing—you name it. One of the procurement organization's main goal is to secure the lowest total cost of ownership for everything we are negotiating. We accomplish this at Global Sourcing. Annual savings achieved by this team were on the tens of millions of dollars."
Nearly six years later, CEMEX announced it was transferring the office back to its headquarters in Monterrey. Though he enjoyed his work, Pena balked at returning. After CEMEX's last attempt to keep him with a position in Switzerland, Pena moved on to Tailored Brands, a men's clothing company that owns Men's Wearhouse and Jos. A. Bank. Though the industry switch was admittedly quite the leap, Pena says the strategic sourcing methodology and the negotiation process remain largely the same, and he intended to prove his theory.
He started in 2011 with smaller negotiations accounting for $50 million annual spending. Now, he is responsible for nearly $250 million in spending, including bargaining prices on everything: hangers and garment bags, logistics, security services, print materials, travel, etc. Originally responsible for the United States, Pena and his team now oversee most of the indirect procurement for Tailored Brands.
The average percentage savings achieved is in the double digits. Based on the results delivered, the executive vice president of supply chain started involving Pena in negotiations handled by the Direct Sourcing team. "The intention is to team with our Direct Sourcing colleagues to leverage their product knowledge and our negotiation expertise to deliver better deals for our company. This will be a team effort. I am a big believer of the power of a team," Pena says.
In 2016, Pena's team helped shave more than $16.5 million off Tailored Brands' procurement budget, a savings of roughly 20 percent. "A lot of people think that negotiating is just asking for a
better price. No. It's a trade-off. If the vendor is going to give you a better deal, it's because you are offering them something in return."
Most of the time, he spends more time preparing for a negotiation than the time negotiating with a vendor. "If you just show up, because you think you know everything or you look nice—forget it," he jokes. Also, negotiating is a matter of trust and credibility. Once your vendor doesn't trust you anymore and doesn't believe what you are saying, you are done as a negotiator with that vendor, Pena adds.
Pena doesn't keep his negotiation skills—pure preparation and strategy—all to himself. He has made it a top priority to teach the trade to his team. By providing the training to leverage their negotiation skills, implementing performance metrics and analytics reporting into the negotiation process, and adding to the procurement portfolio to help the company divide and conquer, Pena hopes his art outlives even his own career.  
"I don't keep any secrets," he says. "I think negotiators are born. Yes, people can learn things about negotiating, but a truly excellent negotiator has something that is inherited. Then you just need to develop and fine tune that skill, which is inside you, to excel. This is something I always really push for my team at Tailored Brands."