Steve Ramirez was a student at the University of Texas at San Antonio trying to pay for tuition. No matter how much he was falling in love with his future wife, he knew he could fall into just as much debt if he wasn't careful.
Yet when his fiancé's parents explained they wanted to continue to pay for her college tuition once the couple married, the pair turned them down. Not because they didn't value the offer from his future in-laws, but because they felt determined to handle the challenge on their own.
Other college students would have accepted the gift and celebrated like they won the lottery. But a sense of accountability and integrity kicked in for Ramirez: He had to do right by his family, old and new. So, when he learned the Army National Guard offered a monthly stipend to undergraduate students, he volunteered and enlisted.
"That paid for a lot of my school," Ramirez says.
What began as a decision driven by money turned out to be one of the best choices of Ramirez's life. Besides remaining in school, he discovered he had a knack for military life. From the structure and team environment it provided to the discipline and intensity it demanded, he appreciated the foundation it gave him.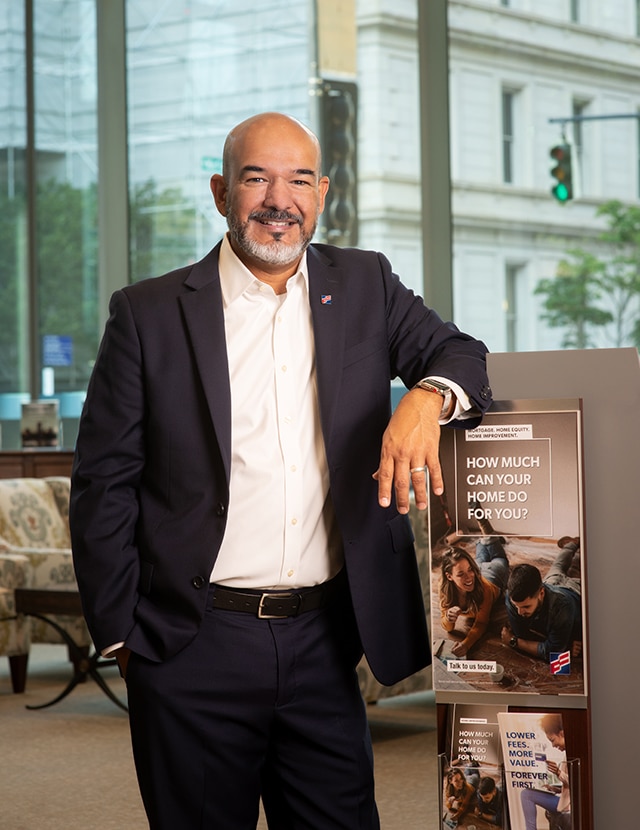 Oh, and one more thing: Steve married his best friend, later graduating with her.
While serving in the Texas Army National Guard for six years, Ramirez again needed a means to keep the lights on. He accepted an offer to work as a part-time bank teller at USAA, where he mastered one role after the next. He started working in the drive-thru, and later he led a team of 350 customer service agents and ended up managing digital marketing efforts at the corporate level.
After spending 17 years at USAA, Ramirez honed his digital marketing expertise with financial institutions like Discover, Key Bank, and BB&T. Now, he serves as the executive director and senior vice president of digital marketing strategy at First Citizens Bank.
First Citizens Bank—one of the top twenty financial institutions in the United States—built its more than $100 billion in assets by delivering fiscal strength; ethical stability; and strategic, long-term planning to its individual, business, commercial and wealth management customers. Operating a national direct bank, as well as 550 branches in 22 states, First Citizens employs personal customer care and powerful digital and analytical tools to help customers accomplish more with their money and make more of their future.
When Ramirez arrived at First Citizens in 2018, the bank was embracing digital marketing and banking and sought to connect with a wider virtual audience.
Knowing he could help, Ramirez started by creating teams with people he knew and trusted, recruiting former coworkers from previous career stops. Then he doubled down on a strategy to demonstrate the return on investment that his department delivers to the organization.
"We never let up on that," Ramirez says. "Even though they trust us, and they've given us more budget."
Once Ramirez persuaded executives that content marketing is valuable, he earned their buy-in by sticking to a budget and empowering employees to establish digital marketing as a viable channel. Because Ramirez obsessed over the customer experience as much as he did when he was a bank teller, he built teams for digital marketing, UX and UI design, website and SEO, and digital operations.
"We want to make sure we're good stewards of every single dollar entrusted to us," Ramirez says. "[We] want to make sure we give them much more than that on the return. So, that's where we are today."
What drives Steve Ramirez is a commitment to empathy, and to understanding how it connects people to each other and to their goals. He may not brag about why this perspective is valuable, but his staff sing his praises.
Mike Le, COO and cofounder of CB/I Digital believes Steve is, "among the best leaders we've worked with." He goes on, "Steve creates a culture of respect and trust where everyone inside and outside the organization can thrive and deliver their best work. As a trusted digital marketing partner, we're proud that our SEO strategies help contribute to the excellent growth for the bank."
"I would say that when you get to know your team members, and you create that environment of trust and mutual respect, they really deliver at a different level," Ramirez says. "They perform at a higher level. They want it. They want to be there and do the right thing for you and for the customer."
"Over the years, I've hired hundreds of employees, so I've been able to really get some pretty cool notes back from people that have enjoyed a lot of success [and] gotten promotions," Ramirez says. "I get to see their lives on Facebook and how great they're doing. So, for me . . . I get so much joy hearing and watching people progress and perform at a high level."