Abercrombie & Fitch Co. (A&F Co.) is an apparel retailer with many fashions and phases in its 125-year history. Imagine the business at its beginnings, the tail end of the Victorian era in a world where most people had just a few outfits in small closets. Theodore Roosevelt and Amelia Earhart were among the early customers of the signature Abercrombie & Fitch brand.
Fast-forward to 2019 and you'll find that A&F Co. has continually evolved to mirror modern society in keeping pace with the changing landscape of apparel consumption and the broadening global consumer demographics. Labor and employment attorney Stacia Jones Esq. could easily be credited with leading the charge on diversity and inclusion (D&I). She peppers her description of her role with far more "we" than "I," however—which illustrates the all-in nature of this particular core value held at the company.
"D&I is woven into every aspect of our business," says the ten-year veteran with A&F Co., whose title includes associate general counsel. "We believe that embracing diversity in all its forms makes us all stronger." Jones worked in private practice for eight years before joining and then climbing the ranks of the A&F Co. legal department in the company's Columbus, Ohio, headquarters.
Her understanding of how inclusion affects the company's nearly forty thousand associates—don't call them "employees"—comes from growing up at a time when diversity wasn't fully embraced. "My childhood and overall upbringing made me aware of my differences and the biases that were associated with my background," she says. She had to work against low expectations, but acceptance into a mixed-race magnet school for college-bound students helped her develop skills as a journalist. Even when she was promoted to editor, she had to initially share the title with a white man before eventually being given the full leadership of the paper. At the Ohio State University, she earned degrees in journalism (magna cum laude) and law (with honors).
Jones handles the D&I function with the organizational structure of an experienced lawyer. Her approach sits soundly on hard data tracked by numerous organizational landscape surveys that reveal the clear business case, but its foundation is rooted in respect and inclusion. "I cannot allow others to define me as something less than I am," she says. "When we allow our associates and customers to be their most authentic selves, we perform our best as a business."
It must be acknowledged that A&F Co. was called out publicly for less-than-perfect diversity incidents in its stores and marketing about a decade ago. It's changed to a meaningful degree since.
"We have a rich history, with highs and lows," Jones says. "While there are still some misperceptions, the whole team has worked hard to evolve and provide inclusive, engaging experiences for our customers."
Under her direction, the company uses engagement surveys, program-satisfaction surveys, and Culture & Inclusion Audits to track the success of their initiatives. "From a customer perspective, we track a range of internal and external brand health metrics," she says. "And these continue to improve."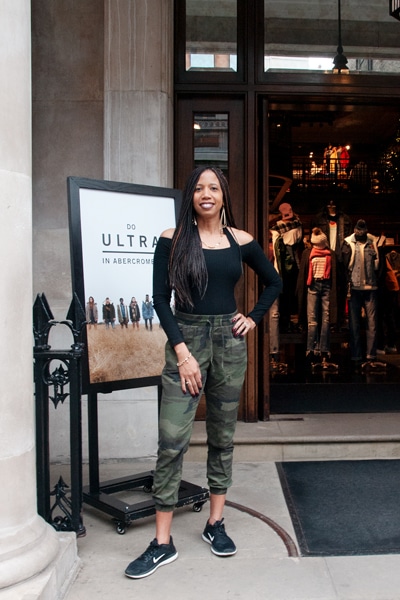 A&F Co. as a family of lifestyle brands isn't restricted to the United States. The company operates more than 850 retail stores in the United States, Canada, Europe, Asia, and the Middle East. "Every country and culture discusses matters of D&I differently," Jones says. "For example, we recently expanded our Ramadan training materials to our associates across Europe to equip our team for evolving customer needs."
Her department collaborates with associates in each country through a Global Stores D&I Council and other forums that gather information on cultural issues they are dealing with. "We gather information to understand any potential gaps in our own D&I programs. With the information gathered from those sources, we can create new programs or revise existing ones to fit the needs of a particular region or culture."
In the United States, that includes alignment with causes of interest to customers, including the Trevor Project and GLSEN, both LGBTQ-focused organizations. A&F Co. provides both organizations with product and funding for specific projects from the marketing and product teams, in partnership with Jones's D&I team.
She makes it look easy, but acknowledges the nuanced and often-challenging nature of D&I. "We must be active at uncovering biases," she says. "We audit our bias interrupters, making sure that neutral policies are not having unintentionally negative, discriminatory impacts, and ensure that our acts at achieving D&I are doing good for every associate."
She further describes how it's a never-ending process, providing the example of recruitment and hiring practices. They work to make sure there is no disparate impact on minority groups, that it's a fair experience for all, and that the human resources department receives ongoing training to detect and correct unconscious bias.
"We know the best customer interactions are those that are welcoming, inclusive, and friendly, so no matter your role within the company, we invest in efforts that enhance the customer experience."
Jones says that diversity is embraced at all levels, including and especially at the executive leadership levels—because it affects their business. "We know the best customer interactions are those that are welcoming, inclusive and friendly, so no matter your role within the company, we invest in efforts that enhance the customer experience," she says. This includes hiring friendly and welcoming people. It also means having products in sizes that reflect the diverse customer base.
Not to leave out that D&I is just smart business. Jones cites the McKinsey Global Institute Study, which says ethnically and gender-diverse companies perform better (fifteen percent and thirty-five percent, respectively). Additionally, the study found for every ten percentage-point increase in diversity and gender in the executive team, company earnings before interest and taxes (EBIT) rise eight percent.
Jones keeps the learning and benefits close to home. Her work at A&F Co. is of global impact, but she remembers where she came from and what it was like to be young. She volunteers as a youth leader at her church, and works on programs that focus on career and leadership development.
"I was lucky to have several teachers and professors who recognized my passion for academia and professional pursuits," she says. "They believed in me."
Expertise Spotlight
About Vorys, Sater, Seymour and Pease LLP: Since the firm was founded in 1909, Vorys have has grown from four attorneys with offices on the third floor of a small office building in downtown Columbus, Ohio, to a nationally recognized firm of approximately 375 attorneys with offices throughout Ohio and in Washington, DC; Houston, Texas; and Pittsburgh, Pennsylvania. One of the two hundred largest law firms in America according to The American Lawyer, our firm Vorys has developed a unique culture that is highly collegial, supportive, and inclusive, while at the same time unerringly focused on providing our clients with exceptional legal representation in compliance with the highest standards of professionalism.
"We believe that our culture has contributed mightily to not only our position as an acknowledged leader in diversity, but also to the honors that have been bestowed upon the firm and our attorneys, and to our continuing growth and success in the practice of law." —Jolie Havens, partner and chair of Diversity and Inclusion Committee
Learn more at www.vorys.com.
Vorys: "Stacia has excelled in leading A&F's global strategy on diversity and inclusion.  A&F has enjoyed meaningful success under Stacia's leadership, both internally and externally, and Vorys is very proud of our ongoing partnership." –Jolie Havens, Partner