Julia Feliciano is "Hungarican," meaning her mother is from Hungary, and her father is from Puerto Rico. (She borrows the funny term from Freddie Prinze, an actor/comedian of the same dual heritage.) "I shared both roots; it made for wonderful food at home," says Feliciano, a pharmaceutical attorney for more than 20 years, now based in San Diego. "My dad makes a killer arroz con gandules, and my mom makes a killer Hungarian goulash."
Aside from diverse cuisine, Feliciano's mixed heritage—Caribbean meets Europe—exposed her to a variety of family members whose first language was not English. She learned to listen and observe closely, to read between the lines, to build bridges through communication. Sure enough, those soft skills would help her survive the hard knocks of life as a corporate lawyer.
Following law school at Villanova University, Feliciano entered a workforce dominated by older males—first at a Philadelphia law firm, Harvey Pennington, and next at Wyeth Laboratories. "I had to learn quickly to stand my ground and not be intimidated," she recalls. Thankfully, she adds, she has seen more diversity over the years. "A nice thing in the pharmaceutical industry is there are more people of color," she says. "Researchers and scientists come from all over the world. It's very nice to feel like you're working in a melting pot."
Although Feliciano admits the pharmaceuticals field  "gets a bad rap from the public and the media," it's an industry she is proud to work in. "Most of the researchers who are trying to come up with new drugs are usually doing it because they had a family member afflicted by the disease," she says.
Her pharmaceuticals career started at Wyeth in 1988. She worked there for 16 years with numerous products, mainly neuroscience and cardiovascular, but also oncology and other areas. Notably, she was Wyeth's lead in-house attorney during the mass tort litigation for the diet drug known as "fen-phen." (This combination of fenfluramine and phentermine was endorsed by physicians and beauty magazines, but was later linked to heart-valve problems and other health issues.)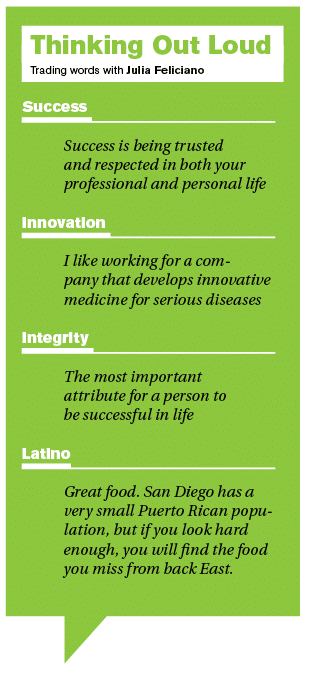 Feliciano made her mark at Wyeth by earning trust and respect, which for her is the ultimate feat in any role. In corporate America, she explains, "legal" can be viewed as a squad of naysayers, particularly by marketers who tend to want to push boundaries. Building inroads with internal constituents is a priority perhaps as high as ensuring the company is protected and compliant, she says. After leaving Wyeth (now Pfizer), in 2005 she went to Elan Pharmaceuticals, which focuses on drugs for multiple sclerosis and Crohn's disease, as well as Alzheimer's research. She joined Amylin in 2007, and is now a vice president of legal.
Amylin markets injectable drugs to treat diabetes, as well as studying lipodystrophy (a metabolic disease) and obesity. "Diabetes is at epidemic proportions, especially in the Hispanic community. I feel good that the work I do is helping patients with this terrible disease," she says. Her work involves FDA submissions and counseling on marketing strategies, among other duties.
Having worked at different firms, Feliciano says that no matter what your title, it's essential to demonstrate technical knowledge, empathy, and consistency. "You can't walk in and in the first year expect people to know you, and trust and respect everything you say," she says.
"If you don't listen well, you're never going to be successful. You have to be a good partner to figure out how to accomplish company goals in a way that's compliant with the rules and regulations. You have to understand what (your colleagues') needs are, to work with them, and find a way to reach the end goal."
Imparting training can help prevent problems upfront, Feliciano says, and it's one of her favorite tasks. People whom she has coached have thanked her, even later in their careers, for having elucidated the law in such a way that they understood not only the rules, but why they exist.
Feliciano has also mentored a fair share of attorneys on her greatest area of expertise: consensus-building. "If you walk into a room and you're the only person who has that particular opinion, and the other 19 people don't agree, you're not going to get anywhere," she says. Feliciano suggests identifying influencers ahead of time, and explaining your point of view. "You always have to have allies."