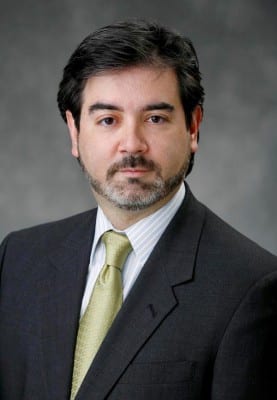 Jaime Mercado knew he had come a long way in 2009 when New York law firm Simpson Thacher & Bartlett LLP asked him to cohead their Brazil office. Mercado grew up on a small farming community in the Dominican Republic; Simpson Thacher & Bartlett is one of the world's most profitable law firms. Suddenly, the Latino who taught himself English in the Lower East Side housing projects of New York City was about to represent a prestigious partnership in São Paulo.
A Dominican Influence
Mercado spent the first nine years of his life in rural mountains of the Dominican Republic, living with his grandparents, aunts, and uncles while his mother looked for a better life in the United States. She left her country on a tourist visa before he turned two, overstayed, and eventually married a US citizen from Puerto Rico before returning to the DR and brought Mercado to New York City.
Heritage continues to be important for the rising Simpson Thacher & Bartlett partner who returns often to his homeland. "I go back about five times a year," Mercado says. "It's changed, but is still comfortable for me." Part of that comfort comes from Mercado's large family, which includes 57 first cousins on his mother's side alone.
Life in New York City
Still, life in New York City was difficult for young Latinos of the 1980s. "Today, New York is a place where a significant portion of the population is Latino, and the rest is exposed to and knowledgeable of our culture," Mercado says. "It wasn't always like that." Although he is now a partner at an important firm with global reach, Mercado says his early days in New York define much of what he has done. "When people share difficult personal issues or business problems on a transaction it doesn't faze me because I know we all have things to confront and overcome. Sometimes issues are just a chapter in life," he says.
Mercado struggled with the harsh isolation on the city's Lower East Side and, despite his parents' limited resources, pursued a solid education. He persevered, ultimately obtaining a BA from Columbia University in 1989 and his JD from New York University School of Law in 1995. That year, he joined Simpson Thacher & Bartlett as the only Latino in a class of 37 associates. The Spanish speaking Mercado quickly developed a specialty representing Latin American clients on capital markets, project finance, and other transactions. As Brazil emerged as a viable economy in the late '90s, Mercado was developing relationships in the investment banking and corporate finance world whose deals were expanding to include the booming nation. Mercado was tasked with starting an office in São Paulo, which opened in 2009.
getting to know
jaime mercado
Jaime Mercado joined Simpson Thacher & Bartlett LLP in 1995 and made partner in 2005. Today, Mercado is involved in corporate finance, representing investors, financial institutions, and governments throughout Latin America in transactions concerning corporate financing, loans, project financing, and credit. His clients in the Americans include Banco BHD, Goldman Sachs, JPMorgan, HSBC, Itaú-BBA ACS Dragados, Aeropuertos Dominicanos, Tractebel Energia, and others. He also advises the government of Peru.
With a BA from Columbia University, and a JD from New York University, Mercado was admitted to the New York State Bar in 1996. He currently sits on Simpson Thacher & Bartlett's diversity and personnel committees.
The Brazilian Way
For Mercado, who describes Brazil as "an oversized Dominican Republic," the move south was almost seamless. "The way the elites live and see the world versus the way the poor live and see the world is similar to a Dominican perspective," Mercado explains. Now that he's mastered Portuguese, friends and colleagues in São Paulo joke that Mercado is the most Brazilian person around.
The cultural success, he says, comes from studying and respecting the systems, customs, and traditions. "I understand the sensitivities," he explains. "Staying open-minded and adapting to another way of doing things goes a long way." Brazil has many problems including infrastructure challenges and government corruption. Mercado blends in well because he has chosen to remind peers and colleagues that these problems are universal. While most Americans and Europeans complain, he strives to relate.
Mercado has dealt with transactions in Latin America since 1995 and understands how to adopt a Hispanic worldview without unduly imposing New York ideals. "United States legal culture has a lot of finger pointing that doesn't exist in Latin America, where clients prefer to collaborate. They see each other more as friends than adversaries," he says.
Lawyers looking to find international and cross-cultural success, Mercado says, should get a full perspective on the issues and jurisdictions involved. "Don't read everything through your own culture," he says. Lawyers who do, will make international clients feel unvalued and dismissed. "Imperialism is part of US history just like slavery," he adds. "The rest of the world admires us … but they don't always trust us."